(Disclosure: Some of the links below may be affiliate links)
August 2019 was a good month for us. We had several parties with friends and families. And we celebrated August 1st, Switzerland national day. And I got promoted at work! So, pretty good month overall!
However, we spent too much once again in August 2019. I did not account correctly for several dentist bills. It should be exceptional bills that we will not have in other months. But we should still account better for them.
However, we still saved a significant portion of our income this month. And our net worth increased significantly. So, it is pretty good all together!
In this post, I will go over what happened to us during August 2019.
August 2019
From a personal point of view, it was a great and quiet month. We had quite a few outings with our friends and family. We also had a party for Switzerland national day! It was great!
Moreover, I got a promotion at work! It will significantly increase our income from next month. I am really happy about that! Since we are almost at the lowest expenses we can manage, we have to focus on increasing our income. I do not want to spend too much time on any side hustles. I prefer to grow my primary income for the time being.
I finally started going to the gym again. I have started a test month. I will pay for one more year next month.
From a net worth point of view, it was a good month. My ESPP shares vested and I made a very nice profit on them. On the other hand, the stock market was not that great this month.
From a budget point of view, it is not a great month. We spent too much once again. We had many small expenses that weighed down our budget. I had to service my car, which I had not done in a while.
I had to go to the dental hygienist and Mrs. The Poor Swiss had to remove a teeth. All this makes for two expensive bills, and more bills will be coming for the rest of Mrs. The Poor Swiss treatment.
One of the other significant expenses of this month was another French course for Mrs. The Poor Swiss. These courses are weighing on our budget. But they are essential! And Mrs. The Poor Swiss is making a lot of progress in French!
In the end, we still saved about 43% of our income. It is still not bad at all! And next month, our revenue will grow.
Expenses
Here are the details of our expenses this month:
Insurances: 790 CHF. Average.
Transportation: 456 CHF. Well above average. I pay 300 CHF to service my car and the brake disks needed to be changed.
Communications: 120 CHF. Above average. I had to renew two of the domains I own.
Personal: 1480 CHF. Well above average. We paid for a French course and a big gift for my father's birthday. Also, we had to pay for the dentist and hygienist.
Food: 447 CHF: Slightly above average. We had to buy a few Chinese groceries and a new bag of 25 kilograms of rice.
Apartment: 1247 CHF. Average.
Taxes: 862 CHF. Average for the year.
Overall, we spent 5414.75 CHF in August 2019. Once again, we spent way too much money this month. However, several of these expenses could not have been avoided. And most of these expenses should not repeat later on. I am starting to think I should be content when we are below 5500 CHF. And I should be delighted below 5500 CHF.
2019 Goals
Let's see how our goals are doing for the year: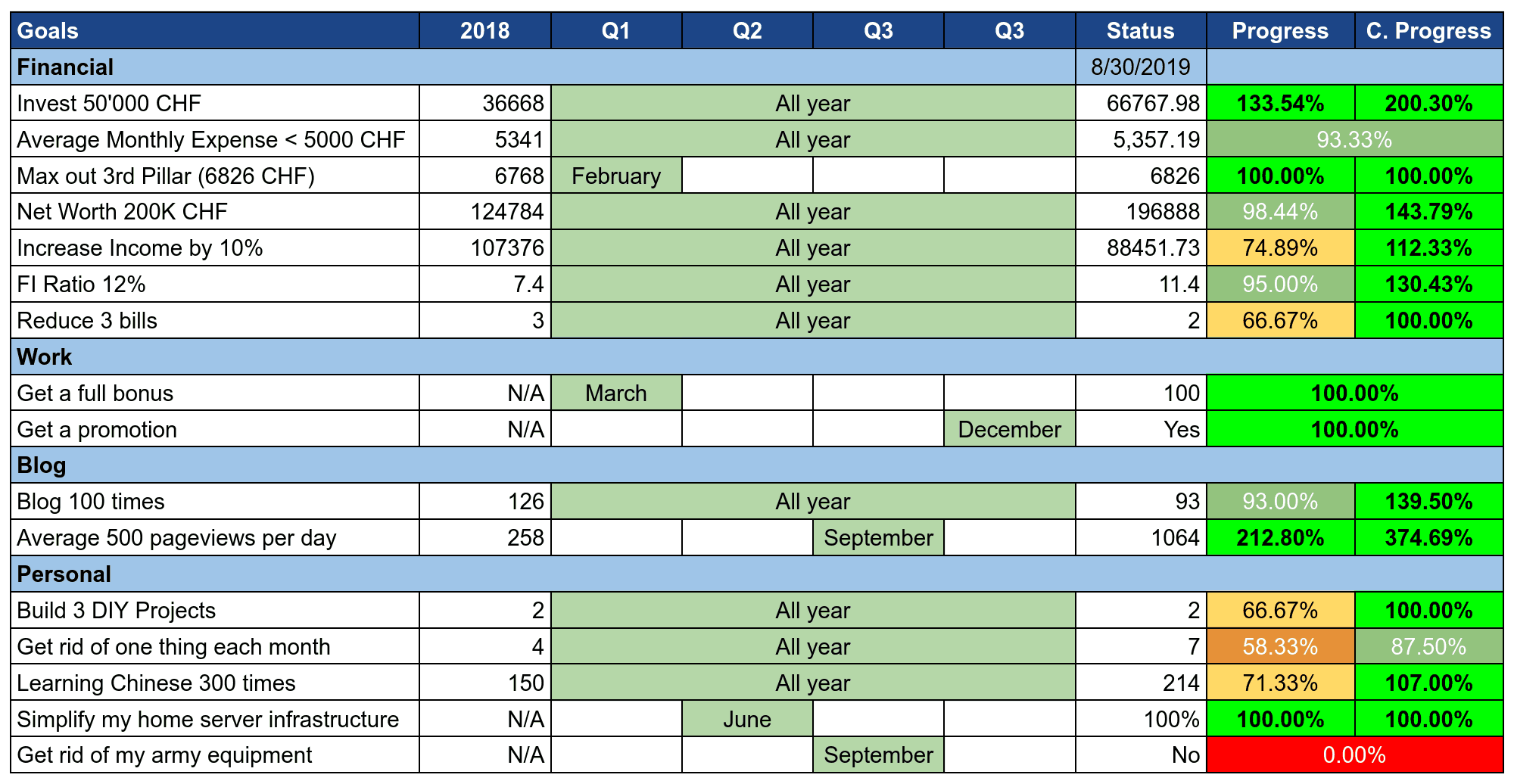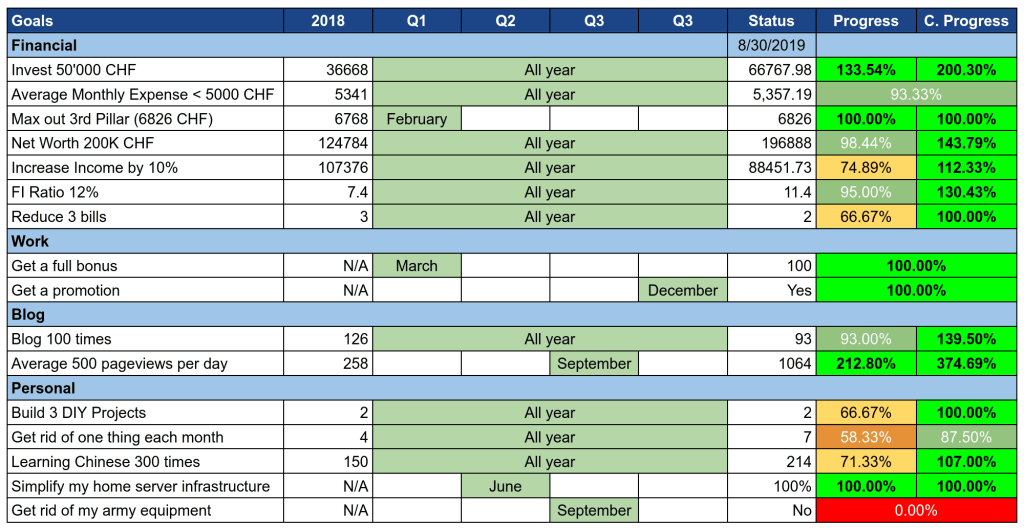 Our goals are going great! We are well ahead on most of our goals this year.
And I got a promotion! It is really great! Indeed, I have been working hard for that. And It will help us save even more money! Even though I set this as a goal for this year, I did not think it would be possible to be promoted so early after I got hired!
As usual, we failed to stay under 5000 CHF in expenses. I am starting to get used to it. But I still want to try it again next year. This year, we have been able to reduce several recurring expenses. Hopefully, we can do it again next year. At the end of the year, I will consider the entire list of expenses of the year and see what we could have avoided. I already know that some things will not be necessary next year.
We did not get rid of anything in August 2019. We will have to see if we can get rid of two things next month. But I am getting out of ideas for things to get rid of. Also, I am not on track with DIY projects. I am not sure I will do one more this year.
I still have to switch to a cheaper mobile phone plan. I plan to switch to Mucho Mobile next month when I come back to Switzerland.
I already know I will not be able to get rid of my army equipment this year. It was a stupid goal since it did not depend on me.
Net Worth
Let's see what happened to our net worth during August 2019:

Our net worth jumped to 196'881 CHF this month. I had a very nice profit from my ESPP shares. It is an excellent result considering the state of the stock market. Moreover, our USD and EUR assets lost value to CHF.
I thought we could reach 200'000 CHF this month. But this will have to wait until next month. Of course, it will depend on the state of the stock market.
We finally reached 100K USD on Interactive Brokers. It means we are going to save 10 CHF per month, which is a great thing!
The Blog
In August 2019, the blog audience grew by about 10%. It is not one of my best months for growth, but this is still an excellent result for my taste! I already am well over my goals of 500 page views per day for this year. Currently, I am hovering at around 1000 page views per day. It is an excellent result for me! When I started, I had no idea it would grow that much.
I think that next year I am going to try to reach 2000 page views per day by the end of the year. I am not sure it is possible unless I do something different. But I will still try.
In August 2019, I have been able to publish three blog posts each week. For September 2019, I will revert to a routine of two posts a week. I have several things I want to do on the blog, and I will not be able to do them if I have to publish three posts a week. And I will be almost two weeks in the U.S. next month. So I think it is more reasonable to aim for twice a week.
I made a few changes to the blog this month. There was a problem with one of the scripts running on the blog. It was causing the Table of Contents not to work anymore. So, I have fixed this. It should make your experience better. And I have cleaned up a bit more the scripts as well.
I have also improved the performance of the blog slightly. The font should be faster to load now. But once again, there is nothing special about that. You probably will not even see the difference.
I have also tried adding some FAQ data into some of my posts. Only visitors finding my site through Google will see the difference. I am hoping this will increase my rankings. I will continue doing so on the relevant post in the coming months.
Unfortunately, I had to upgrade my hosting at Siteground. It was not enough anymore for the visits I am getting now. It almost doubles my bills for hosting the blog. It is good to have more visits. But I would have preferred to keep the previous plan a while longer.
Here are the three most popular posts of August 2019:
Revolut vs Wise: Which is best for you? This article continues to bring a lot of people to the blog. Alone, this post represents 15% of my traffic!
Revolut Swiss IBAN: Top up Revolut for free People really like Revolut and free things!
26 Money-Saving Tips from Personal Finance Bloggers Once again, people like tips on how to save money. And since this article was shared a lot, it got some attention.
What about you? Which article is your favorite of the month?
Next Month – September 2019
Next month, I am going to spend about ten days in the United States for work. It should not change much to our budget since my company will pay almost everything when I am there. It will probably decrease our expenses slightly.
Our savings rate is likely to increase slightly next month. It will be the first month of receiving my new salary. However, we have some hefty dentist bills coming our way very soon, so we will see how it goes. And I will have to pay for the gym.
What about you? How was August 2019 for you? What do you have planned for September?