April 2022 – A good month
|
Updated:
|
(Disclosure: Some of the links below may be affiliate links)
April 2022 was a good month. We had a few pleasant events with our friends and family. It was not very eventful, but we had time to work on a few late things, which is excellent since we have very little free time these days.
On the financial side, it was a great month with regular earnings and relatively low expenses. So, we managed to save a sizeable portion of our income again.
April 2022
Overall, April 2022 was a good month, very standard. We had a few friendly events, but not too many. The weather was not perfect, but we had some lovely days as well.
We were able to work on a few things on which we were very late. I would not say we are up-to-date on everything now, but we are in a better state than before.
On the sleep side, the situation is still entirely chaotic. We had a few good nights, followed by horrible nights. Overall, it was not the worst month, but still not there yet.
Financially, it was a good month. We spent a very reasonable amount of money and had an ordinary income. And once again, this is a month without taxes. It means we could save more than 70% of our income, which is excellent.
Expenses
Let's see the details of our expenses in April 2022:
| Category | Total | Status | Details |
| --- | --- | --- | --- |
| Insurances | 878 | Average | Health insurance |
| Transportation | 179 | Above average | Fuel, some bus tickets, and one truck rental |
| Communications | 65 | Average | Only the Internet bill |
| Blog | 396 | Average | A few recurring bills and the first pillar |
| Personal | 1991 | Above average | Large bill for the office and many small miscellaneous bills |
| Food | 418 | Average | More small groceries than usual, but relatively standard |
| Housing | 550 | Average | Heating and Mortgage |
| Taxes | 720 | Below average | Real estate contribution to the county |
In total, we spent5199 CHF this month. Excluding taxes, we spent 4479 CHF. This result is good! Our goal is to be below 4500 CHF per month, not including blog expenses, which put us at 4082 CHF, a great result!
There was still a significant amount of money spent on my office project. I made a big trip to Bauhaus for wood and accessories. The bulk of the cost should now be past us.
Other than that, many small expenses piled up during the month, but nothing significant. For instance, we bought a few things to prepare the garden in May.
April should be the last month without taxes. I am expecting to see tax bills coming next month.
2022 Goals
Let's take a look at our goals by the end of March 2022:

Overall, our goals are doing well this month. There is excellent progress on most of our goals, and many of them are ahead of schedule.
I made a minor adjustment to how I compute expenses without taxes (the first of our goals). I do not include blog expenses anymore in this category. The blog earnings are still included in the savings rate, but expenses without taxes only contain our personal expenses, no expenses related to the blog. Also, 90% of the blog expenses are first pillar contributions, a form of taxes. It does not make a big difference, but I feel it makes more sense that way.
I made excellent progress on my office project. I finished the new back wall and reorganized things around it. The only thing that remains for this first phase is to install the shelf on the back wall. Then, I will be mostly done, and only very small things will remain. So far, I am pleased about how it is turning out.
I did a good amount of walks and workouts this month, despite the weather. I started with very few walks, but being to do longer walks now that our son stays awake longer when we walk around.
I also reduced one bill in April. I have increased the deductible for our household contents insurance. This will save us 100 CHF a year. And I am soon to be done with optimizing our complimentary insurances, which should save us significantly more.
I finally finished the translation to French. I am ahead of schedule, but I am so tired of doing it that I feel it is long overdue. Now, I will directly translate all articles after writing them, and emails will go in both languages.
I also progressed on my quest to find what was wrong with my knees. I have done an MRI, and the result eliminated Arthrosis and several other things. However, this showed that I had a Baker's cyst and a cruciate ligament degeneration. However, I only did an MRI of one side, so I may not have the same symptoms on both knees. I will see an orthopedist discuss what can be done later. But that will wait until June.
So, overall, I am very satisfied with our progress!
FI Ratio
Let's take a look at our progress toward Financial Independence:


Our FI ratio increased slightly this month, mostly thanks to our savings.
The stock market was not good for us this month. We still had a small net worth increase, but it was entirely due to our savings. And our net worth increase is lower than our savings, so we lost money on the stock market. On the other hand, we were able to grab shares at a lower price.
Overall, our progress towards Financial Independence is steady. There is not much we can do to go faster. We are going in the right direction already.
The Blog
Overall, the blog did okay this month. The traffic is slightly done, back to the level of February, but it is not too bad.
Except for the translation in French that is now finished, I have not done much with the blog.
I am having trouble keeping up with my schedule of one article a week. So far, I am still doing it, but it may change in the future. It is difficult to spend much time on the blog when we have so little free time.
But, overall, I would think the blog is doing well considering the time I am spending on it.
Next month – May 2022
Next month should be a fairly regular month. We have several dinners and lunches with friends and families. And I am hoping to get the office shelf finished.
As for finances, it should be a standard month. We will pay taxes again next month. And we are thinking of doing a short vacation either in May or June, that may add to the costs.
What about you? How was April 2022 for you? What do you have planned for May 2022?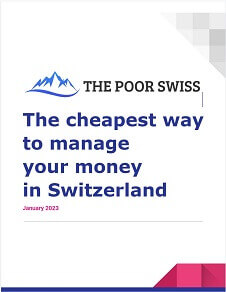 The best financial services for your money!
Download this e-book and optimize your finances and save money by using the best financial services available in Switzerland!
Download The FREE e-book