Household and Personal Liability Insurance
|
Updated:
|
(Disclosure: Some of the links below may be affiliate links)
I have covered several types of insurance on this blog before. But there is one type of insurance that I did not cover: household and personal liability insurance.
Household insurance will cover your items in case of fire, damage, or theft. And personal liability insurance will cover damage you will do to other persons' items.
I talk about these together because they are generally offered together by insurance providers.
So, we will see what these two types of insurance are.
Household insurance
Household insurance or household contents insurance (assurance ménage en français) is insurance for your items.
This insurance will cover damage to your items in case of water damage, fire damage, or theft. It is essential to know that most providers will also cover your household items when you are away from home, for instance, in a hotel.
Here are a few examples of what would be covered:
A fire in your kitchen
Water damage in your basement
Theft of your camera in a hotel
Somebody steals your things under threat
It is also essential to know that they generally cover the value of the items as if they were new. They will not consider the age of these items. It is great if somebody steals your phone, for instance, you can buy it new again with the payment from the insurance.
However, there are some exceptions. For instance, if you want them to cover your sports equipment with their new value, you will generally need to pay extra.
The amount covered by the insurance will depend on what you choose. If you own very little, you can select the default coverage, but if you own many valuable things, you should adapt your coverage. Generally, notes and precious metals are not covered, so be extra careful if you have these at home.
As usual, insurance providers make it more complicated than it ought to be. So, household insurance is not the same as household contents insurance in some companies. You must be extra careful about what the policy covers in these cases. For instance, if you want coverage for your items outside the house, you will have to make sure this is covered because each insurance policy will differ.
Personal Liability Insurance
Personal Liability insurance will cover the damage to other people and other people's items.
If you injure someone by mistake, this insurance will cover their medical fees and possibly the financial loss caused by their injuries. Or if you damage your neighbor's car while getting the mail, this will also be covered.
Since these damages can cost a lot, such insurance covers a lot. Usually, you will find insurance products covering between one and 10 million CHF. This amount is impressive coverage, and it comes at a very fair price. On the other hand, most people will never use it. But this is a case where you would rather have it and not use it than not have it and need it.
Are they mandatory?
Contrary to what most people believe, these insurance are not mandatory. However, there are cases where they are. As usual, things are not as simple as they should be in Switzerland.
Indeed, in some cantons, it is mandatory, while it is optional in others. For instance, household insurance is mandatory in Fribourg. In Vaud, people have to be insured against fire, but they use cantonal insurance for that, so they do not need household insurance.
Often, they become mandatory when you are renting. Indeed, most leases force you to have personal liability insurance and household insurance. However, there are some conditions. For instance, you may only have to get insurance against glass damage.
Also, many insurance advisors will try to convince you that they are mandatory or, at the very least, will never tell you they are not.
Should you take these two insurance?
Should we take these two types of insurance now that we know about them?
I have both types of insurance. I think they are cheap enough and cover many things that most people should take them. I do not necessarily recommend taking all the options, but the base personal liability insurance and household contents insurance should be useful for everybody.
For me, personal liability insurance is the most useful. It covers events that would be extremely expensive, and it does that at a very low price.
Household insurance is also quite useful if you have enough items at home. If you are a true minimalist, you can probably forego this. But most people have enough things at home to replace in case of a bad event.
These two types of insurance bring peace of mind, and I do not mind paying a small premium every year. If it is the same for you, you should take them.
If you do not want to take them (and if you have the choice), you should ensure enough in your emergency fund to cover these uncovered issues.
How to choose?
Like for every insurance product, there are huge differences between providers in both prices and coverage. I recommend being particularly careful with these two insurance products.
The first important point is to cover everyone from your household together. All insurance providers can cover all household members together and not individually. This makes it much cheaper, and it also makes it much simpler since you have a single insurance policy.
Similarly, you should use combined insurance and not separate them between providers. Again, this will be cheaper and simpler.
The second important point is to choose the cover of your household contents. All household contents insurance will have a limit on the value insurance. So, if you declare 50'000 CHF, you cannot claim 100'000 CHF of damage. So, it is essential to get a good picture of what your household contents are worth.
Finally, the third parameter you must choose is how much coverage you want for your personal liability insurance. For most people, the default is enough (usually 5 million CHF). If it brings you peace of mind, you can consider increasing that to the next level.
Once you have chosen the main parameters, you can use a comparator to find the cheapest insurance for your needs. Usually, I would use moneyland for comparison, but they do not have this insurance. So, instead, we can use the comparator from comparis.
When running the comparator for my household, it gives me five insurance in the top five:
Generali
La Mobilière
Helvetia
Migros
AXA
These insurance have almost the same price, between 311 and 314 CHF per year. Before choosing, I would recommend checking the coverage of these insurance policies.
Especially each insurance provider has its options, which can help drive the price down if you can only use the options you need. For instance, in our case, we do not need to cover sports equipment because we almost have none of it. And since we never drive other's people cars, we do not need this coverage either. By removing these two options, we could save 40 CHF per year.
Currently, we are at Helvetia, but it looks like we can get a cheaper policy by changing some of these options. So I will have to look at what we can do.
Overall, I do not have an opinion on any of the providers since I have never used the policy. So, I would recommend using the cheapest one with enough coverage for you. I recommend checking all the options and only using the options you need.
Conclusion
Household insurance and personal liability insurance are two insurance that most people have. And I believe that almost everybody should have these two types of insurance.
Indeed, both types of insurance are relatively cheap and can cover rather expensive damages, although unlikely. I believe this is where insurance becomes interesting.
If you want to learn more about insurance, you can read my guide on health insurance in Switzerland.
What about you? What do you think about these two types of insurance?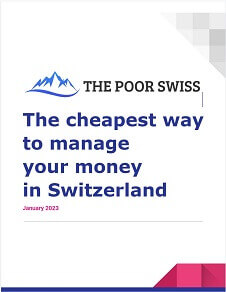 The best financial services for your money!
Download this e-book and optimize your finances and save money by using the best financial services available in Switzerland!
Download The FREE e-book