Last year, I decided to go paperless with my administrative documents. It was a long work, but now I'm done. All my documents are available as electronic documents now. I've been able to throw away five big document binders.
I've used my phone as scanner and uploaded all my documents to the cloud. Find out how I became paperless for free in this post.
Why go paperless ?
There are several advantages of going paperless. The first is to save space in your home. For me, all my admin documents were stored in five big (and heavy) binders. I've kept all my administrative documents since I was 16 years old. I'm a bit of a freak for keeping that many documents. To be honest, I could have gotten rid of many of them. However, I really like having them. It's been very useful from time to time to find them. Nevertheless, it takes some space. Going paperless means getting rid of most of these documents. I've kept some original documents, but that is a very small part of the original pile.
Of course, this is a small thing in an entire home. But I'm starting to believe that minimalism is very interesting. I'm now trying to reduce the amount I'm storing in my home. Having less has several advantages. It's easier to move. And you need less space. It sounds simple, but needing less space can lead to you needing one less room in a house. And one less room can save you a lot of money over the years. I'm far from that since I'm a bit of a hoarder, especially for books and technology. But I'm trying to improve that.
The second reason is to make it easier to search your documents. Even well-organized binders are no match for a document search on your computer. I can now find documents faster than before. Moreover, I'm also able to look at these documents from any device.
Indeed, the third reason is to make your documents available from anywhere. I decided to store my documents into a cloud service (Google Drive). That means I can access my documents anywhere I have an internet connection. This is better than carrying five heavy binders.
Finally, if you store them correctly, your documents will be much safer. Paper documents are fragile. If you drop water (or coffee…) on them, they will suffer. And they can burn easily (let's hope it never happens to any of us). If you store them on the cloud or on your computer with adequate backup, you should never be able to lose your documents. Since some of these documents can be very important, it's also important to preserve them as best possible.
How to go paperless ?
Now, let's see how to go paperless. The most difficult part is to convert all your existing documents into electronic documents. Once your existing documents are converted, it just take a little time to convert the new documents once your receive them.
First, you have to decide where to store them. There are many options:
On your computer. Simply save the files in your computer. Don't forget to backup them in a secondary location. This is easy, however you won't have access to your files everywhere.
On a USB key. Simply save all the files in a USB stick (or USB hard drive). You should make a second copy of the disk ideally. Or backup in a secondary location.
On the cloud. Send all your files to one cloud provider. It's a bit less easy than to store them on your computer. However, you almost don't have to care about backups. It has the immense advantage that you should be able to get access to them from anywhere.
I decided to save them on the cloud. First, I wont' have any problem with backup. Then, I will not lose my document. I think it's really the way to go today. Finally, I decided to use Google Drive. I was already using it for many things and to store a few documents. It was a good fit for me. And they offer 15 Go of free storage (shared with your mail and photos). This will be more than enough for all my documents. I'm not a fan of Dropbox since I had issues with it. But it's a strong choice too. And it's easier to rely on one single provider than several. There are tons of choice. If you already use Google Drive or Dropbox, simply use them. Ideally, find something that is free. Let's stay frugal!
Now, if you are privacy-paranoid, you can still use your own cloud. Use something like Nextcloud, hosted in your home or in a VPS and you'll be able to get access to your documents from anywhere. Don't forget to back up your cloud though!
Once you choose where you are going to store all these documents, you need to find out to do it. There are three main choices:
Use a professional document scanner. If you are lucky, you can use one that is available at your work.
Use a personal document scanner
Use your phone
If you have access to a professional document scanner, use it! You can scan your documents by batch and you can simply receive the result by mail or on file or maybe even on the cloud.
Now, if you don't have a professional document scanner, you are left with two options. A normal scanner or your phone. Both will need a lot of time since you need to scan each page individually. If you have a good scanner already at home, you should probably use it. You are probably already able to use it, so you should have no issue scanning all documents and saving them where you decided.
Finally, if like me you don't have a scanner available (or don't want to use it), you can also use your smart phone. You may think it's crazy to scan with a phone, but recent phones have great cameras. If you have a very old phone, it may not be great though. And there are many mobile applications that can scan document with great quality. Or, you can buy a scanner. But I would recommend to use a phone, you can do it for free!
How to scan documents with a smart phone
I've looked at many applications. Unfortunately, most of them are bad or even really bad. Or not free. I'm using Google Drive to store the documents. So, my first choice was to use the Google Drive application to scan them, but the quality is simply horrendous. It's useless. Maybe it's because of my phone. I don't know. But the documents are not readable when I use the Google Drive application. Fortunately, I found CamScanner. This simple application is really great for scanning documents. And it can upload the documents to Google Drive directly. It's available for Android, iPhone, iPad and Windows Phone.
The application is able to automatically detect the page. Then, it will remove the skewing of the page. It will only keep the relevant part. And the image will be enhanced for better text quality. You should scan your document on a well-lit surface with a single color. You can then upload it to the cloud or send it by mail. There are many features. If you follow the same process as me, you won't need any premium feature. So this will be totally free!
Scan a document with CamScanner
Once you are in the application, you can scan a new document with the camera icon on the bottom right. Then, you'll take a picture of your document: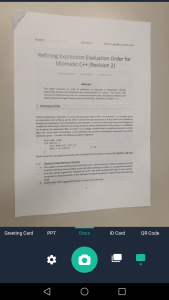 Once you have a good quality, you can take the picture. CamScanner will then detect the contour of the document: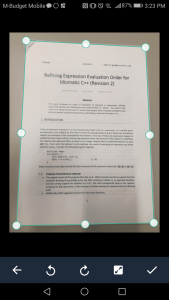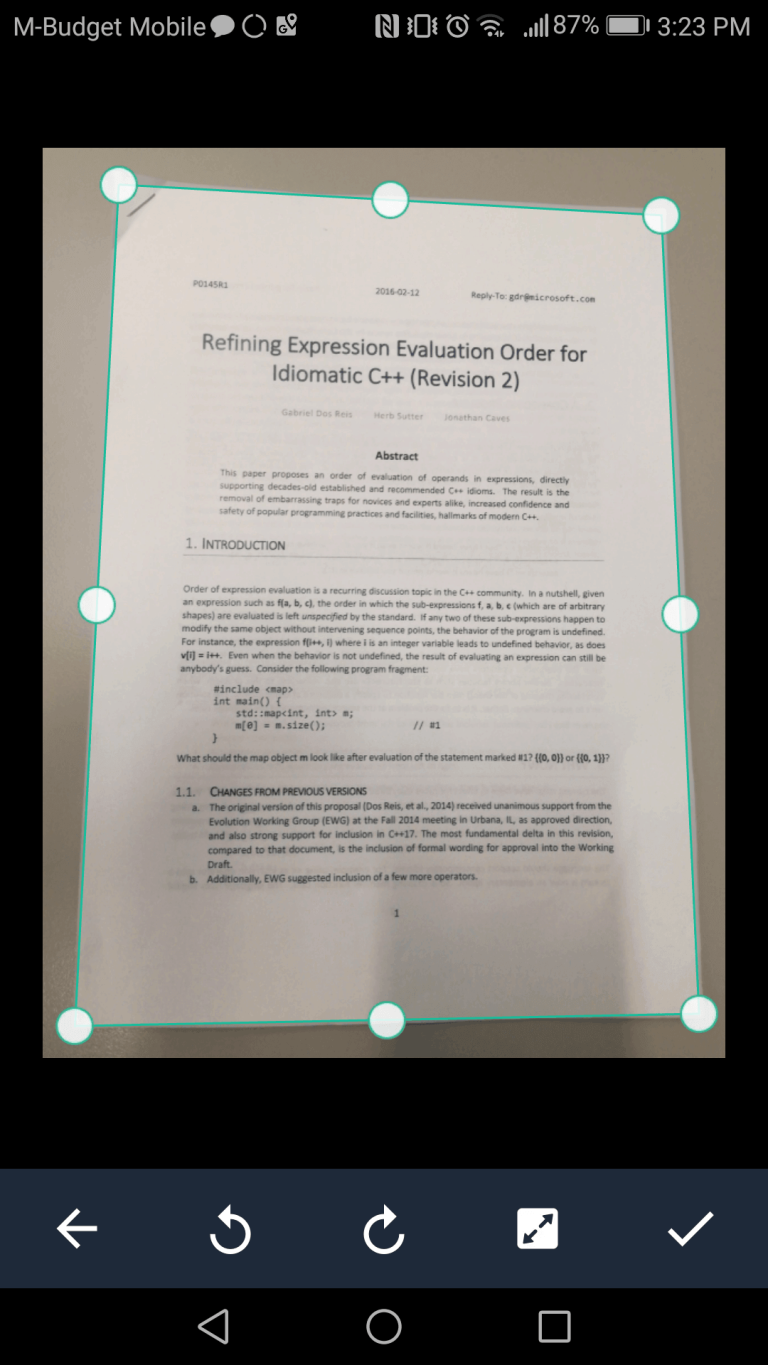 More than 90% of the time, the contour will be correctly detected. For some complex documents with color, it may not work. In these case, you can move the contour yourself. Once you are satisfied with the contour, validate it. CamScanner will then process your document.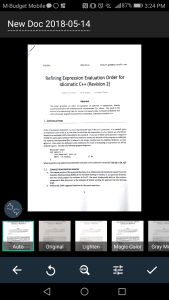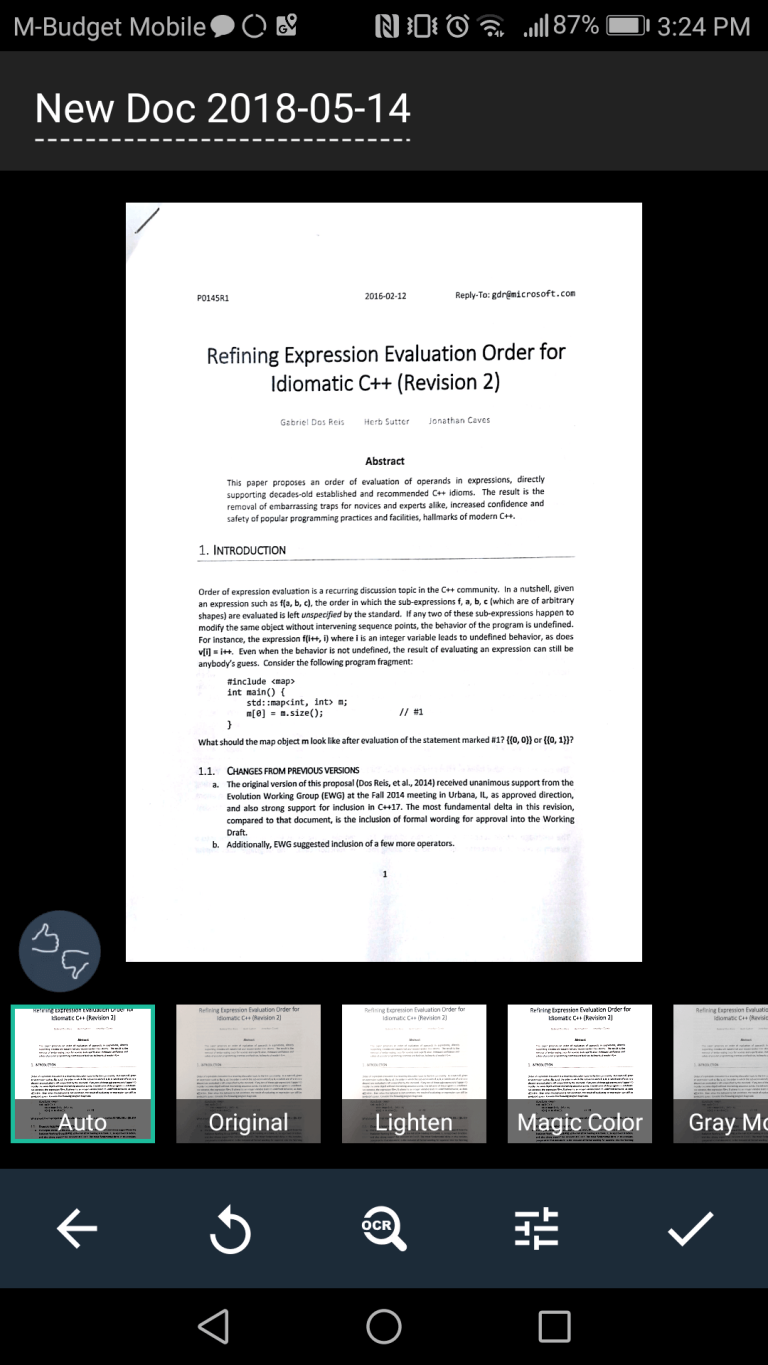 As you can see, from a warped document, the final document was put back straight. The text is enhanced to look better. You can also play with several options. However, I've scan more than a thousand documents and never have I needed the other options. The Auto option is just great.
You can also create an account and store your documents on their own cloud. You just need a premium account if you want to store a lot of documents. However, I didn't want to use yet another cloud provider. I haven't used any premium features of the app. But the application being so great, I have no doubt they have many great features.
Normally, I don't scan one document at a time. Let's follow industrialization techniques (thank you Henry Ford ;) ). I do a big pile of documents together. Here is my process using CamScanner for a set of documents:
On CamScanner

Scan every document, one after another
Select all documents
Upload all documents to Google Drive
Delete all documents when upload is finished

On Google Drive

Move documents to the correct folder
Rename all the documents
This is the process I've found out to be the fastest. With this, I don't have to rename the files on my phone which is great since my fingers don't seem to be able to work on a phone :s
To not get burned out, I recommend doing long scanning sessions. Personally, I did many 45 minutes sessions. I was doing the scanning in front of TV shows. This is quite long, but still not so much a pain as I imagined.
Now, when I receive new documents, I store them until I have around 20 and then process them all. You could of course scan them as you receive them. It really depends on your way of working.
Which documents to keep ?
In the end, I still kept a few documents. You may say I'm not paperless. Since I got rid of about 99% of my documents, I think I still deserve the paperless title ;) It's a very small set that does not take a lot of room. I don't need a binder for it.
Here is a few things I decided to keep:
My work contract
My apartment lease
A few insurance contracts
All my diplomas
A few certifications
A few various contracts
Overall, it's really not a lot. It will depend on you and how much you think you may need the original. Maybe you won't need to save any of them.
Of course, even if you save the original document, don't forget to scan it too. This way you have a copy and you can easily access too.
Summary
There you have it! I'm now paperless and I advice you to do the same before you accumulate too many documents. Using CamScanner on your phone and storing your documents on the cloud is very practical. It's easy to do and has many advantages. If you want to save some room in your home, it's a good starting way.
How about you ? Are you paperless already ?