October 2023 – New heat pump boiler
|
Updated:
|
(Disclosure: Some of the links below may be affiliate links)
October was an average month. Not much happened, and not much progress was made. We changed our boiler to a new one with a heat pump because the old one was not maintained enough to continue operating.
Financially, it was an excellent average month. We saved almost half of our income, with standard income and expenses.
October 2023
Overall, October was very average. We had a few events planned with family and friends, but it was a relatively quiet month, which was good for us.
On the sleep side, we returned to an average of one wake-up per night at the beginning of the month. We even had a few nights without any interruptions, which is a good thing. However, this was followed by a few horrible nights. The nap and putting him to bed are still not great, and he is still fighting not to sleep. But it still seems we are in the proper direction.
We did one major upgrade in our house by replacing the water boiler. The previous water boiler was outdated and not adequately serviced by the previous owners. So, it would have cost too much to service it, and since it was 25 years old, it was due for a replacement.
So, we changed it to a new water boiler with a heat pump. It should save a significant amount of power. There were some complications with the power, and we had to upgrade our power counters. We have not paid yet, but it should cost about 7000 CHF.
Financially, I am happy that we are back to an average month.
Expenses
Here are the details of our costs in October 2023:
| Category | Total | Status | Details |
| --- | --- | --- | --- |
| Insurances | 762 | Average | Health insurance |
| Transportation | 94 | Average | Fuel, parking, and buses |
| Communications | 19 | New Average | Phone plan |
| Blog | 125 | | Grammarly |
| Personal | 2094 | Below average | Future holidays, kindergarten, new security gates for children, … |
| Food | 843 | Above average | Usual groceries, some extra special meat, some eating out |
| Housing | 549 | Average | Heating, interest, and ECAB |
| Taxes | 5827 | Average | Taxes at the three levels |
In total, we spent 10317 CHF. Without the blog and the taxes, this amounts to 4364 CHF. This is a good result for us. We try to keep our expenses below 5000 CHF without taxes.
We had once again a more reasonable month for expenses. It was good after some months, more on the high side. And this is considering kindergarten, which has become more expensive, and paying for a short holiday planned in December.
Again, I missed one bill for the blog, but I fixed it, so it will not happen again. I am confident we will not have more e expenses in this category again next year.
To satisfy the requirements of Famiya, we had to install new gates in the house. In total, we paid more than 250 CHF for security gates. I will be happy when we can remove these eye sores from our home.
Other than that, our expenses are not very remarkable this month. It is good that we are back at reasonable expenses this month.
2023 Goals
Here is the status of our goals by the end of October 2023:

Overall, our goals are going well.
We finally had one more month below our spending goal. This is great because we missed that target several times this year. I knew we were not likely to succeed in that goal, but still, I wanted to try. Since we are still 600 CHF above the goal and have two months left, we will not succeed in that goal. But I hope we can reduce it by the end of the year.
Other financial goals are doing well. Since the blog now operates as an LLC, we receive a fixed salary from the goal. So, it will make it more difficult to grow our income next year.
With the new temperature, it is getting more difficult for me to reach my daily steps goal. Before, we walked more after work and during the weekend, but it was not so much the case this month. I am still doing my morning walk, but do not want to make it longer. I want to try to start a routine walk with my son. We will see how that goes.
I started well with my workout goals but then gave up multiple days. I cannot force myself to work out anymore after a horrible night. I will have to try harder next month, but if my sleep does not significantly improve, I am not sure I can keep up with workouts.
Strangely, we did one of our worst months for energy consumption. I think this comes partly from installing the heat pump, and then its starting up. I hope this will come down next month. I will also check the configuration of the boiler to see if it is properly configured.
Overall, I am pretty happy about our progress towards our goals.
FI Ratio
Here is the progress of our FI Ratio as of October 2023:

Overall, our progress was almost entirely flat this month.
The stock market was not playing in our favor this month. Our investments went down significantly this month. This will, of course, not help our progress towards FI. On the other hand, we could buy shares cheaper than before. For our long-term gain, this will not matter.
On the other hand, our 12-month average expenses went down slightly. And our average should go down even more next month. This means we need to accumulate less money. Of course, we are so far from retirement that this does not matter. However, since we cannot predict our expenses, we use the running expenses as an estimation.
So, given the lack of direction in the stock market, I think our FI ratio is pretty good.
The Blog
For once, I had some time to work on other projects on the blog than just writing. Fortunately, I had many articles written before the end of the month.
I took the opportunity to refresh all my review articles. I cleaned up a few things in them that were outdated and added a table of contents to all these articles.

I am also testing some changes in the Neon Review. I have changed the way the different sections look and added notes to some of the sections. I would appreciate to know what you think about this.
I also did a similar thing to the Zak vs Neon article. The idea is to display quickly the winner of each category.
If people like this, I may deploy this change to all my reviews and potentially to other articles.
Next Month – November 2023
In November, we have very little planned, which is excellent. And financially, it should be an entirely standard month. We will likely have to pay for the boiler, which will be a considerable expense, but this is something we have done this month.
Again, don't hesitate to let me know in the comments below what you think about my changes for the Neon review.
What about you? How was October 2023?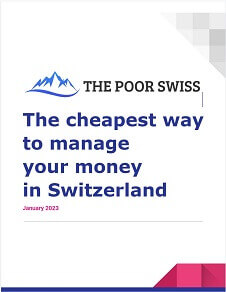 The best financial services for your money!
Download this e-book and optimize your finances and save money by using the best financial services available in Switzerland!
Download The FREE e-book