(Disclosure: Some of the links below may be affiliate links)
Overall, May 2021 was a good month, despite the crappy weather. We had some opportunities to see our friends and family again, and we feel like life is slightly going back to normal.
But from a financial point of view, it was not a great month! We had to pay a large bill for the house. So despite a good income this smooth, we did not save any money this month, and our net worth fell for the first time in a long time.
So, let's see what happened in detail!
May 2021
May 2021 had the perfect balance for personal events. We could see friends and family. And we could even celebrate a wedding in the family. The only downside of the month was the crappy weather with mostly rain.
The big thing this month in our expenses is the enormous bill we paid for the house for the transfer of owners for the land register. We have been waiting for this bill for almost a year now. It is also the largest bill I have ever paid, at 23K CHF!
As a result of this single bill, our savings rate is zero this month. This month marks the first time in a year we have not saved money in one month. And it is the first time in a long time that our net worth decreased that much in a single month.
However, even though it is not great, I do not feel bad about this result. We were expecting this bill for a long time. At least now, the bill is paid. And there should be only one bill left for the house. Hopefully, it will come soon so that these expenses are behind us.
Expenses
Let's see the details of our expenses in May 2021:
| Category | Total | Status | Details |
| --- | --- | --- | --- |
| Insurances | 745 | Average | Health insurance |
| Transportation | 69 | Average | One gas refill and many small bus tickets |
| Communications | 70 | Average | Internet connection and services, no phone fees this month |
| Personal | 2105 | Above Average | Many large health bills, a wedding gift, some clothes, and some various bills |
| Food | 378 | Above Average | Slightly more groceries than usual |
| Housing | 23760 | Highest ever | The big housing bill for the land register |
| Taxes | 1130 | Below Average | Only the state bill |
In May 2021, we spent 28260 CHF in total! This month is by far the most expensive month we have ever had! Before that, we had one month with 15K, but May 2021 is almost twice as expensive! Without taxes, this amounts to 27129 CHF. And without taxes and the big house expense, this amounts to 3814 CHF.
As mentioned before, the big expense in the Housing category is the bill for the official transfer of owners from the land register (droits de mutation in French). This bill pays for the change of ownership in the official registries. It is quite expensive in my opinion, but there is nothing we can do about that.
When we consider our expenses without this bill, they are fairly reasonable. At 3814 CHF, we are still beating our current goal of spending less than 4500 CHF per month.
We also had some large health bills this month. But these bills will be paid back next month. So, our expenses in May 2021 are relatively good!
2021 Goals
Let's take a look at the status of our 2021 goals at the end of May 2021: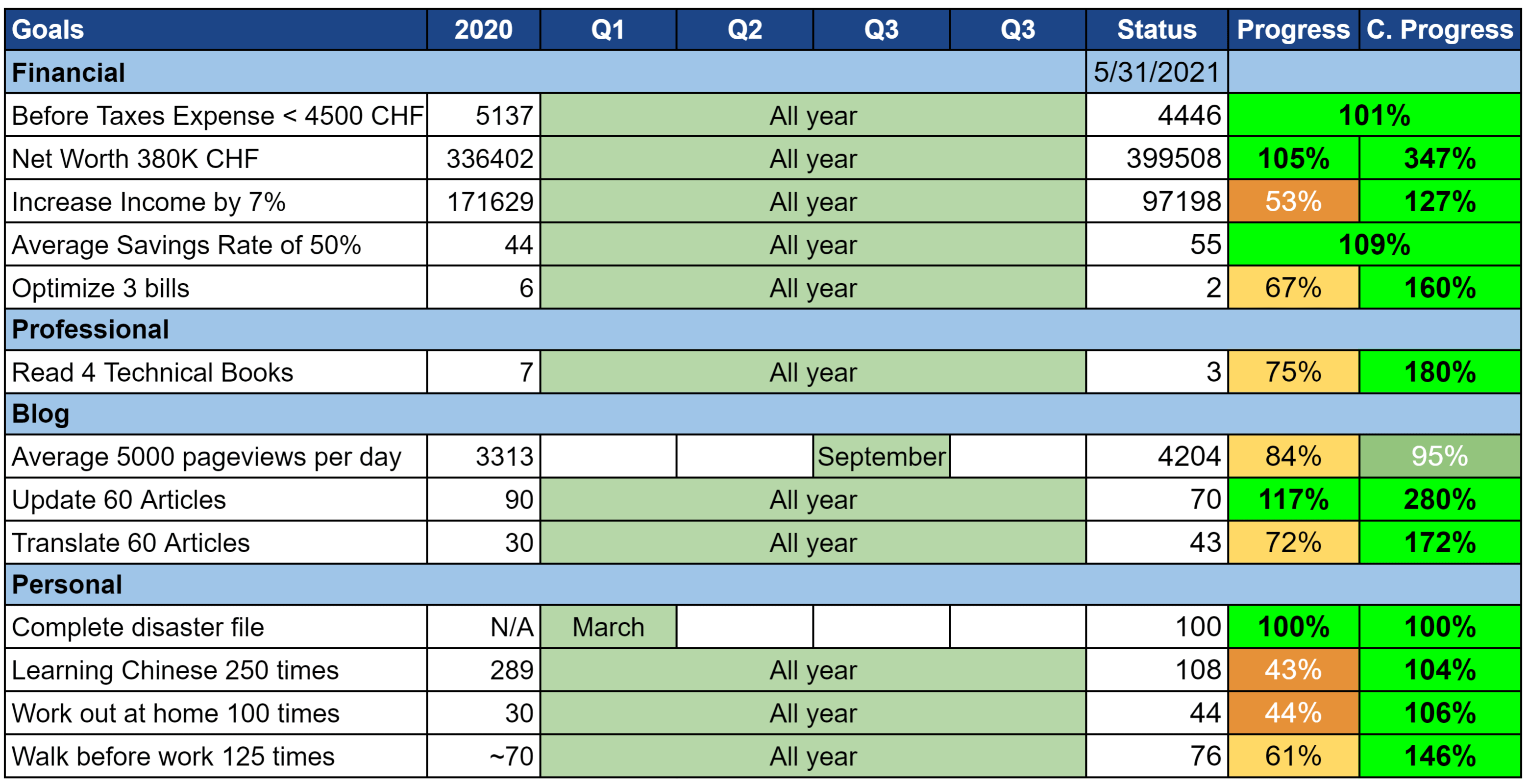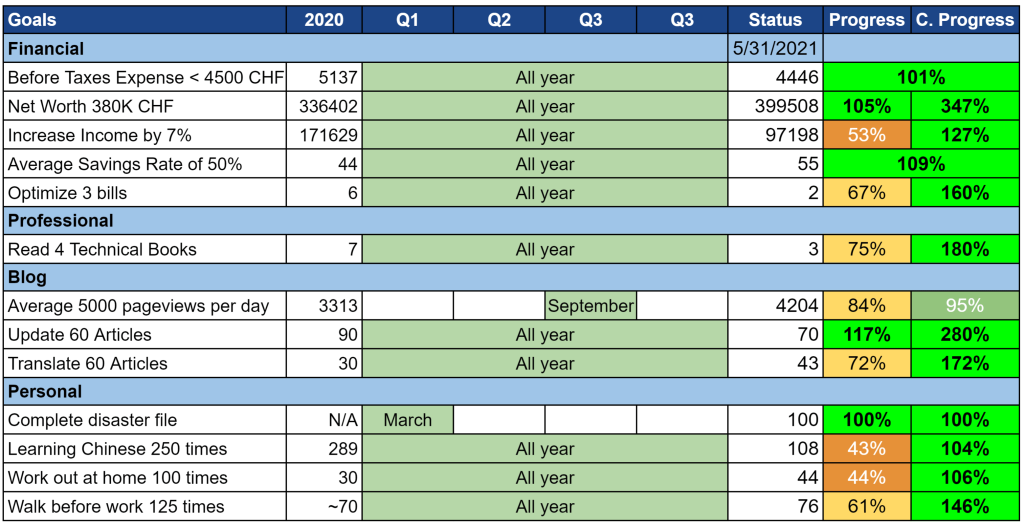 Overall, our goals are doing great! Our net worth went down, but not enough that we not still on track to meet our goal. We will see once we have received the final bill we are waiting for, for the house. And our savings rate of 0% was not enough to bring our average below 50%.
The only goal that is not on track is the blog page views goal. At this point, I do not expect to meet this goal unless there is a significant shift in traffic. But I can live without that. The blog is doing okay.
So, I am pretty happy about the progress on our goals. I do not plan on doing a course correction. Everything is doing okay!
Net Worth
Let's take a look at our net worth as of May 2021: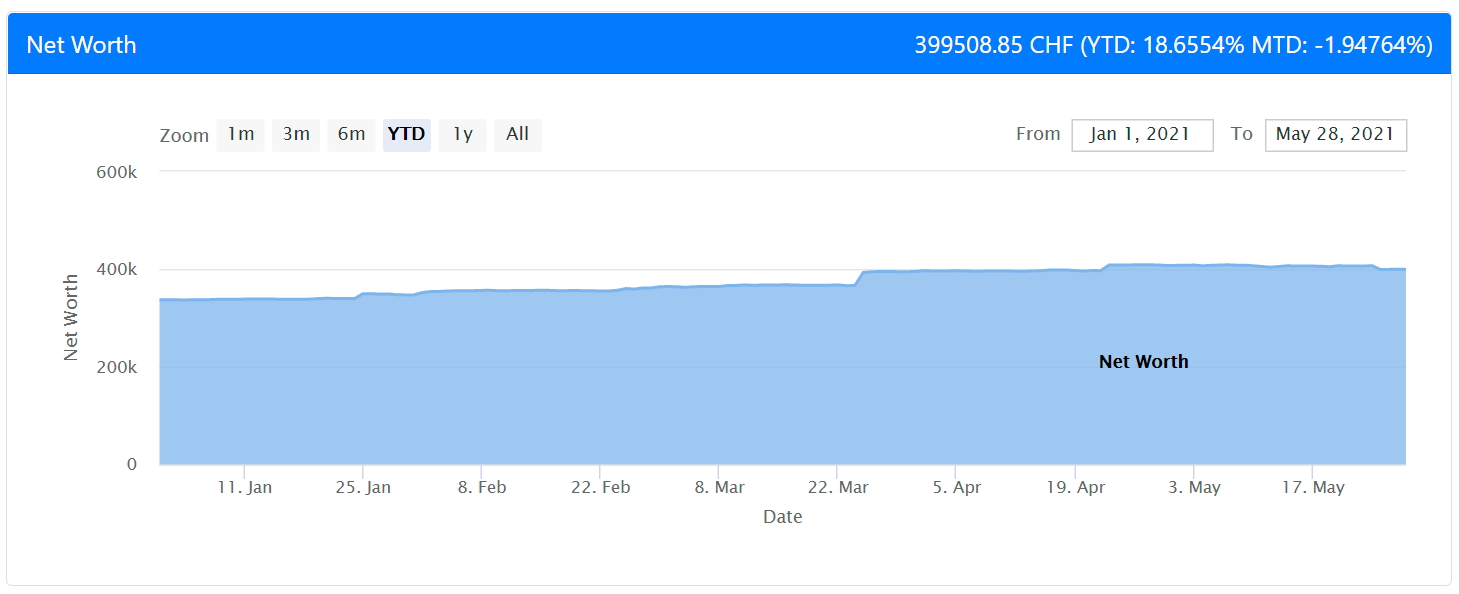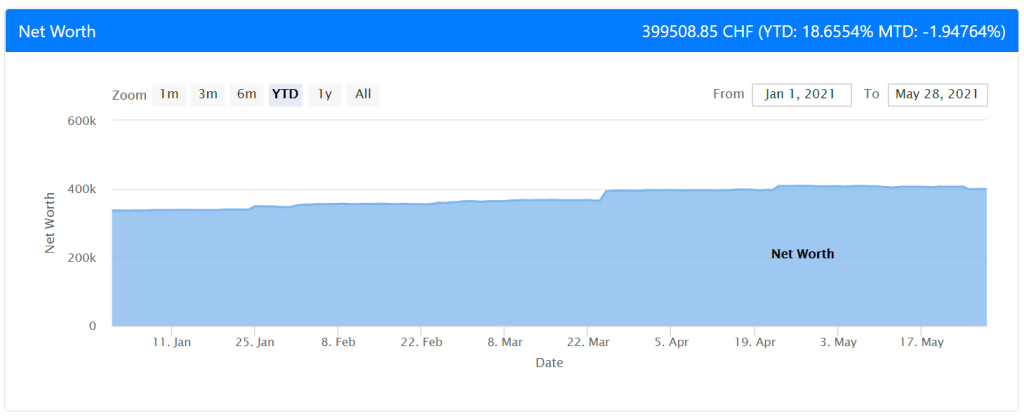 Our net worth at the end of May 2021 stands at 399K. We went back down below 400K but not by a long shot. Indeed, for the first time in a long time, our net worth went down.
In the previous months, many readers asked me why my net worth did not drop after purchasing the house. Here is the drop! With the huge bill, our net worth this month fell by about 10K. We are still waiting on the notary bill, so there should be another drop soon. We were expecting these bills earlier, but it seems that it takes many months for the bills to come.
Other than the big bill, nothing interesting happened on our net worth. I am still very happy about where it is.
The Blog
I do not have much to report on the blog this month. The traffic went back up a little, but this was due to one of my articles being linked in a popular Youtube video. It is great, of course, but this kind of traffic does not last.
I did not do anything special on the blog: new articles, updated articles, translated articles. This is the usual I do on the blog every month. I plan to continue working like this next month. I should probably have done a little more this month. But I was not very motivated to spend many hours on the blog honestly. We will see if I can get more motivation next month.
If you had to read only an article this month, I would recommend reading how to make money online with surveys and let me know what you think about this kind of article.
Next Month – June 2021
In June, I do not expect anything out of the ordinary. We will have a short vacation in Switzerland. That will be good to relax a little! Other than that, it will be a standard month.
As for finances, we will probably get large tax bills. They usually come in June. So this will hurt our finances again. But this is expected by now. And this should smooth out over the years.
But enough about me? How was May 2021 for you?