Make money online with online surveys
|
Updated:
|
(Disclosure: Some of the links below may be affiliate links)
Many people want to make a little extra money. Having a side hustle can help you bring more money and improve your financial situation. I have not talked much about this on the blog. But I want to expand on the subject.
In this article, I want to talk about online surveys. These are surveys you can answer online, and you will get some money when you answer them. There are several interesting websites where you can do that in Switzerland.
In this article, I talk about this side hustle and the best websites for online surveys in Switzerland.
Online Surveys
An online survey is just a survey that is done online. Online survey companies are mandated by other companies that want to get many people's opinions on their products or a market question. You can do everything on your computer or your phone, and it is straightforward to do. For these reasons, doing online surveys is probably the easiest side hustle you could do.
Now, you will not become rich by doing online surveys. This is not what this article is about. If you do it regularly, you can maybe expect a few hundred CHF at most per month on several platforms. And that is the maximum you can get, from my experience.
However, for many people, even 100 CHF extra each month can help. This could be a good solution to improving your income and saving this extra money for your future or working towards a more solid budget.
You can expect many kinds of surveys:
About insurances
About a specific product
About advertisement
About your usage of something or consumption of something
I have tried all the platforms I talk about in this article. But I am only using one right now. My wife also tried several of them. I am not doing that much anymore because I do not want to spend my time like this anymore. You should only do online surveys if you feel it is a good use of your time. Again, this will not entirely change your life.
With that said, we should look at the best online survey platforms in Switzerland. To use them, you must know at least one of the official Swiss languages: French, Italian, or German. I have not found one that you could do in English.
Ampuls

Ampuls
Ampuls is a great online survey platform where you can answer surveys to make some extra money!
Earn money now!
Ampuls is a well-established online survey company, existing for more than 20 years. This is the platform I have used the most, and I still do surveys occasionally.
When you answer surveys, you will get points. 100 points is almost the equivalent of 1 CHF. I have received anywhere from 200 points to 1000 points from a single survey. Most surveys are quite short. The longest ones are around 15 minutes.
With your points, you have two main choices:
Get the money in your bank account. You can spend 3000 points and get 30 CHF in your bank account.
Get the money in coupons.
What is interesting about coupons is that you can get more out of your points. For instance, you can get Digitec (Galaxus) coupons worth 20 CHF for 1800 points. You can also get a Spotify coupon with 13 CHF for only 1000 points. There are many other coupons possible (Netflix, Zalando, iTunes, …).
So, if you know you will spend the money in one of these shops, this is a great way to make more of your points. In that case, you will save on expenses instead of making more money. It is a choice you have to make. I have used Digitec and Zalando coupons and wires to my bank accounts.
The number of surveys you will receive depends on your profile. I used to receive between 1 and 3 surveys per month.
Over about one year, I have made something like 300 CHF from Ampuls. I mostly did the online surveys, but I answered one phone survey out of curiosity. They have a great online platform, and they are straightforward to use. I felt this was the most interesting for my profile for my time on it.
EntscheiderClub / Club Décideurs
EntscheiderClub (Club Décideurs in French) is a new player in the Swiss market for online surveys. They are a sub-company from Gapfish, a large survey company from Germany.
Before each survey, you will know how much you will get from it. Generally, you can get from 1 to 5 CHF for each survey. Once you reach 10 CHF in balance, you will automatically get a wire to your bank account.
It is very simple and well-integrated with the surveys. They also have some special surveys, for instance, with a webcam. I have never done any of them because this is not something I would enjoy, but you may get more profit.
I have not used this platform much, I mostly tested it a little before deciding not to spend too much time on online surveys. But this is a good platform where you can get interesting profits. With Ampuls, Club Décideurs would be among the most interesting platforms.
Espace d'opinion
Espace d'opinion (meinungs platz in German) is a more recent platform for Switzerland. They are a huge online survey company which only started in Switzerland in 2008. They have about 45'000 Swiss members now.
On this platform, you will receive between 1 CHF and 2.50 CHF per survey. Once you have accumulated 15 CHF, you will get the money to your bank account or donate it to a charity.
This platform has a good online platform. It is straightforward to use and easy to answer the various surveys.
This is the platform I have used the least because, at this point, I had decided to stop using them altogether. But my wife is still using them. This is the least lucrative of the platforms, with small payments and few surveys. But maybe that is only because my profile was not very interesting to them.
Alternative: LINK Institut
One of the earliest survey platforms I have used is the Link Institut. However, you cannot create accounts on their websites, they sometimes contact you, and if you answer a survey (by phone, I believe), they send you information on how to subscribe.
The Link Institut is a Swiss market research company. They already have more than 40 years of experience. They are the biggest survey panel in Switzerland, with more than 100'000 participants.  Their online survey panel is called the LINK Panel.
When you complete a survey, you will have the choice between several prizes:
A cash wire, as soon as you reach 10 CHF
Coop Supercard points or Migros Cumulus points
Coupon for orellfueslli.ch
Coupon for landlines
Charity donations
I have always chosen Migros Cumulus points because it was the easiest payment option, and I could save on groceries.
I have not done many surveys, a little over 10, I believe. I have used this service for about one year and received around one monthly survey on average. I would have liked to receive more surveys. This was my main issue with this service. But keep in mind that this will depend on your profile.
Sometimes, the surveys were inconvenient, and this service feels like the least polished platform, a bit cheap. I have probably gotten a little less than 100 CHF from LINK.
Conclusion
Answering online surveys can help you make some extra money online. They will not make you rich, but if you want to spend time doing them, they could help your budget with a little extra income.
Among the various side hustles available, this is probably the easiest side hustle to get started with. You only need a computer or a smartphone, and you will be able to get started. I have made less than 500 CHF in about one year (probably slightly more) with these platforms. After that, I decided to stop and save time.
You have to keep in mind you are trading your time for money. It is up to you to decide if it is worth it. But if you have time and want to make a little money, this could be a good way to start.
If you are interested in making some money online, I have a few more ideas to make money online.
Should I discuss more side hustles and ways to make money on this blog?
Have you ever done online surveys?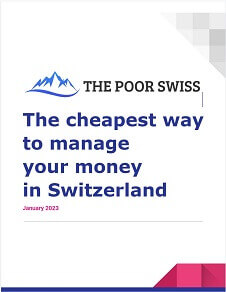 The best financial services for your money!
Download this e-book and optimize your finances and save money by using the best financial services available in Switzerland!
Download The FREE e-book