4 Ways to make money with your vehicle
|
Updated:
|
(Disclosure: Some of the links below may be affiliate links)
Many people would like to get some extra income with a side hustle. One way to do this is to drive with your vehicle and deliver people or things to some destinations.
Many people have their own vehicle and do not mind driving it around. So a good way to make some extra money is to use your own vehicle to deliver people and things. And there are even ways to make money with your vehicle without driving it!
So, in this article, we will see a few ways to make money by driving your vehicle.
1. Drive people around with a car
The most well-known way to use your vehicle to make some extra money is by driving people around, like a cab. For this side hustle, you will need a car.
These days, with Uber and Lyft (and other competitors), it has become possible for any driver to become a pseudo-taxi driver. So, if you have a car and a driving license, you can apply for an account. Then, when you are willing to drive, you can activate your app, and your services will be available to your potential customers. You then have to pick up the customer somewhere and deposit him somewhere else. You will be paid depending on the distance you have driven with your customer.
In the United States, many people drive Uber as their main job, and many do that as their side hustle. While you cannot get a very high income with Uber, the barrier to entry is relatively low.
Unfortunately, it is not that easy in Switzerland. First, I only know of Uber that does this in Switzerland. Lyft did not start service in our country. And I do not know any other alternative where you could drive for them. Nevertheless, there are about 400'000 Uber users in Switzerland. And this may grow.
Also, Uber is facing a lot of pushback from the law and worker unions. Indeed, for many people, Uber employees are exploited. And they want to force Uber to recognize its drivers as employees, not contractors. Now, I do not deny that. However, this is not necessarily good news for people that simply want to do a few hours of Uber driving per week. This debate has been going on for a while, with many legal fights.
Then, Uber only works in some of the major cities like Lausanne, Geneva, and Zurich. So, if you are in a smaller city, it may not be possible to find rides on Uber.
It is tough to estimate how much you can make. The only source I have found (in French) was saying about 27 CHF net per hour. This sounds reasonable. But I would not be surprised if this was lower. And you have to account for when you do not have a ride.
Nevertheless, it could be a nice side hustle to drive with Uber if you like driving and have a car.
Just for transparency: I have never driven for Uber and never used any of the techniques I propose in this article! I hate driving. But I think these are interesting ways to earn money, and my readers are eager to know more about possible side hustles.
2. Deliver foods or items
The second way is to use your vehicle to deliver food or items. The advantage of this is that you can also use a scooter or a bicycle to do the deliveries, no need for a car.
In the U.S. or some other big countries, there are plenty of services for which you can deliver: UberEats, DoorDash, or Instacart. Unfortunately, in Switzerland, it is more difficult. I have only been able to find one service for which you could deliver: Uber Eats.
With Uber Eats, you can deliver food to people with your bicycle or scooter. You will have to go to a restaurant or a shop and pick up the order of a customer. And then, you will have to deliver that order to the customer. It takes more work outside your vehicle than driving people out. However, it is an advantage that you can do that without a car.
Once again, it is much better if you are in a city than if you are in a village.
It is challenging to estimate how much you will get paid. In Switzerland, it is estimated that you can get about 20 CHF to 25 CHF per hour with Uber Eats in large cities. Nevertheless, it could be an interesting side hustle for many people with some time and a bike.
Note that the rules may differ depending on which city you will work in with Uber Eats. For instance, in Geneva, the delivery people are considered employees of Uber, not independent contractors like in most other places. But this may change in the future in other cities.
This industry will get bigger in the next few years with more and more shops starting to deliver food. COVID-19 only made that segment larger, and it will become more interesting.
3. Rent your car when you are not using it
The third way to make some side money with your vehicle is to rent your car to other people when you are not using it.
Over the years, there have been quite a few services where people can put their car for temporary rental to other people. It is an interesting way to make money if you are not using your car all the time. For instance, if you only drive your car a few days a week, you could try to rent it out to other people the other days.
The advantage of this side hustle is that it is much more passive. You do not have to drive yourself. People are driving your car.
I have found one service that lets you do this in Switzerland: 2EM (only in French and German). You can put your car to rent and set yourself the price:
The price per day
The reductions for long durations
The price per kilometer
If your car insurance already covers damage while renting it out (most insurance will not cover it), you can use your insurance. Otherwise, 2EM proposes its insurance models that will cover the car. In that case, the price will be higher for the drivers. So you may have to lower your prices to stay competitive.
In theory, you could also try to do that by putting ads on the internet. But it is unlikely that you will attract many clients. So, it makes more sense to use such a service directly rather than cut the intermediary.
4. Takes passengers on your longs trips
If you make some long trips, you can try to get some passengers to share the trip's costs.
Unless you make many of these trips, this is not a side hustle since you cannot scale them. But it could be a good way to save money on your trips. If you make a long trip, you could save a significant amount of money by taking one or several passengers with you. And for some people, it may be interesting not to do it alone.
Several services help you do that in Switzerland. But the one that I have heard the best things about is BlaBlaCar. They already have many users in Switzerland, and many rides are available.
If you have a long trip, you can post it on the website and set a price for each passenger. Passengers can then reserve a place on the trip. After the trip, you will receive the money from BlaBlaCar.
If you are making these trips regularly, this could save you a significant amount of money.
Since you must register each trip on the app, this is not great for your daily commute. In many countries, there are also some services where you can do carpooling for your commute. However, I have not found one that works well in Switzerland. If you know a good one, let me know in the comments below.
Conclusion
If you like driving your car or bike or any other vehicle, it may be interesting to use it to make some money on the side. There are a few possible side hustles that involve driving your vehicle.
Now, as ever, you will not get rich doing that. But if you have time and need money, these may be interesting ways to complete your income.
As you can see from the article, there are only a few services that will do that in Switzerland. In the United States, there are many more options to make money with your vehicle. But here, we are pretty much limited to Uber. If you know other ways to make money with your vehicle, let me know in the comments below!
You need to consider that if you drive your vehicle more, it will wear faster. So, there is a cost to driving your vehicle for money (other than the obvious fuel costs).
Again, I think this is only interesting if you like driving. For me, doing so would be a nightmare since I hate driving and I hate cities! But I am sure this can help some people!
If you do not want to make money with your car, you may want to save money on your car!
What about you? Have you ever done something like that? Do you have any other ways to make money with your vehicle?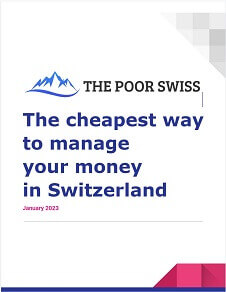 The best financial services for your money!
Download this e-book and optimize your finances and save money by using the best financial services available in Switzerland!
Download The FREE e-book