Interview of Richard Toolen – CEO of Investart
|
Updated:
|
(Disclosure: Some of the links below may be affiliate links)
Today, I have the privilege of interviewing Richard Toolen, the CEO of Investart. Investart is a new investing service in Switzerland.
I am very intrigued by this new service. They are offering investment in Exchange Traded Funds (ETFs) in Switzerland. And they are offering both a custom portfolio and a managed portfolio. Moreover, they are offering more than 80 ETFs, all passive investing ETFs.
Is it too good to be true? What better way to find out than interviewing the CEO and founder of Investart, Richard Toolen. I asked him many questions, and I am sharing his answers with you.
June 2021 Update: A 12 CHF per month fee was introduced, read my Review of Investart for more details.
1. What can you tell us about yourself?
I have worked in Finance for over 25 years, starting as a trader in Frankfurt in 1994. After working for several years as an employee, I left banking with some colleagues to set up entrepreneurial endeavors of our own.
Investart is an extension of these efforts. I wish to make investing easy and fun for Swiss retail investors and allow them to use their own ideas to inspire themselves, while we help manage the risks. Hopefully, our enabling philosophy will assist them in doing so, and my successes as well as many years of experience in the financial markets (including during the crises of 1997, 2000, 2008 and 2020) are reflected in the Investart platform.
2. What is Investart?
Investart is an online investing service. It allows people to realize their own investment ideas, or else benefit from our expertise and let us compose and manage their investment portfolios. We offer investments into regular (not crypto) asset classes implemented via ETFs.
3. Why did you found Investart?
There is a large number of people who have some savings and would like to invest them. However, many of them are beginners in the world of investing: they do not know how to open a brokerage account, what to invest into, which investment instruments to select, how to find them, how to place a trade. And most importantly: where to start. Investart was founded to help such people achieve their financial goals.
4. What makes Investart great?
What we had in mind when starting to build Investart was an intuitive, fool-proof, and self-explanatory platform. Something that can be used by total beginners in the area of investing. If we have achieved this goal (and our clients should tell us this) – then this is the main feature that makes Investart great.
5. Is it really free?
June 2021 Update: A 12 CHF per month fee was introduced
Online investing is really free: we do not charge any commissions. Our clients do not pay anything for trading, custody, re-balancing, reporting, servicing, no third-party commissions, no VAT, or transaction duties. Check out also our pricing page.
Where we make money is extra value-adding services such as personal financial consultations, wealth planning, and pension planning. These are offered on a one-to-one basis to our affluent clients. In the future, we plan to add some additional features to the platform, such as risk/return optimization of the composed portfolios, which will be subject to charges.
6. What platform are you using?
At the moment Investart is an internet (browser-based) application, which works on any desktop and mobile device. It uses 128-bit internet encryption and 2-factor authentication technologies to ensure data security. We are particularly proud to be one of the first financial companies in Switzerland to offer account opening fully online (and we avoided video-identification in favor of much easier and fun selfie-identification).
We plan to create a mobile app version of the platform and will start working on it in the second half of 2021.
7. In what kind of instruments is Investart investing and why?
We offer investments in ETFs.
Picking individual stocks might result in large financial losses due to wrong title selection (so-called "unsystematic risk"). Experienced investors know this and reduce this risk by ensuring proper diversification. Our main target group is beginners, and ETFs, which are normally diversified investments (there are many stocks or bonds in each ETF), are more suitable for them. Our platform can technically support investing also into single stocks and bonds. But for the time being, we will limit our offering to ETFs.
7. Can you give us an example of a portfolio with Investart?
Here is an example of a CHF-denominated portfolio:
5% in Cash
28% in Swiss corporate bonds (Investment Grade)
9.5% in Global High-Yield bonds
13.5% in Swiss mid-cap stocks
15.5% in Swiss high-dividend stocks
14.5% in US low-volatility stocks
9% in Swiss real estate companies
5% in Gold.
8. Can we see the instruments being used for each of the portfolios?
Yes, you can see the complete breakdown of your portfolios. You can also click the "i" button of each Investment to find detailed information about it, including which ETF is used for the investment.
9. Can I choose the portfolio myself?
100% customization is possible.
You can build your portfolio fully from scratch yourself. Or you can take an optimized portfolio, proposed and tailored to your personal situation by Investart, and adjust it any way you like by changing the proportions, adding and removing instruments.
10. Is Investart for everybody?
Absolutely. We have talked about Investart being intended primarily for beginners, however, we have noticed recently that many experienced investors are signing up to the platform.
11. Is Investart a good fit for passive investors?
It is a perfect fit since we offer investing via ETFs.
12. Why are you focusing on currency-hedged instruments?
Our platform is intended mainly for Swiss residents, whose main currency is CHF. Imagine you selected a CHF-denominated ETF, which invests in US stocks. After some time US stocks gain 5%, but USD falls 7% against CHF. It turns out that you lost 2%, despite US stocks rising. To avoid such situations, we pick CHF currency-hedged ETFs whenever possible.
Unfortunately not all ETFs have currency-hedged share classes, so there is also plenty to choose from for those who want to keep the currency risk (we have recently added a "currency hedged" indicator to all products).
13. Any other cool plans for the future?
We plan to develop and launch a whole range of new cool "Premium" features during this year and early next year, and will be happy to reveal them once they are ready!
14. Anything else you would like to add?
An important point: at the moment we limit the number of new clients to 1'000 per year. This helps us keep the costs down and pass the cost savings to clients in the form of zero commissions. Please note that if you open an account and do not fund it during the following 1 month (required minimum: CHF 2'000), it will be removed to make space for new accounts.
So, secure your account now. And thank you for having me here, it's been a pleasure answering your questions!
---
Mr. The Poor Swiss: Thanks a lot to Richard for answering all my questions!
It was great that learn from the CEO of Investart. I am really intrigued by the service they are offering.
Investart is not really a robo-advisor, and it is not really a broker, but it can be a little of both depending on how you are using it. For me, it seems like it could be a great way for investors to start investing, with an extremely low price
For more information, I have written a full review of Investart and started investing myself.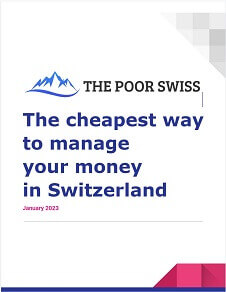 The best financial services for your money!
Download this e-book and optimize your finances and save money by using the best financial services available in Switzerland!
Download The FREE e-book