The Poor Swiss blog
|
Updated:
|
(Disclosure: Some of the links below may be affiliate links)
Welcome to The Poor Swiss blog :)
If you arrived here through The Blog Archives, you have reached the very first post from The Poor Swiss blog. On the other hand, if you are just starting to read through my posts, you can look at my Introduction for New Readers.
This is the first post on the blog The Poor Swiss. On this blog, I talk about many subjects:
Financial Independence: Learn how to become free with your money!
Investing: How to invest your money to get more income.
Budget: How to account for your expenses and earnings and track your performance.
Frugality: How to save money on your expenses.
And many more subjects!
The year I created this blog, in 2017, my savings were getting worse and worse every month. This was due to many big expenses such as plane tickets and unexpected health care. But this made me realize that I am not saving enough at all. Although I have a good salary and live quite well, I have a tendency to spend too much.
In 2016, my savings rate was around 18%. This is not really bad. But still lower than I would have liked. But in 2017, my savings rate is down to around 7%. This is way too low and made me realize that my expenses are way too high. Moreover, the last two months have been negative months, although not by a long shot. This month is also likely to end up being negative. Given my salary, I should easily be able to save at least 25% of my income each month.
Since then, I have started reading many personal finance blogs and websites. I have learned a lot of things about investments and spending. In the coming months, I plan to put these lessons to work. My main change now will be to reduce my spending. I will then continue to learn about investments, and I will try to put my money to work. For now, I did not start investing at all. But I plan to fix this. I believe it is important to start improving the budget first before starting to focus on investment.
For some context, I am a 31 years old software programmer. I just finished my Ph.D. in Computer Science and am still working at my school. I live in a small village in the countryside area of the Fribourg state, in Switzerland. Currently, I plan to stay in that area for many years. But I hope to find a better job next year once my contract with my school is finished.
My main goal with this blog is to motivate myself to improve my finances. But I will also write personal finance tips and in-depth analysis of some important investing topics. I am hoping that you will learn from my mistakes and improve your finances with me :)
And do not forget that I am not very good with my money, so do not follow everything I do. But you may try to learn from my mistakes. I am not a financial advisor. You should only take financial decisions after having consulted many points of view on the subject.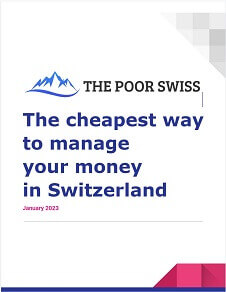 The best financial services for your money!
Download this e-book and optimize your finances and save money by using the best financial services available in Switzerland!
Download The FREE e-book