December 2017 Update + 2018 perspectives
|
Updated:
|
(Disclosure: Some of the links below may be affiliate links)
Happy new year to you all!
Now that we started in 2018, it is time for the last monthly update of 2017. After a rather poor November 2017, December 2017 is significantly better. I have been able to keep my spendings lower than usual. It was not a very eventful month. Except of course for the usual Christmas celebrations. I always spend Christmas with my family and it was great :)
December 2017
December 2017 was quite good in terms of saving. Indeed, the savings rate for this month is 34.67%. There was a lot of expenses with all the insurances and parking arriving at the end of the year, but I also got half of my 13th salary this month, which obviously helped.
In terms of spending, I have been able to keep it very low. I have been three weeks in the army, so I have not been going out a lot and have not needed a lot of food since I have been fed for free (at least one advantage to the army). I bought a few gifts and a new gaming headset for my computer. But nothing really fancy.
Here is an overview of my spending:
Insurances: 255.00 CHF – average
Transportation: 1373.60 CHF – well above average (insurances and parking)
Communications: 186.80 CHF – average
Personal: 503.76 CHF – below average
Food: 162.65 CHF – well below average
Apartment: 1783.05 CHF – well above average (power and caution)
Taxes: 705.45 CHF – average
As for my earnings, I have received a few gifts for Christmas (200 CHF) and the first dividend from my portfolio (50 CHF). I really like the passive income from dividends.
Portfolio
I have almost finished moving my portfolio to DEGIRO. I still have one fund to sell from PostFinance, that I will sell when it gets back to earning.
Here is what I settled on for my portfolio:
55% World Stocks – Vanguard Total World
10% Swiss Medium Stocks – UBS SMIM
10%  Europe Stocks – Ishares Europe
10% High Dividend – Vanguard High Dividend Int.
5% Tech – Vanguard Information Technology
5% Pacific – Vanguard FTSE Pacific
2.5% Bitcoin – XBT ETN
2.5% Ethereum – XBT ETN
I am very satisfied with this portfolio except for the crypto-currency part. I have been investing in crypto-currencies for only one month and I already do not like it. The volatility is way too high. Once they are back to earning, I will sell both and transfer to a European bond ETF, probably from Ishares.
In total, my net worth is now 54'279.49 CHF.
2018 Perspectives
Starting in February, I will be finally be paid at 100% (from 85% now) since I have finished my Ph.D. This will make a nice increase in revenue. This will allow us to increase our savings. We need to increase the rate at which our net worth increases. This will allow us to reach Financial Independence faster.
Moreover, this year, my company will increase very slightly the salary, so that is also a nice bonus as well. In August, I will very likely change my job, but nothing is final now, so more on that later. In any case, I will have a better salary starting in August. My current expenses should not increase in 2018. But there will be some big expenses in 2018, we will see how bad it turns.
As for January, it should be good. Indeed, I have just a few gifts to buy. Therefore, I expect a good saving rate. However, I have been proven wrong about my prediction more often than not. So we will see about that.
What about you? How was your December 2018?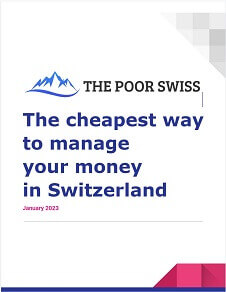 The best financial services for your money!
Download this e-book and optimize your finances and save money by using the best financial services available in Switzerland!
Download The FREE e-book