(Disclosure: Some of the links below may be affiliate links)
August 2022 was a good month with many events for us. We also had many things to organize and take care of. While good, it was a tiring month.
Financially, it was significantly more expensive than usual because of one considerable expense. But we still managed to save about a third of our income, which is excellent.
So, let's delve into the details of what happened in August 2022.
August 2022
August 2022 was a good month, but it was packed with events and things to do. These days, I do not want to do too many things. I simply do not have the energy for many activities.
Adding to that a bit more work than usual, it was a very tiring month. But at this point, we are used to being tired.
We had several family and friend gatherings this month. And we also had a few nice events.
Financially, it turned out to be an expensive month because we paid for a course for my wife. This is a real course in Fribourg, not an online course. But this is a reasonable expense. On top of that, we had standard expenses. But this means we are only saving about 34% of our income this month. While this is a good result, this is significantly lower than we aim for.
With the course starting next month, we are looking for solutions for our son once a week. If everything goes well, we will have a place in a kindergarten, but it is very late, so we will see how that goes. Kindergarten will make a big dent in our budget. But it is also great for our son to see more other children.
So, let's delve into the detail of this month.
Expenses
Let's see the details of our expenses in August 2022:
| Category | Total | Status | Details |
| --- | --- | --- | --- |
| Insurances | 878 | Average | Health Insurance |
| Transportation | 100 | Average | Parking a few times and once fuel |
| Communications | 85 | Average | Internet and one phone plan |
| Blog | 304 | Average | A few monthly bills and one yearly bill |
| Personal | 4043 | Well Above Average | Many small shopping bills and a course |
| Food | 504 | Above Average | Many groceries, one night out, and many sausages |
| Housing | 550 | Average | Heating and mortgage |
| Taxes | 5210 | Average | Taxes at all levels |
In total, we spent 11676 CHF this month. This amounts to 6161 CHF without taxes and blog.
If we exclude the 3400 CHF for the course for my wife, the month has been very cheap. We would have been even lower than last month, which was already our best month. So, I am pretty happy about this result.
Our food budget is also slightly higher than average. But we bought 100 CHF of smoked sausages, so we cannot complain. We found the best smoked sausages ever, so we bought a bunch of them. It is entirely worth it!
You may have noticed that our taxes are higher than last month. This is because we are now paying federal taxes. These taxes are paid with six bills and started only in August this year.
Other than that, it was a very standard month. All our expenses are pretty average.
Next month, we should not have any significant unexpected expenses and be back to normal.
2022 Goals
Let's take a look at our goals by the end of August 2022: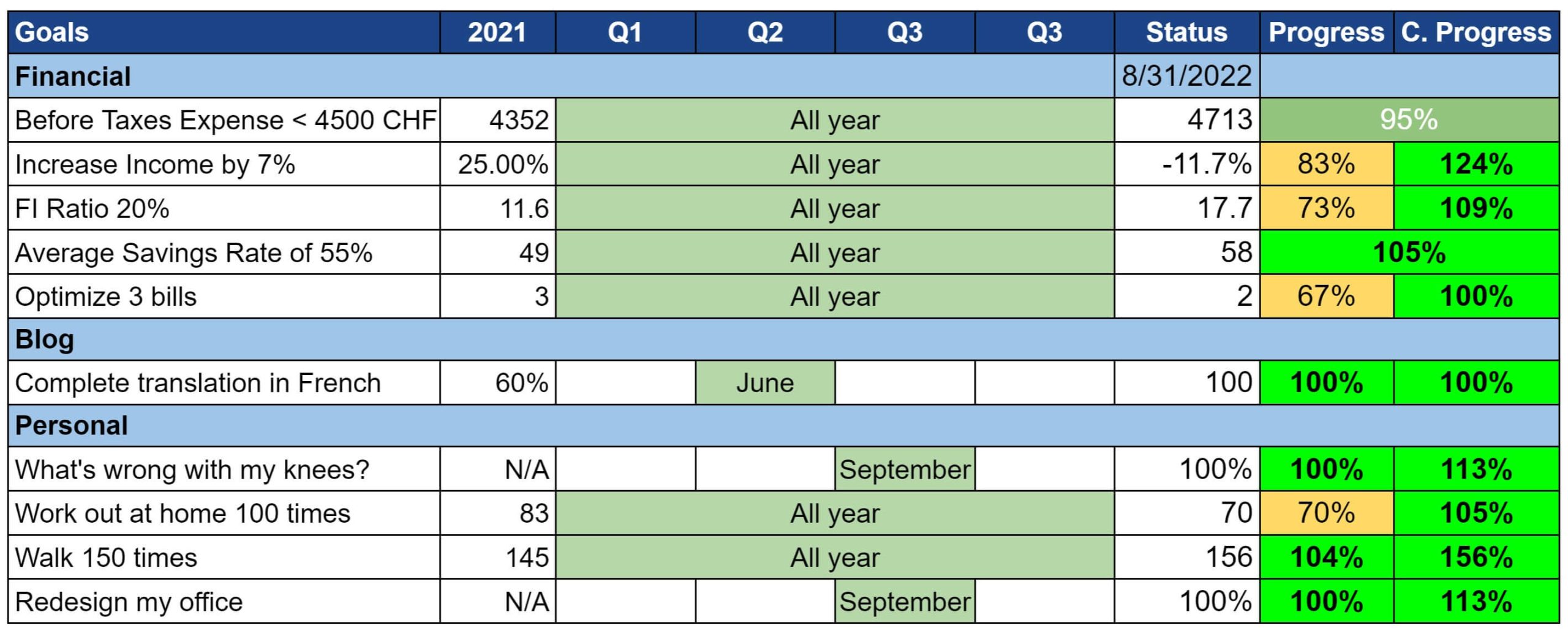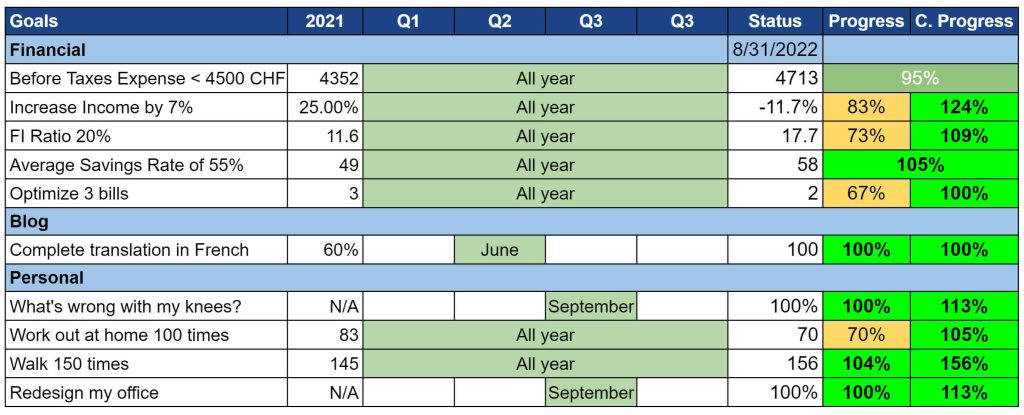 With the extra expenses of the month, it is now unlikely that we will meet our expenses goal. We had too many expensive months for that. But I am okay with failing at that goal.
I think we will still meet our savings rate goal if we do not have many months with this level of expense.
I made good progress on both walks and workouts this month. I am pretty happy about this. I should strengthen my workout goal for next year.
I also was able to reduce one bill! We changed all our complimentary insurance for next year. With that, we will save 166 CHF per month. This saving is a great result.
Ideally, I would not keep my insurance policies for a while, but since the prices vary wildly, we may also have to change base in the future. You can read my health insurance guide if you want to reduce costs.
I will know next month if we have succeeded in reducing one bill. And I have a plan to reduce one bill, but I will have to wait until November. So, I should be able to meet that goal.
Overall, I am pleased about the status of our goals.
FI Ratio
Let's watch our FI Ratio until the end of August 2022:


Once again, our FI ratio has been going wild. This is because the blue line is using a 12-months average of our expenses, which are not stable. On the other hand, the black line uses fixed costs of 100'000 CHF per year.
Since we have very far from retirement, our current FI ratio does not matter much. But we would like to increase the speed at which this metric improves.
The stock market recovered a lot during the first half of the month and then lost some of its gains again. But overall, it was a good month for the net worth. I would prefer if the market took a clear direction, but for now, I have no problems either way.
Our progress next month will highly depend on the stock market's performance. Our net worth should move up as usual by our savings, but if the stock market goes down again, it will go lower.
If you want to compute yours, you can read my article on how to compute your FI ratio.
The Blog
The traffic on the blog went up by a few percentage points this month. This is a good result since the traffic is generally decreasing.
I did more on the blog than most months this year. I could update quite a few articles, both for quality and for fixing outdated content. It is good because this was delayed too long.
My wife is now taking care of the translations. This is good for me because this is something I do not enjoy doing, mostly because I do not like dealing with the crappy translation plugin.
I could follow my schedule of an article a week, but I am very close to not being to follow next month. I was almost burned out while writing one of the articles for September, so we will have to see whether I will write the others or not.
In September, I will participate in an event organized by Selma: The No Bullshit Event. This is the first time I have participated in a personal finance event, which will be interesting.
Overall, it was an okay month for the blog. I do not foresee any significant changes for next month.
Next month – September 2022
Next month will be pretty hectic. We are planning a party for our son's first birthday and went slightly overboard, in my opinion. Then, my wife will start her course. We will see how everybody gets accustomed to the changes.
I also have many things to do next month. For instance, I have to attend and judge several bachelor presentations. I also have quite a few organization meetings. And we are looking for a kindergarten. But this should then slow down in October.
Financially, it should be a slightly expensive month, but nothing particular.
What about you? How was August 2022?