7 Best Blogs on FIRE
|
Updated:
|
(Disclosure: Some of the links below may be affiliate links)
This post is not about my blog but other blogs! As I mentioned several times in the past, I am reading many other personal finance blogs. Some blogs are purely about investing, and some blogs are entirely about Early Retirement. However, all of them contain some valuable lessons if you are on the road to Financial Independence (FI). Some of them helped make the Financial Independence and Retire Early (FIRE) movement as popular as it now. I think it is also important to share with the community and not only focus on a single blog.
There are several reasons why I read other blogs. The first reason is to learn from others. Indeed, I am far from being an expert in FIRE. I like reading what people are doing to achieve FIRE and especially what people who already achieved FIRE can teach me. Also, I love reading in general, and some of these blogs have really enjoyable content. Another reason is to get some inspiration for my blog. I am not talking about copying their blog posts. But I am talking about making my blog by learning from others.
The seven following FIRE blogs are in no order. I do not have a favorite in these seven blogs. They all are my favorite blogs. I also read many other blogs. But the entire list would be too long to publish here. I strongly encourage you to take a look at them if you are not already reading them!
The Frugal Gene
Lily, from the frugalgene.com, is a young Chinese woman living in the United States. With her husband, Hubby, they are saving 90% of their income. They do not yet have children. What I like about this blog is the freshness of the posts by Lily. Indeed, it is almost always funny and always cute. And it is full of pictures. I like to read all the articles she writes. I even read some posts on subjects that I do not care about. I even read her posts about clothes, and I hate clothes! I recommend reading her blog. It is refreshing!
Retire By 40
Joe Udo at retireby40.org retired from his engineering career before the age of 40. It has now been six years since he retired, and he did not have to get back to work. He is married and has one child. He is currently a stay at home dad and a blogger. His wife is still working but plans to retire soon. Their story is nice, and he managed to do a great job of retiring early. Moreover, he now earns a lot from his blog (almost a regular income). Joe is investing mostly in dividend stocks and real estate, through crowdfunding.
Early Retirement Now
Big ERN (or Karsten) from earlyretirementnow.com was an investment manager before he retired. He is married and has one daughter. He has several great blog posts. I would especially recommend his series about Safe Withdrawal Rate. It is probably one of the best things I have ever read on a blog. All the posts from his blog are based on a lot of research and make a lot of sense. For instance, after reading his post on emergency funds, I had to reconsider the need for an emergency fund.
jlcollinsh – The simple path to Wealth
Mr. Collins from jlcollinsh.com did many jobs (consultant, publisher, show host, …) before he retired, seven years ago. He has been married for more than 30 years and has one daughter. His most famous series of posts is the Stock Series. It is an incredibly exciting and well-written series of more than 30 articles about stocks and investing. It is good. He is very transparent about what he owns and why he owns it. If you want in-depth details about the stock market, you should visit his blog. But prepare some time for it. Because it is very long!
FrugalWoods
Mr. and Mrs. Frugal Woods from frugalwoods.com have just retired in a homestead in the middle of a forest. They have two daughters and are both retired. Mrs. The Frugal Woods even wrote a book about their story (Meet the Frugalwoods). I have not yet read the book. But if I read it, I will be sure to do a review on this blog.
Their story is incredibly interesting. They left everything to live in the middle of the woods. They have a lovely land. On their land, they are growing many vegetables and fruits. Also, they are heating themselves with the wood they cut in their land. It is cool! They are achieving very impressive things in their woods! Mr. The Frugal Woods has some impressive DIY skills that I envy.
Millennial Revolution
FireCracker and Wanderer from millenialrevolution.com are two computer scientists that retired in their early thirties. They are retired in Canada. And now, they travel the world. If you want to read many cool travel stories, this is one of the best blogs around. And they also have many great posts about investing. They accumulated a large portfolio by saving most of their income before they retired. They are living with very low expenses. I admire that they can live with so little monthly expenses. And their trips are a great inspiration as well!
Retire in Progress
Mr. RIP at retireinprogress.com is a software engineer like me and plans to retire before age 43. He also lives in Switzerland. He is married and has a newborn child. I like his blog posts. First, they are going very deep into the various subjects that he presents. And also, it is often quite often funny to read. His style is quite light and refreshing. He is investing in various passive index funds and saving a large part of his salary. It is probably worth mentioning that he has a very high salary. Indeed, It is the blogger with the highest salary I read. Even for Switzerland, his income his very high. But he remains reasonably frugal. It has the interesting perspective of being in Switzerland, an expensive place.
Conclusion
Here you have it! My seven favorite blogs on FIRE. Once again, do not try to read an order on that list. There is no order. If you are looking for something to read, I recommend you take a look at their blogs. They are inspiring. They are the blogs that motivated me to pursue my quest to FIRE. I am not doing as well as them on that road. But I hope I can get better.
I am still reading many of their posts as they come. I am subscribed to all of them via RSS. I have many more personal finance blogs in my subscription list. My subscription list is getting close to one hundred blogs about investing, money, retirement, and so on. I am not reading every single post that goes out. I am filtering the posts that interest me the most. But I am probably reading about twenty posts about personal finance every day.
What are your favorite blogs on Financial Independence and Retire Early (FIRE)? Or about money in general? I always look for new ideas for blogs to follow.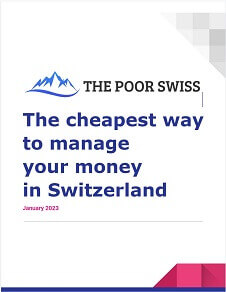 The best financial services for your money!
Download this e-book and optimize your finances and save money by using the best financial services available in Switzerland!
Download The FREE e-book