How to Open a VIAC Third Pillar in a Few Easy Steps
|
Updated:
|
(Disclosure: Some of the links below may be affiliate links)
VIAC is a good third pillar. This article describes the steps necessary to open a VIAC third pillar. Then, I also explain how to transfer an existing third pillar to VIAC.
As you will see, it is incredibly easy. If you think it is difficult to open a new third pillar and transfer your existing third pillar money to it, I hope I will convince you that it is trivial! You should not delay changing a bad third pillar for a good one by fear that it is difficult because it is not!
Open a VIAC third pillar
The first thing to do is create a new account at VIAC. This account will allow you to manage your third pillar. At VIAC, everything is done on your mobile phone. So you only need your smartphone and internet access to create an account. And it is straightforward. And the entire application is available in English, French, German, and Italian!
Here are the straightforward steps you have to take to register your account.
Download the VIAC application on your phone and install it.
Start the app and push the Register button.
Enter your phone number and choose a strong password. Your phone number will be your login for your account. Be sure to remember your password. Ideally, you want something easy to write on your phone keyboard. You will only use this password on the phone.
Enter the code that you received on your phone. You will find the code in your messages if you do not see the notification.
Enter your personal information. Make sure that you enter everything correctly. It is easy to make a mistake on the phone.
Enter whether you pay the AVS (first pillar) and whether you pay the second pillar. This step depends if you are self-employed or not.
You need to answer a lot of questions about your investor profile. From these questions, VIAC will recommend an investing strategy (basically a portfolio) for you.
Then you can choose your strategy: I recommend Global 100 if you have a long-term perspective like me. VIAC will recommend something to you based on your answers. But you are free to choose the strategy you want.
Then you will need to scan your ID or passport. You can simply take a picture using the application.
You can write your signature from your phone to agree to the opening of your portfolio. Once again, VIAC made it very simple!
If you have a Referral code, you can enter one now. This will save you a little in fees.
That is it! You now have a VIAC account!
You can directly validate your mail. Go to Profile > Settings, and you will have the option to confirm your email.
And that is it already! You have a great third pillar with VIAC now!
It took me less than ten minutes to open an account. And this is counting the time to write down the steps for the blog. This registration is much better than most online services. Even though I do not like phones, this went very well! They did an excellent job of simplifying the process to the maximum.
Transfer your third pillar
If you already have a third pillar account in another bank, you will want to transfer that money from your previous provider to VIAC. Thanks for VIAC. This is extremely simple!
First, if your third pillar money is into retirement funds in your current third pillar provider, you will need to sell the funds. You can only transfer cash. That means you may lose on the market (or gain on the market) during the transfer. You may be out of the market for one month or so while transferring your funds.
First, you need to get the transfer form document. For this, you can request it from VIAC:
Open the VIAC application on your phone.
Log in to the application with your phone number and password.
Go to Deposit (on the bottom bar).
Choose transfer (button on the bottom).
Click "Send Form by Email"
Open your email account and print the PDF VIAC just sent you. VIAC already prefilled most of the documents for you. Therefore, you only have to fill in a few pieces of information. You need to set the information about your current third pillar provider. In my case, it was PostFinance. You also need to fill in the account number of your third pillar. You should be able to find this information in your e-banking or on your yearly third pillar statement.
Finally, you have to date and sign the document. You can now mail the document to VIAC, and they will take care of everything for you. The address is on the document. VIAC will forward the document to your current third pillar provider. And everything will follow from this.
I sent the document by mail two weeks ago. After two days, VIAC said they had transferred the necessary documents to PostFinance. After this, PostFinance needed to transfer the money to VIAC. It was a swift process. After one week, my money was transferred to VIAC. I was surprised by how fast it was! Once again, I am delighted with the process.
I do not know how long other banks will take to make the transfer. However, I know that some banks are fast to do that while other banks are slow at doing it. Fortunately, PostFinance turned out to be one of the fast ones.
After I receive the money in my VIAC account, the cash will be transferred to my portfolio at the next rebalance date (on the morrow, normally). Usually, a rebalance occurs at VIAC every first day of the month. On that day, the money is allocated according to your portfolio. Before, it was only cash. I will keep you updated once my money is transferred to my portfolio.
Conclusion
I am happy with the registration process for VIAC. It is incredibly easy. It is one of the most uncomplicated registration I have done in Switzerland for quite some time. For comparison, registering my new private bank account at Migros Bank was much more difficult. With VIAC, everything is simple. They are off to an excellent start for me.
I received the money quickly. It went fast. In less than one month, I could sell the funds on PostFinance and transfer the funds to VIAC. And then, it was invested in my portfolio at the beginning of the next month.
I should mention that I am currently not using VIAC anymore. My third pillar is with Finpension now. You can read more in my Finpension Review.
To learn more about VIAC, read my Interview with Daniel Peter, the CEO of VIAC.
What about you? Which third pillar do you have? What do you think of VIAC?
Please do not post any referral codes in the comments below.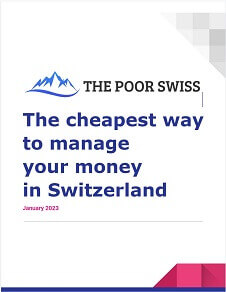 The best financial services for your money!
Download this e-book and optimize your finances and save money by using the best financial services available in Switzerland!
Download The FREE e-book