(Disclosure: Some of the links below may be affiliate links)
October 2020 was a weird month. The month started well with a return to almost normal in Switzerland. And we had found a new tenant for our apartment. But then, with the cold weather came a new big wave of COVID cases in Switzerland.
With this second wave, one of my family members found out he was infected a few days after we saw him. So, we had to do a 10-day quarantine again, and we actually were both infected as well. And we missed a few important social events that were planned. And the next tenant decided not to go further, so we had to start looking again.
So, it was not a great month overall.
Let's find in detail what happened to us in October 2020.
October 2020
October 2020 is really a 2020 month. Basically, it sucks. At the beginning of the month, the pandemic was well in control in Switzerland. The number of infections per day had started increasing in September but was relatively stable at around 400 per day on average.
However, this quickly changed in the second week of October, with some days with more than 1000 infections. And we have now seen days with more than 5000 infections, and this trend does not seem to stop increasing. Since the situation was actually going great, most people were shocked by this.


My theory, for what it is worth (nothing), is that there are two factors at play. People started relaxing about the virus because it seemed to be going well. And secondly, with the cold starting, people started to meet inside where it is much easier to contract the virus.
So, new measures are now in vigor. But they are quite weak. I am not sure they will be enough. They will probably start stronger measures soon.
Anyway, let's talk about money a little since that is a more interesting subject.
We are still trying to find new tenants for the apartment. But with the current situation, it is getting more difficult than anticipated. We had found two tenants, but the first one was unresponsive for more than a week and finally changed her mind. And in the meantime, the second one found another apartment. So, we are back to square one. We are now considering the worst-case scenario of paying three months for this apartment while living in the new house. It is not a great scenario, but we have the money to handle it. But maybe, it will not come to that.
Overall, the month was relatively expensive, with a large dentist bill from last month to pay and many other smaller items, including a gift that we could not give due to the quarantine.
However, it was also a month with relatively high income. I received some shares from my company and an extra stipend. And the blog generated a nice income as well in October 2020. So, overall, we still managed to save 55% of our income this month. So, there is at least one good thing about this month.
Our Second Full Quarantine
Since a family member was diagnosed positive for COVID-19, we had to quarantine ourselves at home for 10 days. We had seen him only a few days before.
This is already the second full quarantine that we have to do. We had to do another one when we came back from China in February. Ironically, China has now handled the virus much better than us.
Since we both lost our sense of smell, we got tested and got a positive result for Mrs. The Poor Swiss. My test got lost in the hospital and found back too late to get a result out of it. But since I have no smell and my wife is positive, I assume I am positive as well.
Making a second full quarantine in our tiny apartment is not really a pleasant experience. At least, all the major symptoms went away before the end of the 10 days. We still have to recover our sense of smell. But it is not that bad. We are both a little tired, but overall we are doing well.
Expenses
Let's see the details of our expenses in October 2020:
Insurances: 795 CHF. Average. Our health insurance.
Transportation: 107 CHF. Below average. We do not use our car much these months.
Communications: 86 CHF. Average. Internet and mobile bills.
Personal: 1806 CHF: Above average. A large 700 CHF dentist bill, some gifts and some pieces of furniture for the new house.
Food:370 CHF. Average. A refill of meat at Aligro and standard grocery bills.
Apartment: 1236 CHF. Average. Just our rent.
Taxes: 2396 CHF. Average. Standard taxes.
Overall, we spent 6798 CHF this month. Without taxes, this comes to 4321 CHF. This month is expensive, but it is not that bad compared to the previous months.
Most of our budget categories are not that bad. Only our personal category is bad this month. And we could not really have avoided the 700 CHF dentist bill. But it was really more than we expected. We are planning to change to a new dentist for next year. This one is really too expensive.
On top of that, we bought a few small items for the new house. But nothing very expensive. We have delayed several of the things we wanted to buy until next year since we did not find things we could agree on with Mrs. The Poor Swiss.
This brings our savings rate to 55%. Our savings rate average for the last 12 months is now at 46%. Our goal is for an average of 50%. We will have to wait until 2021 to reach this goal, I believe.
2020 Goals
Let's take a look at our goals by the end of October 2020: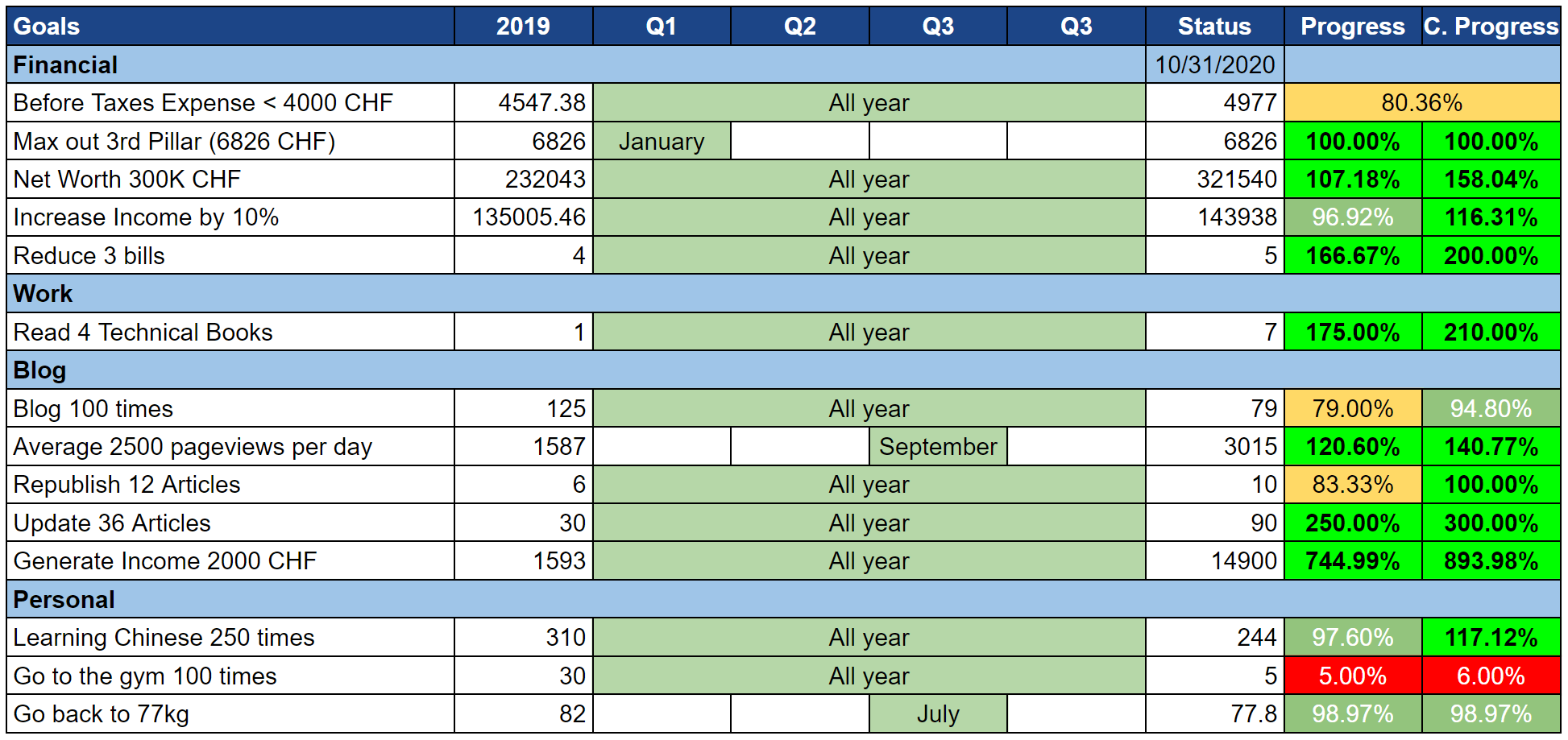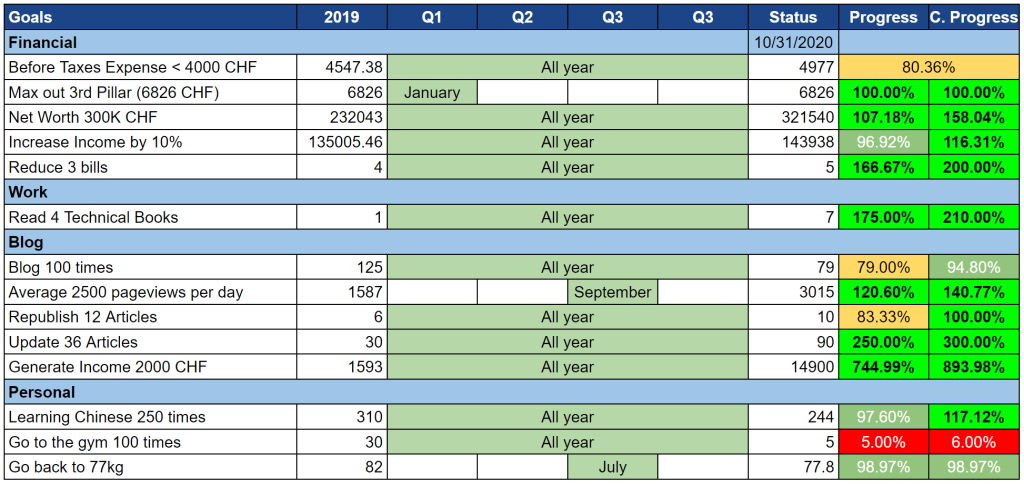 Overall, our goals are going well. There is not much change this month except in the good direction.
Our net worth is still growing higher than my expectations. This is quite good. But this will probably end after the official bills for the house are hitting us next year. We are also on track to increase our income by 10% this year. It is a great result.
Our expenses for this month are not great. But they are still below our previous average. So at least, we are bringing the average down.
I canceled some of our complimentary health insurance policies for next year. It is going to save us about 25 CHF per month, starting in January. I will probably cancel a few more later, but the cancellation date is farther away. I do have a few more ideas to improve our expenses next year. But we are reaching our bottom expenses, I think. If we want to reach financial independence faster, we will have to increase our income after.
The blog goals are doing well, not much to report compared to last month.
Net Worth
Let's take a look at our net worth as of October 2020: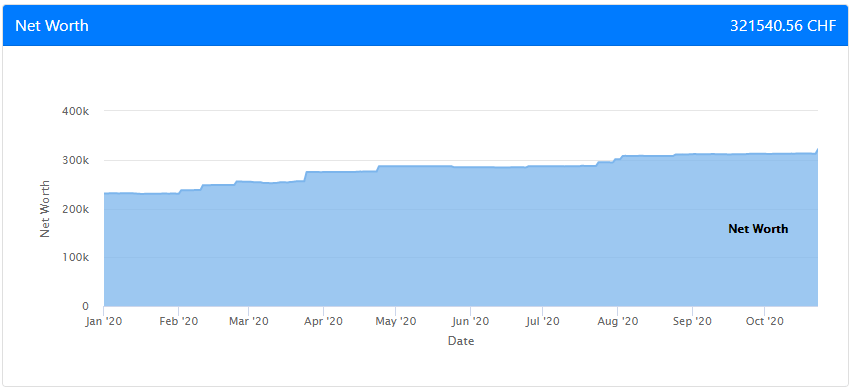 This month, we reached 321'000 CHF of net worth. I believe it is a great result! There is nothing really sexy about this month. We have a very nice income this month. And even though we spent a large sum of money, we still saved 8000 CHF during this month. And we got an extra increase of 1000 CHF from the stock market.
Overall, our net worth is going great. We will reach 330K by the end of the year.
Again a note on our house. For now, we have only paid 450 CHF in fees for our house. This is the withdrawal tax on my third pillar. We will pay much more for my second pillar tax once this is done. We will then pay a county fee for the purchase, and we will pay notary fees too. This will probably come early next year, maybe in December for some.
I am saying that because many people are surprised that even though we are buying a house, our net worth did not go down. It is just because a lot of money just shifted around. It is not lost for now. And the fees are going to come later.
The Blog
Overall, it was not a great month for the blog. The traffic went down by about 5%. I was expecting that since last month was a good month. But it still sucks. On the other hand, the monetization is better than last month. So, there is that, at least!
In October 2020, the blog turned three years old. If you want more information about this third year, you can read my retrospective of this third year of blogging. Overall, the third year went well!
I have not done anything special on the blog this month. Mainly, I have written more articles for the blog. I have had a nice schedule for the future of the articles. I have written some important articles. And I have some more important articles planned for next month.
My experiment with French articles did not yet yield a lot of page views. So, for now, I am going to wait longer until I start translating new articles. For now, I have translated 20 articles.
I am not going to post the three top most-read articles of the month anymore. These posts are almost always the same and are generally not the posts from the current month. For instance, this month, I had planned several articles that I thought would have a high audience, but none of them actually did well.
Next Month – November 2020
We have not much planned for November 2020. Several of the things we had planned have been canceled due to the resurgence in COVID cases. We still have one small party for the middle of the month. But I am not optimistic that this will happen.
From a financial point of view, the only big thing that will happen to us in November 2020 is that we will buy our washing machine and dryer for the new house. So, it should be a fairly expensive month but not as bad as the previous months.
How was October 2020 for you?