(Disclosure: Some of the links below may be affiliate links)
Update: DEGIRO stopped offering the American ETFs. This guide is still working to buy any other ETF. If you want to buy VT, you will have to use another broker such as Interactive Brokers.
In this post, we are going to see how to buy an Exchange Traded Fund (ETF) on DEGIRO. Vanguard Total World (VT) is the main part of my new portfolio. So I am going to use VT as an example. The process is exactly the same for any ETF you want to buy.
I decided to use DEGIRO after comparing with several other brokers. The main advantage of DEGIRO is its very low fees. You can read my full review of DEGIRO if you want more information. This post assumes you already have an account with DEGIRO. If not, you can open one account very quickly.
The basics
In this post, I am going to assume that you already have enough money on your account to buy at least one share of VT. I am also going to assume that you are using CHF as your base currency. If you are not using CHF, this will not change anything since currency conversions are automatic.
As you will see, it is easy to buy something with DEGIRO. There are two main portals: The web interface and the mobile application. I am going to cover both. Let's start with the web interface.
Using DEGIRO web interface
The first thing you need to do is to log in to your account. Then, you have to find the ETF. There are several ways to do that. If you never bought it, you can search for it in the search box. You can use the ticker (VT) or the name to search for it.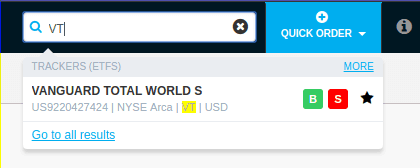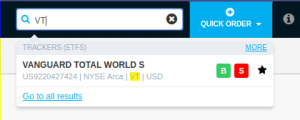 Then, you can click on the name to go to the ETF page. If you already have this ETF, you can go to your portfolio page and click on the ETF name.


This should now bring you to the VT page: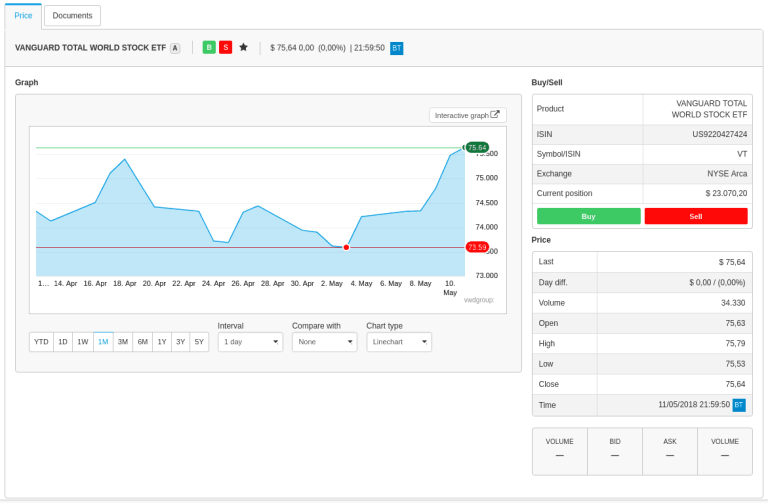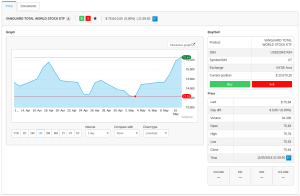 On this page, you have all the current information about the ETF. On the left, you get the graph of the VT price. And on the right, you get the current price information. You can also see your current position in the ETF. On this view, the market is not open. So the last information about volume, bid and ask is empty. This is not a problem, you can, of course, place an order out of trading hours. The order will be executed as soon as possible. You probably noticed the big Buy and Sell buttons. Just press the Buy button to buy new shares.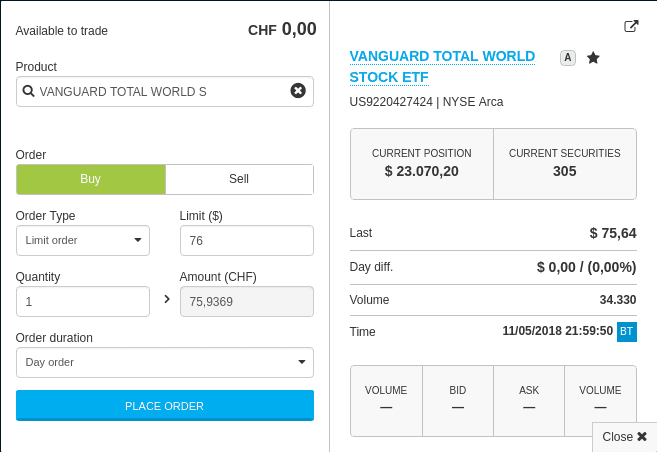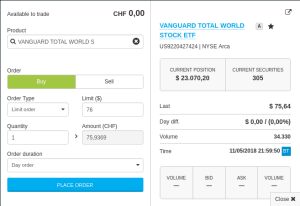 Again, on the right, you get all the current information about your position and the price. On the left, is the configuration of your order. Here, I have specified that I wanted to buy one share at a maximum of 76 USD. Be aware that it will not let you trade if you do not have enough cash. Be careful to have some extra cash when trading in foreign currency. If the exchange rate changes enough you may end up with not enough currency for the trade!
You have got quite a few options for orders:
Limit Order. You set a maximum to buy a share or a minimum to sell a share. The order will only be executed if your maximum or minimum is met. This is the default option.
Market Order. The order will be executed at the current best possible price. You should be careful with this order type. Especially with less liquid products.
Stop Loss Order. As soon as the share reaches the loss price, a market order is filled in the market. The sell order is then executed at the best possible price. In some cases, it could be sold well below the loss price.
Stop Limit Order. As soon as the share reaches the loss price, a limit order is filled in the market. This gives you better control than a stop-loss order. But if the market goes too quickly below your limit order, you may not be able to sell.
I recommend you to use limit orders in general. You will avoid surprises. Do not try to time the market by using "smart" limit. If you trade only with high-volume ETF, you can also use a market order. It should not make a big difference.
And you can also choose the duration of your order:
Day order. The order will be valid until executed or until the end of the day or until the market closes.
GTC (Good Till Cancel) Order. The order will be valid as long as possible. This depends on the market. European markets allow orders lasting up to one year and US market allow orders for up to 90 days.
For simple passive investors like us, day orders are more than enough as a tool. For instance, I invest once a month regardless of the market.
Ok, let's go back to the matter at hand. I am using a Limit order only valid one day. Let's confirm the order with Place Order.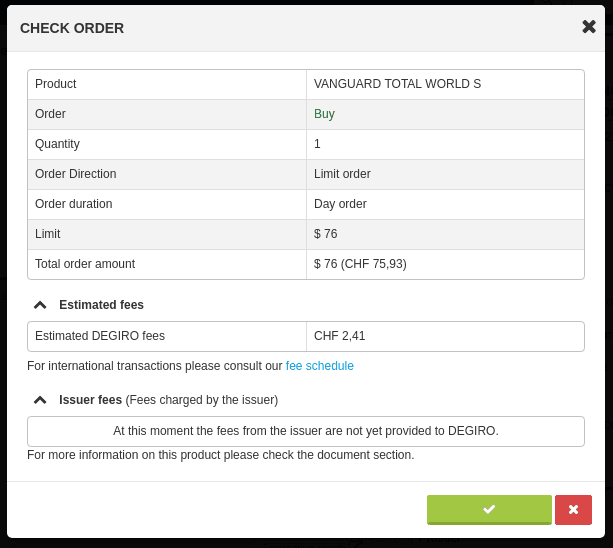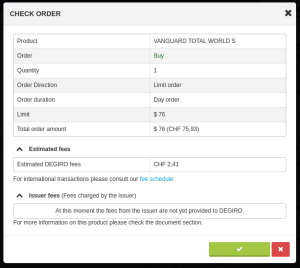 You can still cancel the action You should always check twice before placing an order. Once you are sure of your choice, press the green button. The order will now appear in your Orders page:


You can still cancel the order. You can also edit the limit for instance. Now, you just have to wait until the order is executed.
Once possible, DEGIRO will execute the order. At that point, you cannot cancel anymore. You will have one more share of the VT ETF. You can take a look at your portfolio to see the new total.
Using DEGIRO mobile application
Everything that was done on the web application can also be done on the mobile application. Let's see again the same process on your phone (or tablet).
First of all, connect to your account. Then, if you do not have any share of the VT ETF, you can search for VT: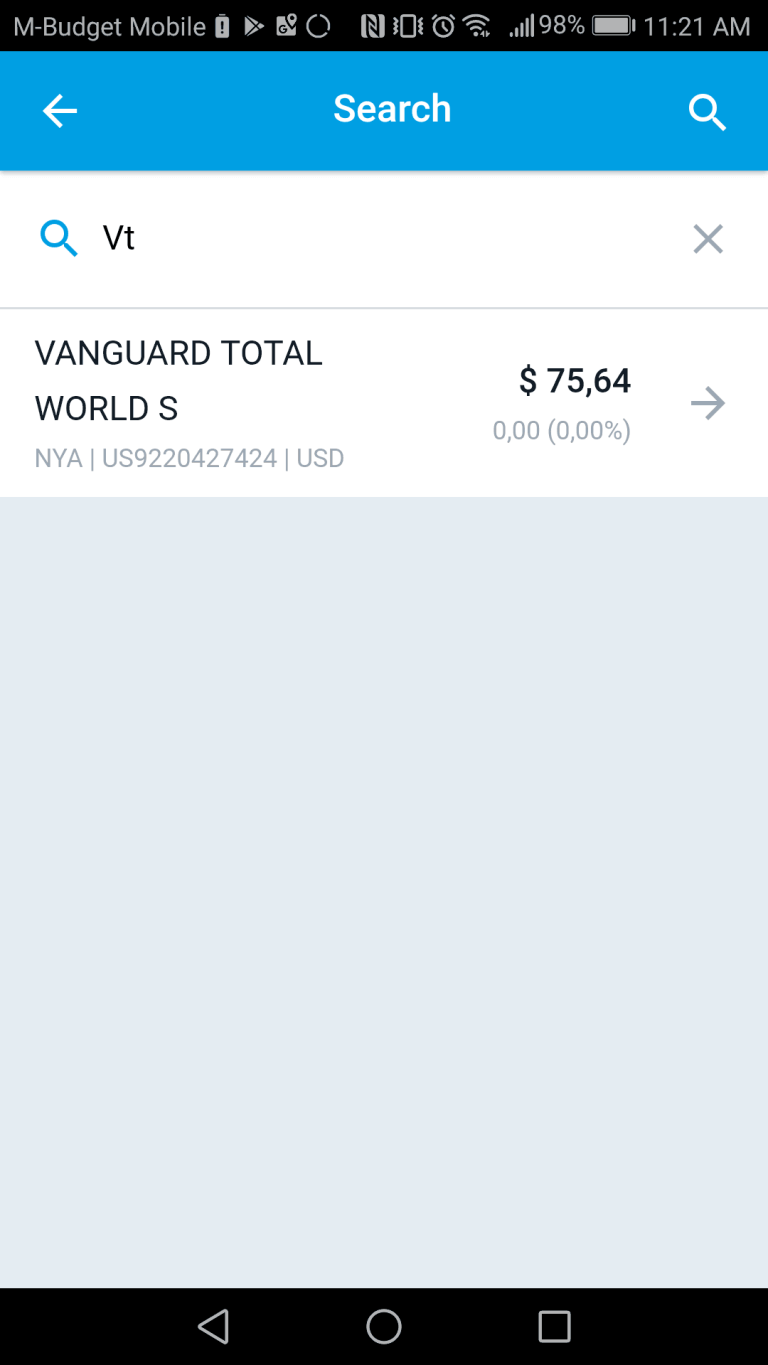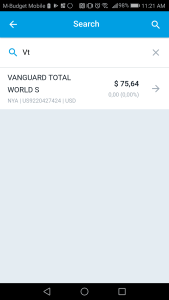 Or, if you already have it, you can go directly from your portfolio page: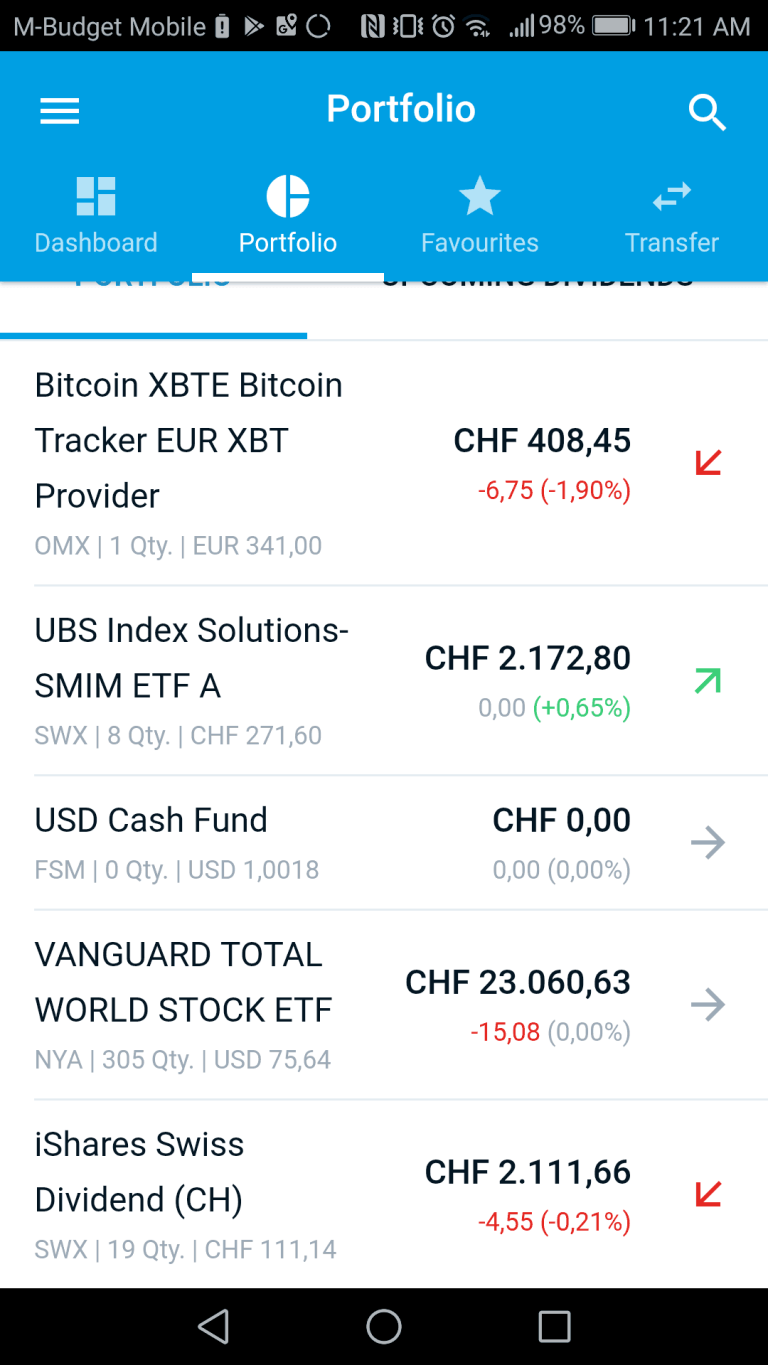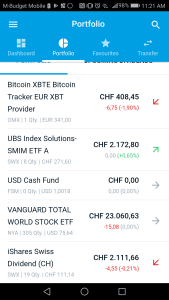 Just click on the Vanguard Total World ETF. This should bring you to the Vanguard Total World ETF Page: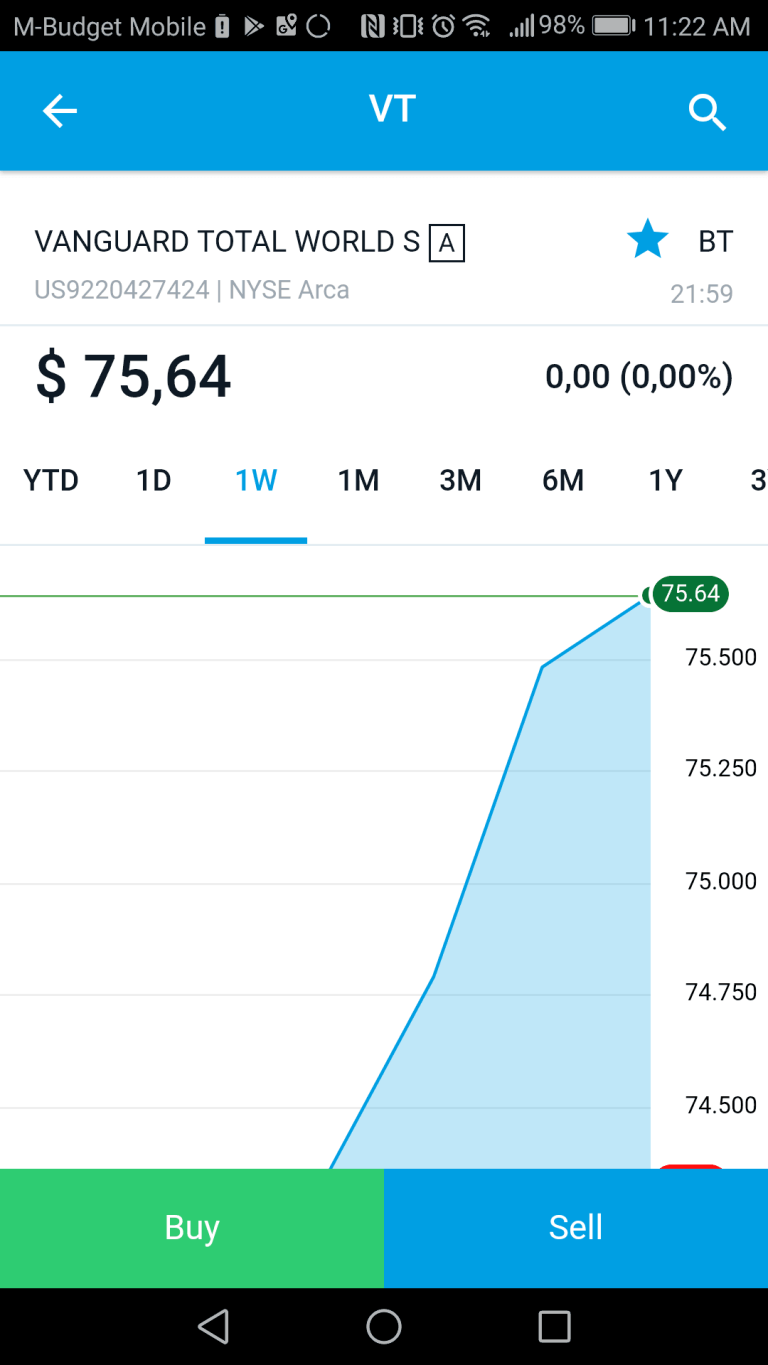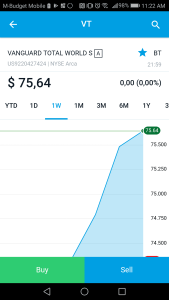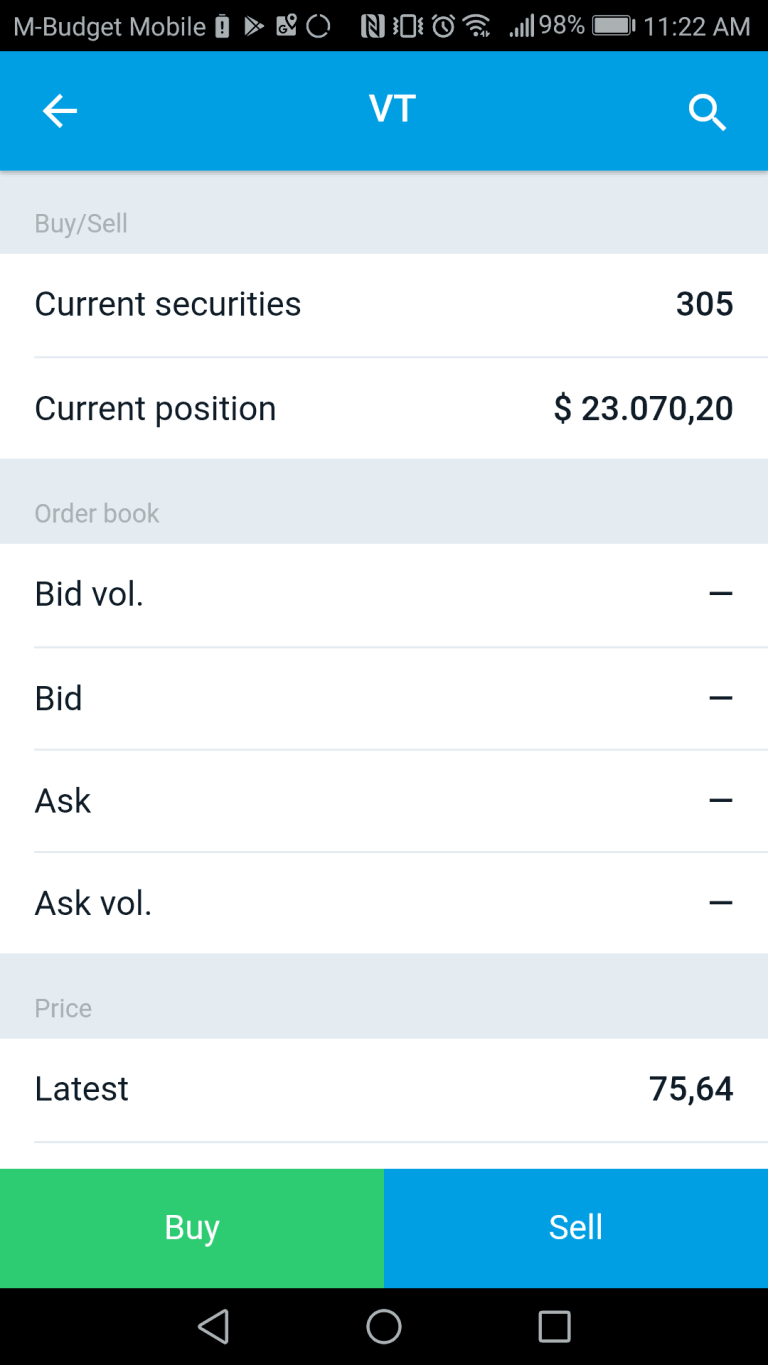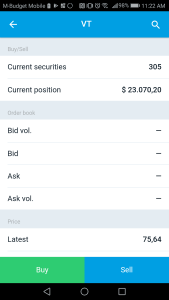 From there, you can buy and Sell with the very big buttons at the bottom of the view. To buy the ETF, press the Buy button.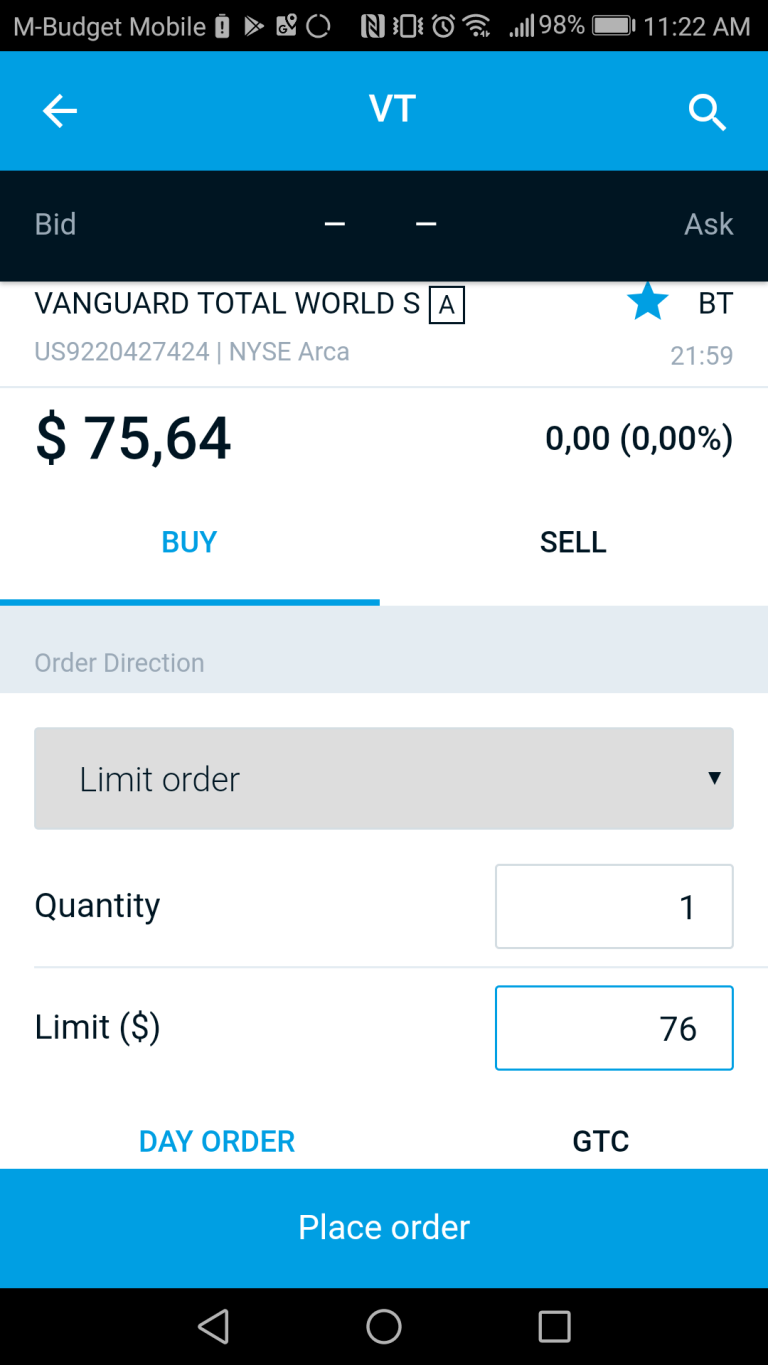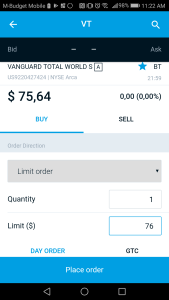 Here you can configure your order. I simply set a limit order for one share at a maximum price of 76 USD. I explain the different types of order in the previous section. Once your order is ready, you can press "Place an Order" to get the final confirmation view.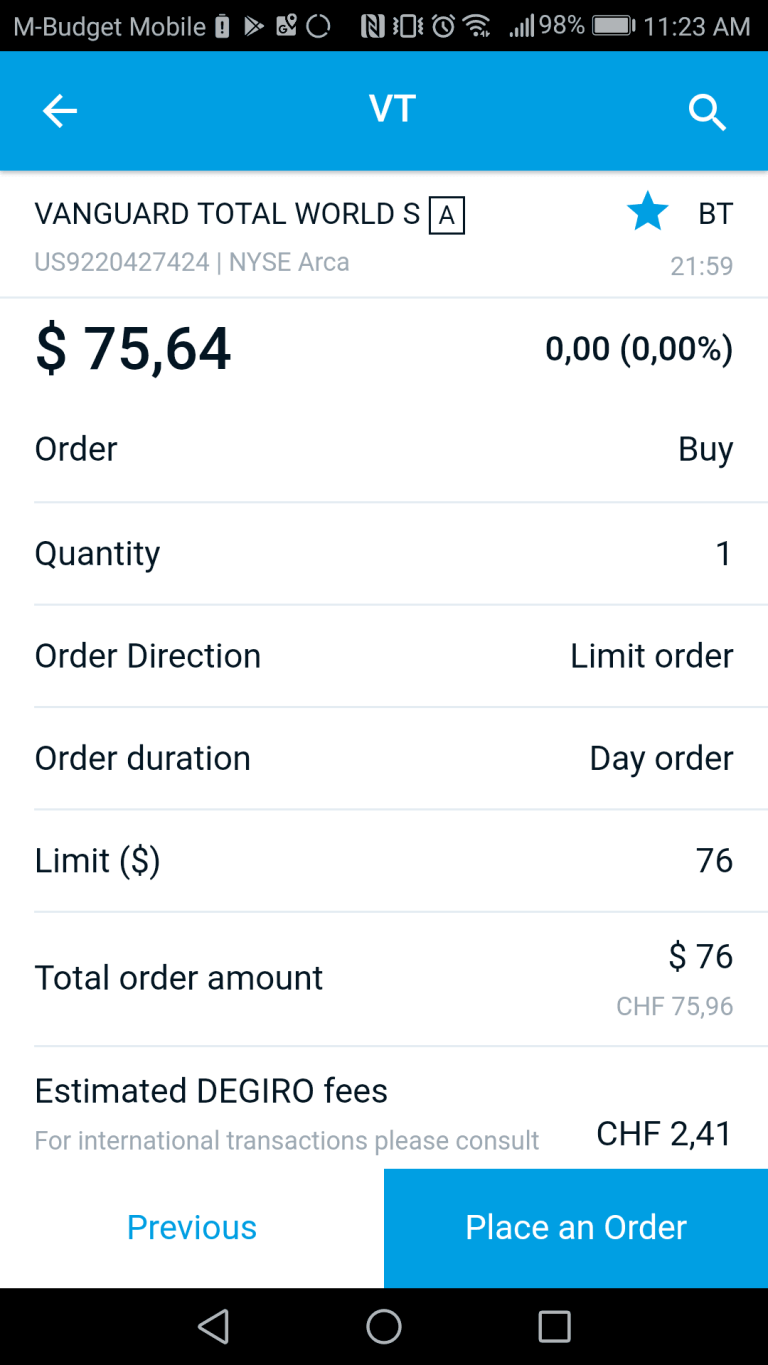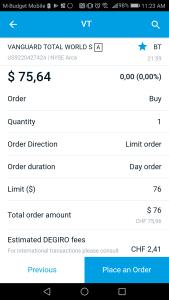 Review carefully all the data and then press Place an order to confirm your order. Once you confirm it, the order will be in the Orders view until the market executes it.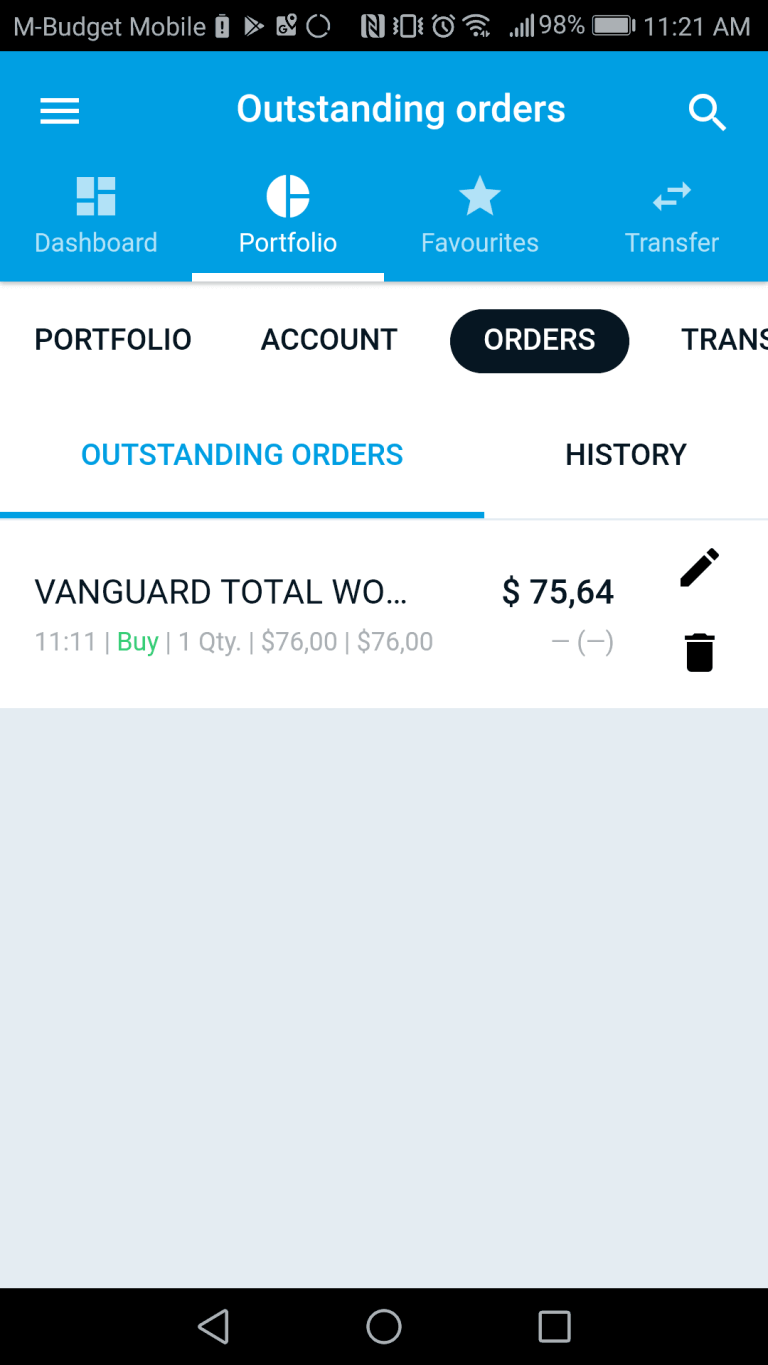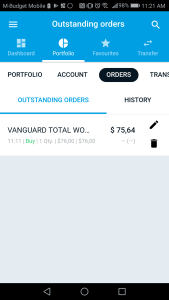 You can still cancel it from this view as long as it is not executed. Once it is possible, DEGIRO will execute your order on the market. After this, you will not be able to cancel the order anymore. If you go to your portfolio view, you should have more shares of the VT ETF.
Bonus: Total result in DEGIRO mobile application
In my review of DEGIRO, I mentioned that something I really did not like was that it was not possible to see the total result of the position in the mobile application. The application is only able to display the daily result of each position of your portfolio. Personally, I do not really care about the daily variations of my portfolio. I am much more interested in the total results of my portfolio. This is what most long-term investors should care about.
However, I just found out it was possible to see this information on the DEGIRO mobile application. It took me quite a while to figure out how to find this information. It is just not really intuitive. Or maybe, it is just me. But once you know it, it is really easy to use. Since it was not easy for me to find it, I am going to post my findings for all of you!
First of all, start the mobile application and login to your account. Then, you can go to the Portfolio view. Here, you should be able to see the daily results of all the positions in your portfolio. Once you are in the portfolio view on the application, you should see something like this: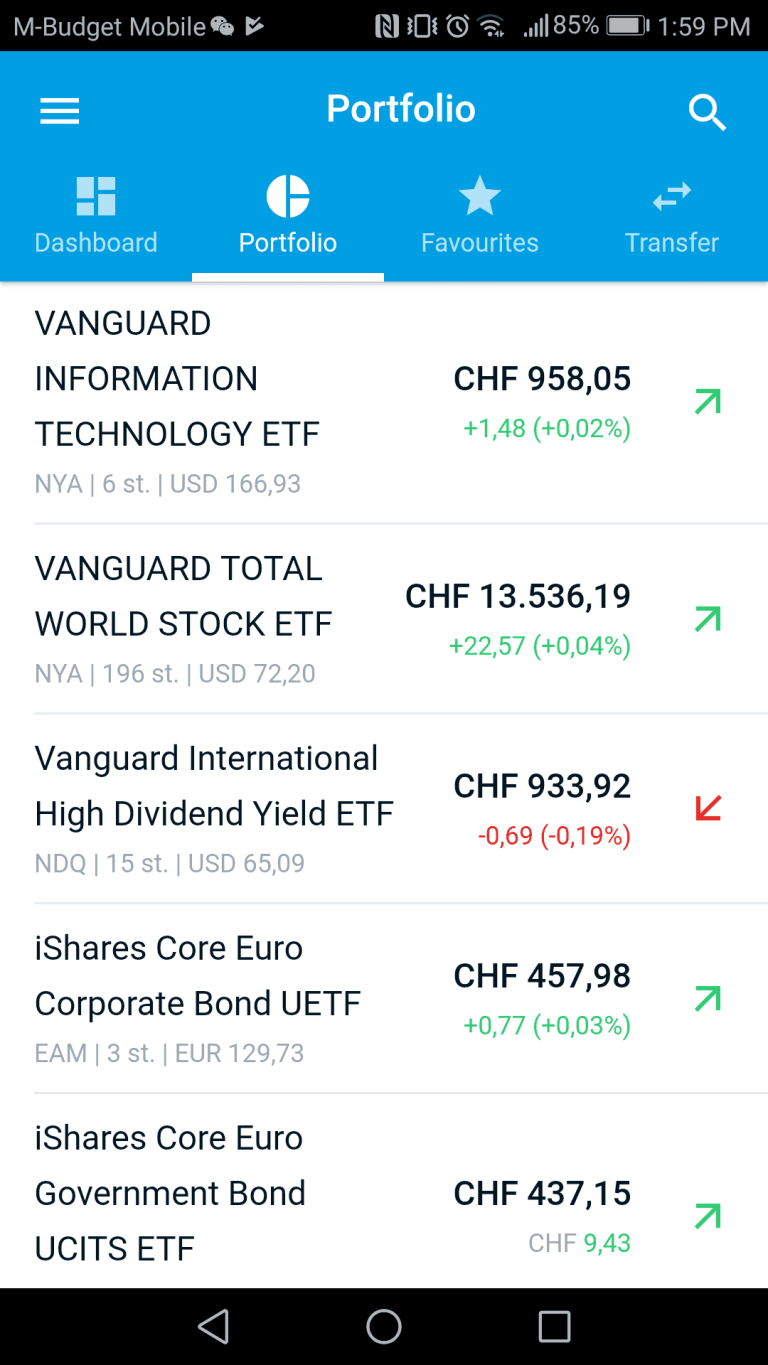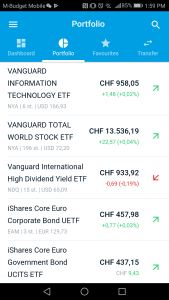 You can see the daily results of all the positions. If you press on a daily result, it then shows the total results of this position. For instance, after pressing on Vanguard Total World and Vanguard International High Dividend Yield, I can see their two total results: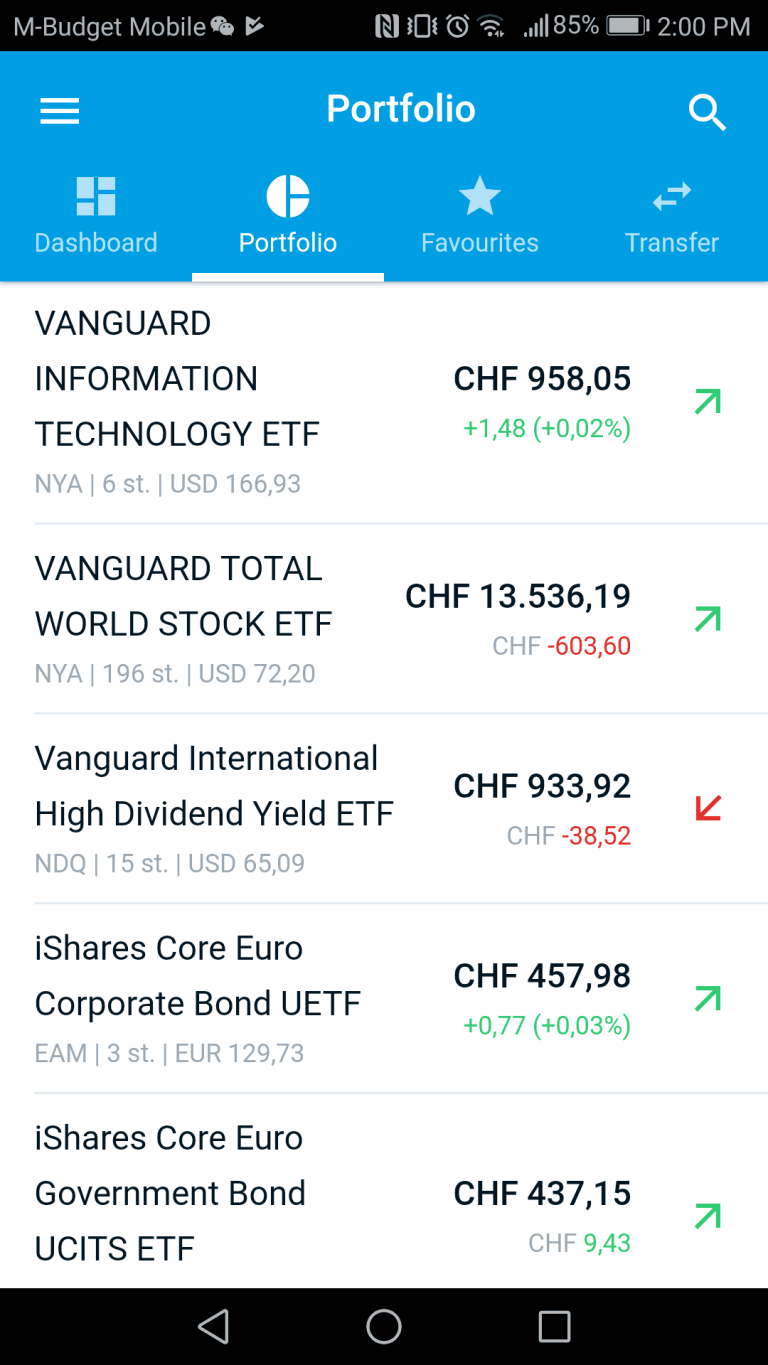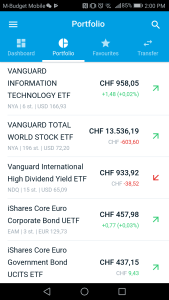 This is really useful information and this is something that was missing for me. I am really glad I discovered this feature. It makes my life easier since I do not have to use the web application so much. I just wish it was a bit more obvious. But maybe it was obvious to most people!
Conclusion
As you saw, buying (and selling) ETFs on DEGIRO is pretty straightforward. There are several options that are a bit more complicated. But simple investors only need the default options. This makes it very easy. And since you should not be day trading, repeating this process a few times each month should be easy!
If you need more information on DEGIRO, read my review of DEGIRO. And if you do not yet have an account on DEGIRO, you can learn how to open an account on DEGIRO.
If you can, do not buy a single share of an ETF when you can buy more. You should always buy at least 1000 CHF of an ETF to profit from the free ETF trade. I just did this as an example since I had 100 CHF on my account in cash!
Now that you know how to buy an ETF on DEGIRO, you have no excuse to not start investing!
If you want to learn about another broker, I compared Interactive Brokers and DEGIRO.
Do you have more questions on how to buy ETFs on DEGIRO? Or more questions on DEGIRO?