How should you finance a car in 2023?
|
Updated:
|
(Disclosure: Some of the links below may be affiliate links)
We are currently considering buying a new car. So, we are faced with the question of how to finance our new car.
Should we pay it in cash? Should we use leasing, or should we take a car loan? I have researched to find out what we should do.
This article shares everything I have learned about the different ways to finance a car and which is best in what situation.
Ways to finance a car
When you want to buy a car, you have several options to finance this expense.
The first option is obviously to buy it in cash. It does not need to be physical notes. The payment is generally a bank transfer. But the car will be paid for in full before you can drive it. At this point, the vehicle belongs to you.
The second option is leasing, a popular choice for buying a new car. It is also the most complicated of all the options. Instead of paying a large amount upfront, you will pay a certain amount every month for a given period. You will be allowed to buy the car at the end of the period. Indeed, with leasing, the vehicle does not belong to you. It belongs to the bank.
The third option is to get a car loan from your bank. This form of financing is very similar to a mortgage. You may have to pay a small downpayment upfront. Then, every month, you will pay a given amount to repay the loan and pay interest to the bank. In that case, the car belongs to you as long as you pay your bills. If you default on your payments, the bank can get the car and sell it to make up their loss.
The last option to finance a car is a margin loan (a Lombard loan). This is a loan from your broker, with your portfolio as collateral. In that case, you can borrow a certain percentage of your portfolio's value as cash and buy the car in full with this money.
So, how do we choose between these different methods? First, we must learn more about them because people ignore many things.
Buying a car with cash
Buying a car in full with cash is the simplest option to finance a car.
In that case, you need the car's total value upfront before you can buy the car. Once the transaction is completed, the car is entirely yours. There are no conditions for insurance since the car is yours.
One advantage of paying for the car in full is that you will generally get a discount compared to paying with leasing. This discount usually ranges from 5 to 10% but may differ for each car dealer.
Buying a car with leasing
Leasing is a very popular option to finance a car these days.
The main reason for this popularity is that it allows people to buy cars they could not afford without leasing. So, many people purchase costly cars without a high income. This made leasing very unpopular in the personal finance community.
It is important to know that leasing has good conditions for new cars, but the conditions are worse for used cars. Some garages will not even offer leasing for used cars.
Leasing is more complicated than people think. First, you sometimes have to pay a downpayment upfront. This downpayment can vary highly from one leasing provider to another. Then, the leasing is generally only for a given duration, from 12 to 60 months. And finally, during the leasing, the car is not yours. At the end of the leasing contract, you can buy the car by paying the residual value. But you could also give back the car.
The monthly payments of the leasing are based on the value of the car (minus the downpayment and the residual value), the duration of the contract, and the leasing interest rate.
When buying a car in leasing, you are not getting any discount. Indeed, the car's base price will be higher with leasing than when paying it in full.
On top of that, it is also essential to know that a leasing contract has a specific maximum number of kilometers per year. At the end of the contract, you must pay the penalty if you drove more than that amount. And these penalties can be pretty hefty.
During the leasing, you must keep full collision insurance, the most expensive car insurance in Switzerland. The leasing provider (the bank) wants its car to be protected.
The interest payments of the leasing are not deductible from your taxable income.
Finally, it is also essential to know that car insurance is more expensive for a car in leasing than for a car paid in cash. This difference is generally between 100 CHF and 500 CHF, depending on the insurance provider.
Buy a car with a loan
The third option is to finance a car with a loan, either a car loan or a margin loan. These two types of financing are very similar in how they apply to a car.
In that case, you still pay for the car in full, but you will use the money from the loan to do so. Since you have paid for the car in full, you can generally still get a discount, as if you had paid in cash. For the car dealer, it makes no difference.
Unlike leasing, the car belongs to you in full. So, you can choose the insurance you want.
Another advantage compared to leasing is that you can deduct interest payments from your taxable income. You can also deduct the debt itself from your taxable wealth.
Comparison for non-investors
Despite what I recommend on this blog, the truth is that most people do not invest their money. Therefore, they do not have an opportunity cost to use large sums of money. So, we will first compare these four methods to finance a car without opportunity cost.
Here are the parameters for my simulation:
The car base value is 50'000 CHF.
The downpayment is 5'000 CHF (10%).
Leasing costs 1% per year.
The margin loan costs 2.50% per year.
The car loan costs 4.50% per year.
You get a cash discount of 5% if you do not use leasing.
You have to pay an extra 200 CHF per year for leasing.
The residual value of the car is 17'500 CHF.
All loans will be made for 48 months.
I have tried to use numbers similar to what I observed in actual car dealers. You may find better deals sometimes, like 0% leasing. And downpayment and the residual value will vary highly. The actual rates are those I could observe when writing this article in March 2023. But generally, the leasing rate will be lower than the car loan rate, and margin loans will be in the middle.
So, based on these parameters, we get the following results over four years: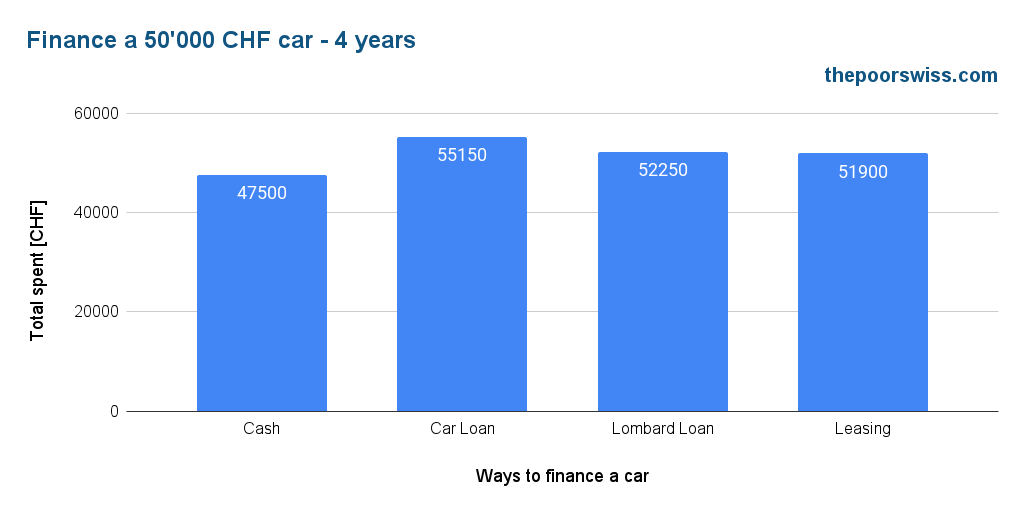 As expected, buying a car in full is the cheapest way to finance a car. Indeed, you get a discount, and you have no extra interest to pay, so you get the lowest price.
It is interesting to note that a car loan is the worst strategy to finance a car. The reason is that the interest rate is just too high. Margin loans and leasing have much better interest rates than car loans.
Finally, margin loans and leasing are the second best ways to finance a car under these conditions, with leasing slightly better. The margin loan is somewhat worse because of the higher interest rate. Even the price premium is insufficient to compensate for the higher interest rate.
Some people will argue that leasing is advantageous because you can also give back the car and not pay the residual value. Since you own the car in all three other cases, this is not an argument, so the residual value is yours.
Therefore, buying the car in full is the smartest option if you do not invest your money. Even a 0% leasing is worse!
In the worst case, people throw away about 7500 CHF using a car loan. And a margin loan or leasing is about 4500 CHF more expensive than buying the car in full.
So, why do so many people use leasing? There are two reasons. The first is that people do not do their research. And the second and main reason is that leasing allows people to buy cars out of their means. And people want that! It is the simple and sad truth.
Being able to buy something you cannot afford is not an advantage. It is a major risk.
Comparison for investors
If you invest your money, a new parameter must be considered: opportunity cost. The opportunity cost is how much you lose by keeping your money out of your investments.
I expect an average of 5% per year from my investments. So, my opportunity cost will be 5% per year. So, if I spend 1000 CHF, I incur a cost of 50 CHF per year.
We can see what happens in the same simulation as before but now adding the opportunity cost: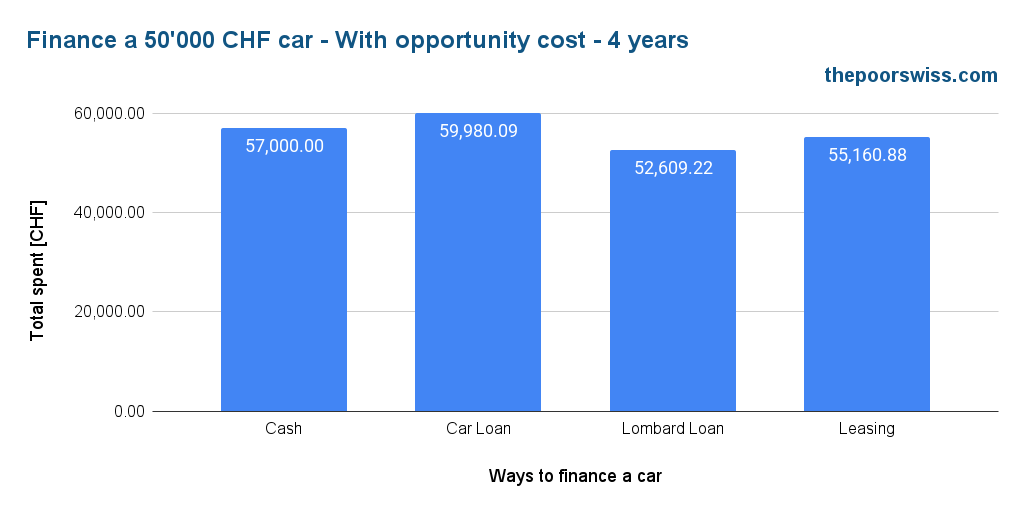 We can see that the results are quite different when considering the opportunity cost. Before, buying a car with cash was the best option, but now it has become the second worst only.
This time, the cheapest way to finance a car is to use a margin loan. The reason is that this minimizes the opportunity cost by delaying most of the payment later on.
The Lombard loan is followed by the leasing, which has a significantly higher opportunity cost, but the costs are slightly lower, as we saw before.
Another interesting fact is that a car loan is once again the worst way to finance a car. With a car loan, the opportunity cost is slightly higher than leasing, and the general costs are significantly higher, making it a poor option. This is disappointing since this loan is specially made for cars.
Does that make a margin loan great in all cases? No! First, you need a substantial portfolio to get a 50'000 CHF loan. Then, there are significant risks when using a margin loan. And finally, a margin loan has a variable interest rate that can change daily. This can play in your favor but also mean your interest rate can increase quickly.
I would say that leasing is a slightly better option than a margin loan unless interest rates are very low and you have a very large portfolio, so your margin is low.
With a higher opportunity cost for aggressive investors, the gap between a margin loan and a leasing increase significantly.
It is also important to realize that a higher premium for not using leasing will also profit from the margin loan. So, leasing will become less attractive if you get a higher premium than 5% for buying the car in full.
Recommendations
We can base a few recommendations on these results.
If you do not have an opportunity cost, you should always fully finance a car. Doing that will be significantly cheaper than any other way to finance a car.
You should use leasing or a margin loan if you have an opportunity cost. You have to remember that the margin loan will be cheaper but riskier.
In any case, you should remember that you should only buy a car for which you could save the money in full. Leasing is not a good option if you cannot afford the vehicle. You should only buy a car within your means.
Leasing becomes less interesting if you can get a significant premium by paying in full. But leasing becomes more interesting if you cannot get a good premium. Leasing can also be limiting, while a margin loan is flexible but riskier.
Conclusion
In the past, I thought that the only way to finance a car that would make sense financially would be to finance it in full. Looking at these results, it seems I was wrong. Indeed, leasing or a margin loan may make sense to finance a car if you invest your money to reduce the opportunity cost.
At this point, I do not know exactly which method to finance a car I will use once we buy our next car in the next few years. But I know I will consider a margin loan or leasing.
And I will never say it enough: do not use leasing as an excuse to buy a car you cannot afford!
It is also important that maybe you do not need a new car. Sometimes a used car is the way to go. But used cars do not have great leasing options. In that case, cash or margin loans are probably best.
If you are interested in margin loans, you should read my article on margin loans. And you should also check Interactive Brokers because they offer excellent conditions for such loans.
What about you? How would you finance your car? Do you agree with my conclusions?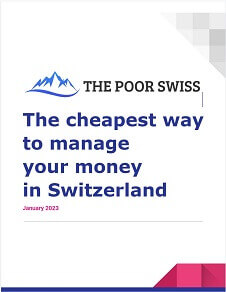 The best financial services for your money!
Download this e-book and optimize your finances and save money by using the best financial services available in Switzerland!
Download The FREE e-book