October 2017 Update
|
Updated:
|
(Disclosure: Some of the links below may be affiliate links)
This is the first monthly update of my budget and finances on this blog. I will try to do this every month and normally earlier than this. I was on vacation.
October 2017
October 2017 was not really good in terms of savings, but a bit better than I was expecting. The savings rate for the month is 8.15%. It is not really good but I was expecting a loss. So it is not so bad.
Even though I was on vacation in China, this is not what made my budget so bad. The only really expensive stuff was the plane tickets but they were paid earlier. I had to pay almost 600 CHF for the dentist and 450 CHF for Billag. On that note, I really hope the "No Billag" initiative will pass next March, that would be a very nice improvement to my budget, especially since I do not watch TV and do not listen to the radio.
I have started to review my portfolio with better investments. I still have around 60% of my assets in cash, 11% in international stocks, 10% in domestic stocks and 17% in bonds. This month, I plan to decrease the cash allocation, especially for my retirement savings third pillar.
Next Month – November 2017
November should not be very good since I have to purchase new plane tickets to China. But this will hopefully be the only big expense of the month. Therefore my savings rate should be better next month. I plan to be very frugal this month. Also, I plan to reduce a few of my monthly expenses (more on that later). I will check again all the expenses on my budget and try to come up with solutions to reduce the overall spend that is still too high.
What about you? How was your October 2017?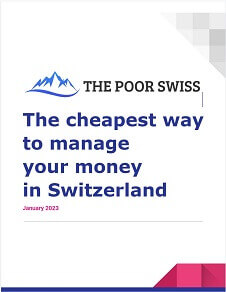 The best financial services for your money!
Download this e-book and optimize your finances and save money by using the best financial services available in Switzerland!
Download The FREE e-book