March 2022 – Splurging the bonus
|
Updated:
|
(Disclosure: Some of the links below may be affiliate links)
March 2022 was a good month, with a few pleasant events and nice weather. There were no huge events this month. And especially, there were no significant issues, which is nice. There was a great balance between events and time at home.
Financially, March 2022 was an excellent month. I have received my bonus and had no taxes to pay. On the other hand, we splurged a little on the bonus, but we still saved a lot of money this month.
March 2022
Overall, March 2022 was a good month. We had good times with our family and friends.
Our son is growing well. However, he is still not sleeping well during the time. So we are still lacking sleep a lot and wishing for more time. This lack of sleep and time is delaying some of the things we want to do, but there is not much we can do about it.
March is always the month with the highest income of the entire year. Indeed, March is the month when I receive my bonus. The bonus makes an enormous difference since my bonus is higher than two salaries.
And consequently, this is often the month where we spend the most. For instance, this month, I bought a new desk and several accessories for the office. And my wife bought a new smartphone.
Financially, it was a great month. I received my bonus which is more than two months' salary. On top of that, we are not paying any taxes this month. So, even though we spent some money on some large items, we still managed to save more than 83% of our income this month.
Expenses
Let's see the details of our expenses in March 2022:
| Category | Total | Status | Details |
| --- | --- | --- | --- |
| Insurances | 843 | Average | Health insurance and complementaries |
| Transportation | 154 | Above average | Some parking, some bus, one fuel refill, and Rega |
| Communications | 115 | Above Average | Internet and a large prepaid refill |
| Blog | 843 | Above Average | Usual blog expenses and first pillar contribution |
| Personal | 4005 | Well Above Average | Many things for the office, some furniture, a new phone, … |
| Food | 595 | Above Average | Some restocking, several trips to the cheese shop, two restaurants, … |
| Housing | 1234 | Above average | Usual bills plus ECAB and Power bill |
| Taxes | 0 | Well Below average | Month without taxes |
In total, we spent 7792 CHF this month. And we did not pay any taxes. So, our pre-tax total is huge, much higher than usual. We planned several expenses for a while, and we chose to buy them with the bonus.
I had several expenses for the office that amounted to about 1600 CHF this month. I bought a new desk and some new home automation devices for the office. I also changed all the lights.
Mrs. The Poor Swiss spent 1000 CHF on a new iPhone. So, our technology budget for the year is quite high.
Finally, we also bought a new closet for our son's room. The closet we had before was temporary, and we were looking into having something more long-term.
Other than that, we had mostly small and standard expenses.
2022 Goals
Let's take a look at our goals by the end of March 2022:

Most of the goals are doing well. I managed to do many walks this month. I am quite happy about that. My gym goal is not doing that well, but I am putting that on the low energy I am having (and maybe I am just lazy).
We entirely blew up our spending goal with our splurging this month. But I am not too worried about that. Overall our spending remains reasonable.
As for the office, I have ordered, received, and installed the new desk. In the end, I opted for a Fully Jarvis desk. So far, I am delighted with the desk itself. On the other hand, the accessories (cable organizers and a drawer) are of bad quality, and I would not recommend them. I have also replaced all the lights. Next month, I will work on the wall behind the desk that I want to replace. And then, there should only be small things left.
I went to the doctor for my knees again. And as I expected, I will have to do an MRI next month.
All our financial goals are doing great except for optimizing bills. I plan to increase our deductibles on our household insurance next month, so I should be moving to 33% there. But so far, I do not know how to go farther than 66%. We will see if I can come up with something.
So, overall, I am happy with the progress on our goals.
FI Ratio
Let's take a look at our progress toward Financial Independence:

This month, the stock market started a good recovery from its small decline this year. On top of that, we had very nice savings this month. These savings fueled our net worth growth this month. It made a great jump to our fi ratio. We are now at 14% of our financial independence target.
The black line is with fixed expenses at 100'000 CHF per year in retirement. And the blue line is based on the expenses of the last 12 months.
Currently, our average expenses are increasing, mostly due to taxes. So, this lowers our FI ratio over time. But we hope to stabilize our expenses over time and build our net worth faster.
Overall, I am happy to see our FI ratio grow again. We are still very far from financial independence, but the trend is doing okay.
The book in paperback
My first book
Retire Early: The Simple Guide
A simple guide you through all the basics to your own Financial Independence and if you want it, your own early retirement.
Start your journey to financial freedom now!
Buy Now
We have finally released our book: Retire Early – The Simple Guide, in paperback format. I know that many of you were waiting for it. Now, you have no excuses not to buy it anymore :) Just kidding!
So, now, the book is available in three formats:
The ebook
The hardcover
The paperback
We wonder whether we will translate it into German and maybe French next. I will let you know once we start doing something else for the book.
If you want to learn more, I have an article about Retire Early – The Simple Guide.
The Blog
For once, the blog traffic increased slightly, by about 5%. I have not done anything special for the traffic, but it is good to see it going up. I expect it to go down again next month!
I continued my progress on the translation this month. Overall, this effort is doing good and nearing completion. I am down to only having a few articles to translate that require redoing the graphs, and I am procrastinating on these. If I get enough time next month, I could be able to finish this effort.
Except for the book and the translation, nothing particular is happening on the blog. I still have very little time on my hands, so I am delaying all more significant projects.
Next month – April 2022
We have nothing special planned for the next month, except for a few family and friends events, as usual. It should be a good month.
Financially, we do not expect any special income. We have a few more expenses planned, especially for the office. But it should not be too bad.
What about you? How was March 2022 for you? What do you have planned for April 2022?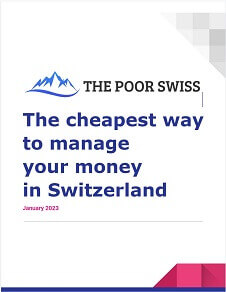 The best financial services for your money!
Download this e-book and optimize your finances and save money by using the best financial services available in Switzerland!
Download The FREE e-book