(Disclosure: Some of the links below may be affiliate links)
We are finally done with 2020! However, 2021 did not change much so far. We are still full in COVID-madness. However, one thing changed significantly. We are now living in our new house. And this changes things a lot for us! For the better!
We have settled very well into our new house. And it is much better to have nothing to do in a great house than in a small apartment.
Financially, it was also a good month! We had to buy a few more things for the house. And we blew our groceries budget with some invitations. But, we had no large expenses and managed to save more than 60% of our income!
In this article, you will find all that happened to us and our money in January 2021.
January 2021
Overall, January 2021 was not a very special month. We wanted to invite people over to thank them for their help in moving. However, we are now limited to inviting only 5 people at a time. So, we are doing invitations in tiny groups. At least, we managed to see our friends and family that way.
We have now fully settled in the new house. It feels great! It already feels like home, and we feel like we have been living here for a long time. This is a great feeling after only one month and a half in the new house.
We still have not been able to find a new tenant for the old apartment. I am quite tired of doing visits for this apartment, with nobody actually wanting to take it. We still have to pay until the end of March.
Financially, it was quite a good one. We still had several expenses for the house in early January. And since we invited people over several times, our grocery bill is going nuts. Nevertheless, we still managed to save a nice amount of money. Indeed, all our other expenses were very regular and stable.
Overall, we managed to save 62% of our income in January 2021. It is a great way to start the year.
Expenses
Let's see the details of our expenses in January 2021:
| Category | Total | Status | Details |
| --- | --- | --- | --- |
| Insurances | 745 | Average | Health insurance |
| Transportation | 73 | Below Average | Parking and some bus tickets, no gas |
| Communications | 93 | Average | Internet and online services |
| Personal | 1023 | Above average | Many small things for the house, several health bills |
| Food | 513 | Well Above Average | Restocking at Aligro and standard groceries |
| Housing | 1556 | New average | The rent for the previous apartment and mortgage interests |
| Taxes | 1596 | Average | State and County taxes |
In total, we spent 5602 CHF in January 2021. This is a good result for us because we spent 4005 CHF without taxes. And we aim for 4500 CHF per month without taxes. So, we are really happy about the way we are starting the year!
When I consider that we are still paying the rent for the previous apartment, it is crazy. Indeed, we will spend much less starting in March since we will not have to pay the rent on top of our mortgage! I cannot wait to get rid of that apartment.
The only budget that went nuts this month is the grocery budget. We expected this for two reasons. First, in December, we really emptied our freezer and tried to empty most of our dry reserves as well. So, now we had to stock it back. So, we went to Aligro to refill our meat. And we also invited several people over for dinner (in small groups). But it was worth it!
So, overall, January 2021 was not perfect for expenses, but still excellent!
2021 Goals
Let's take a look at our goals by the end of January 2021: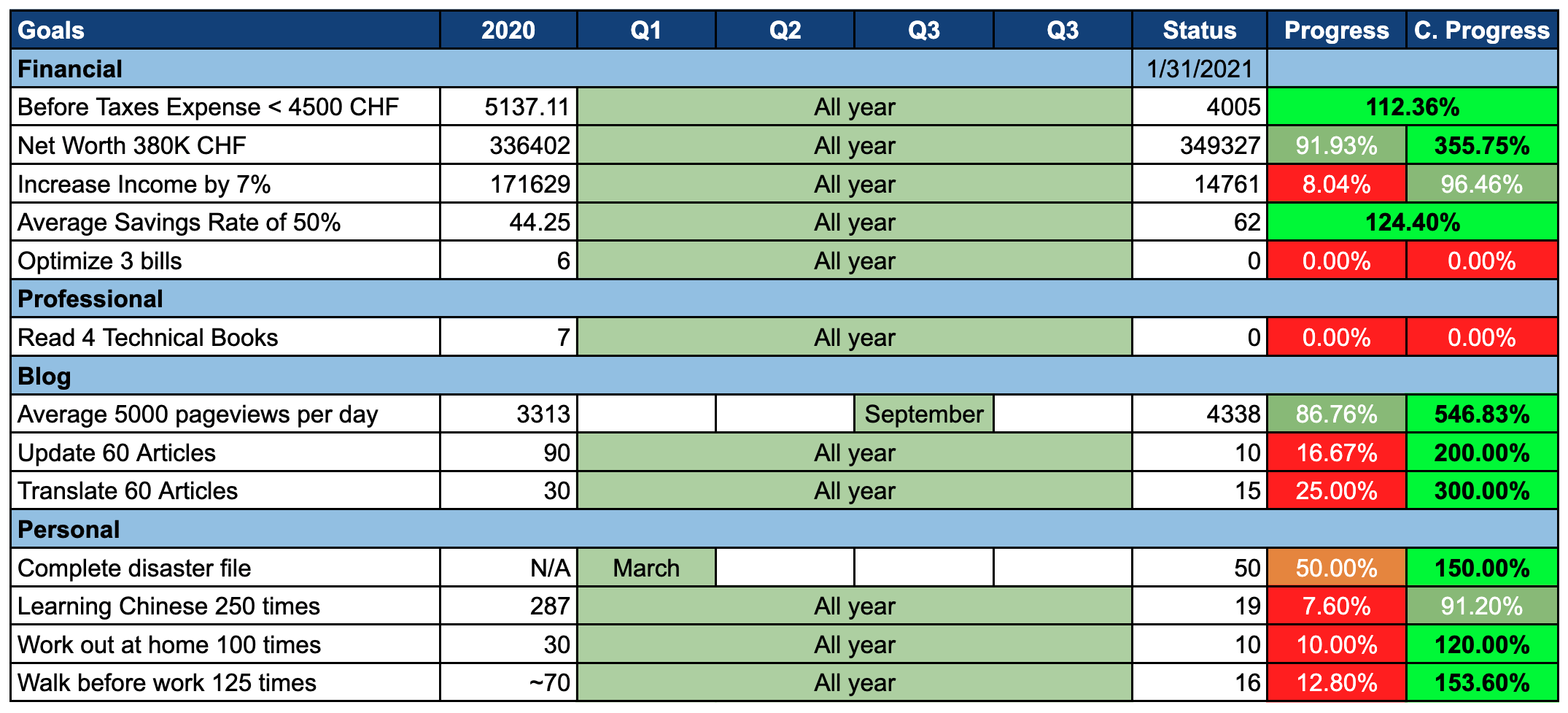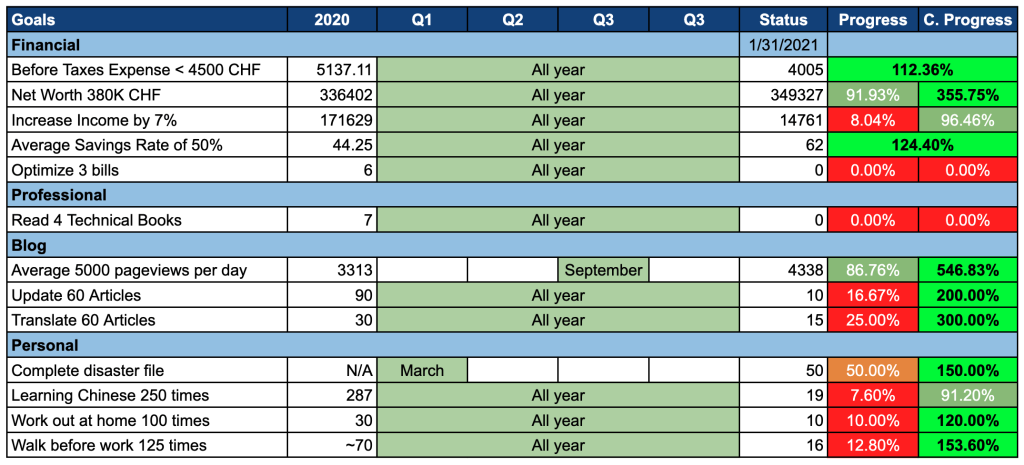 Overall, our goals are starting the year pretty well. This is often the case since just after we do our goals, we are entitled to work hard on them, which I did!
Only two goals are in red. I did not start reading a professional book yet. I still have plenty of time, and I did not want to start the year with a professional book. I will order my new pro books next month and start reading them. I also did not optimize any bills yet. But I plan to take a hard look at all our bills next month and plan some improvements.
My walks are going great. I only missed one day because I had to do the groceries in the morning. My working out goal is also doing well. I have opted for a three days a week routine with a simple circuit training I have found. For now, it is doing well. But obviously, it is only the first month. It is going to be more difficult to keep at it during the entire year.
Two other goals are slightly behind. Our income goal is slightly low. But our income this month was quite good. This is expected since March is when a huge part of our income is coming (with my bonus). So, we are currently on track. I am also behind on my Chinese learning. This is the goal I had the most issues with this month. My motivation is pretty low. I really have to be better at it.
Other than that, our goals are doing great. So far, I have been able to keep my gym and walk goals pretty well. I am actually surprised by my habits there.
Net Worth
Let's take a look at our net worth as of January 2021:


It was definitely not a special month on the net worth side. However, the growth was good. The stock market went nicely up during the month. And with a large savings rate, we added a nice pile to the net worth. It is good that even a standard month (no bonus, no ESPP, no gifts), we can manage a nice growth.
Next month we should see a nice increase as well since my ESPP shares will vest. Unfortunately, my company's stock did not do extremely well, so I will not receive a huge bonus as usual. But 15% instant returns is still extremely nice.
For those wondering why there is no change because of the house: so far, we have not paid any notary bills or house transfer taxes. This explains the lack of changes in our net worth. But we expected our net worth to dip once these bills are coming.
The Blog
Overall, the blog did quite well during this month. The traffic is up about 10% compared to December. Normally, January is always a good month. The challenge will be in retaining this traffic.
I was able to update and translate many articles this month, as you can see on my goals. So, I am well on track with this work. Aside from this, I have not done anything special on the blog this month.
Unfortunately, I have reached a point where answering all emails and comments takes me too much time every day. So far, I have been able to answer every comment and email. But I do not think I can keep this up for long. I will have to find a way to either answer them more quickly or get fewer comments and emails. I will definitely get to the point more quickly in the comments and emails.
It is not that I do not want to answer them, but I cannot spend a ton of time on comments and emails if this is hurting the time that I should spend writing and updating articles. And I still have to work full time, spend time with my wife, and on my other hobbies. I have to be careful that the blog does not cannibalize my other activities.
Next month, I will continue my translating efforts. And I have a few important updates planned as well. I still have a good line up of articles for February.
I also appeared in another podcast, Fast Track Podcast. If you are interested, you can listen to the Fast Track episode with me.
If you had to read a single article from this month, I would recommend the VIAC vs Finpension 3a article.
Next Month – February 2021
We do not expect much special in February 2021. We will continue to invite people to our home, little by little. This will drive our groceries up. Our income should be standard next month. We will receive some net worth boost with my ESPP shares. But as mentioned before, the stock did not do very well. But it will still be a nice small bonus.
Other than that, we expect February 2021 to be pretty much eventless. But it is quite okay. We will enjoy the calm. Our grocery bills will not be great again since we have several invitations planned. But it is alright!
What about you? How was January 2021 for you?