How to Save More Than 50% on One Amazon Purchase
|
Updated:
|
(Disclosure: Some of the links below may be affiliate links)
For a while, I had wanted to buy a new home automation hub. However, the one I wanted, the Samsung Smartthings Hub V3, was a bit too expensive on Amazon. After a while, I figured out a way to get 50% off this item by ordering it from another Amazon website and dispatching it back home with a mail transfer service.
With this technique, I saved over 175 CHF on a single Amazon purchase. I did not discover a new technique; this is already known by quite a few people. However, I do not think many people use it. But since it took me a while to figure it out and it saved me a lot of money, I figured it would be interesting to share it with my readers. It is the first time I am using a mail forwarding service to save money.
In this article, we see how I saved more than 50% on a single purchase on Amazon by forwarding my parcel from the UK.
Parcel Forwarding
I will talk about plain old mail in this post, no emails here! So, what is mail forwarding or parcel forwarding? This is simply a service that will set up an address for you in another country.
You can then use this address to deliver things ordered online. Once they receive the packet, the mail forwarding service will dispatch it back to the address of your choice. You could, of course, use it in the same country, but there are fewer advantages to it!
You may wonder why use another address and not directly send to your home address, for the simple reason that some websites do not deliver in some countries. For instance, Amazon UK does not deliver in Switzerland. From Switzerland, if we want to order on Amazon, we need to order from Amazon France. We do not yet have an Amazon Switzerland. I guess the country is too small for that.
But there is another reason to send to use another website. It is to use arbitrage to find the cheapest website and to order from another country to get the best deal. That is what I did, and we will see now.
Keep in mind that this example is from 2019. The object in question is much cheaper, but this tip can still be replicated on other items.
The product I wanted
Here is an example of how I managed to save more than 50% on my purchase. I wanted to buy the Samsung Smartthings Hub V3. Unfortunately, I did not find it in any Swiss shop. So I looked at French shops. On Amazon France (amazon.fr), they list the item for 239 EUR. You can see the details of the listing: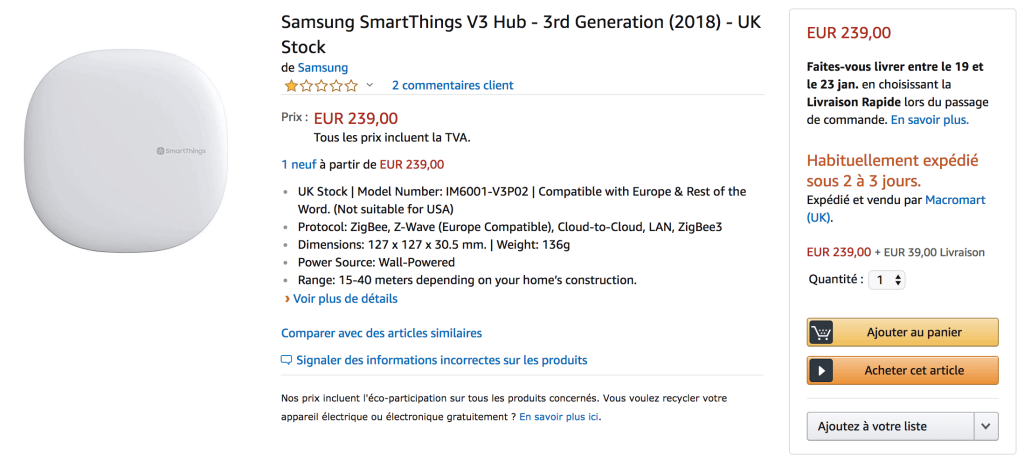 Sorry about the French, but Amazon France is only in French. As you can see, the item cost 239 EUR, and there are 39 EUR delivery fees. That means a total of 278 EUR or around 313 CHF. Seeing this, I decided I really did not want to pay that much money for such a simple product.
However, I was looking at other Amazon websites, and I found the same product on Amazon UK. I was really surprised by the difference in price:

On Amazon UK, my product is only 79 GBP, around 99 CHF. The base price is more than twice cheaper. Unfortunately, delivery to Switzerland is not possible. So I decided to go with a mail forwarding service.
Of course, Amazon UK is not the only option. This item is available in many Amazon versions. For instance, it is available in Amazon Germany for 89 EUR. I considered it, but it was slightly more expensive overall. And, of course, there are other websites than Amazon. If you are going all the way and want to save, you must check many websites.
Forwarding the packet to Switzerland
It was the first time I ever used a mail-forwarding service. I was a bit scared about the possibility of trusting my parcel into the hands of such as service. Therefore, I compared a few of the services that propose addresses in the UK. I finally settled for MyUKMailbox. From what I read in the different reviews, it seemed to be the best service for getting an address in the UK.
Moreover, this service does not charge any monthly fee. Since I am not planning to use this service regularly, I did not want to pay a hefty monthly fee just for using it once.
So I went ahead and created an account on their websites. I made sure to control several times my address in Switzerland. After this, they will give you an address in the UK. Once I had my address in the UK, I ordered my product from Amazon UK and delivered it to my UK mailbox address. I used my Revolut card to save on foreign exchange fees. It took three workdays to deliver the packet.
Once the packet arrived at the mail forwarding service, I received a mail telling me that the packet arrived. At this point, I could forward the mail to any address I wanted from the website. For my packet, the only option was to go with DHL. This cost me 30.95 GBP. Once again, I paid with my Revolut card to avoid any foreign transaction fees.
Finally, after two more working days, I received my packet in Switzerland!
The final price
In the end, I paid:
79 GBD (99 CHF) for the product itself
30.95 GBP (39 CHF) for the delivery via DHL
27 CHF for the Swiss import taxes
This gives me a total of 165 CHF for my purchase. If I had ordered on Amazon, I would have paid:
239 EUR (269 CHF) for the product
39 EUR (44 CHF) for the delivery fees
27 CHF for the Swiss import taxes
So, a total of 340 CHF on Amazon France. This means I saved 175 CHF on a single purchase. This is more than 50% saved on a purchase! I really think it is worth the trouble to compare even on foreign websites for such a discount!
Conclusion
Using a foreign address and a mail forwarding service instead of direct delivery to Switzerland, I have saved more than 50% on a single Amazon purchase! This is 175 CHF that I saved with some time invested. This is definitely not negligible. I really think it was worth the time I invested in finding a better price for the product I wanted.
In the future, I definitely plan to look around in other countries for better deals when the local price is too high. Generally, it is cheaper when the product is available in your own country. But sometimes, it can be significantly cheaper on another website that may not deliver to your home address. In these cases, a mail forwarding service can save you money!
If you ever shop with Amazon from Switzerland, you must remember to use a credit card with free purchases in foreign currencies. For this, you could use Neon or Revolut.
Have you ever used a mail forwarding service to save money? Do you have any other tips to save money?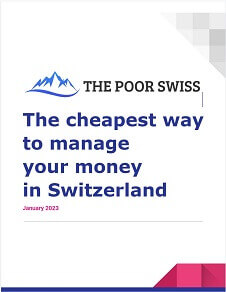 The best financial services for your money!
Download this e-book and optimize your finances and save money by using the best financial services available in Switzerland!
Download The FREE e-book