Early retiree in Switzerland – Dror's Story
|
Updated:
|
(Disclosure: Some of the links below may be affiliate links)
Most of the time, when we hear stories of early retirees, they all live in countries where the cost of living is much lower than in Switzerland. But recently, I have had the chance to interview an early retiree in Switzerland!
Dror retired in Switzerland in 2021 at the age of 46. His story is very interesting in that he is one of the first early retirees I have had the chance to talk with.
Without further ado, here is the story of Dror Allouche, an early retiree in Switzerland!
Tell us a little about yourself
My name is Dror Allouche. I am 46 years old (in 2021). I was born in Switzerland, but I grew up in France.
I have two young children and a wonderful wife. We live in the heights, 20 minutes from Zurich.
Since when are you early retired?
I left my corporate job in Nov 2021. In the beginning, it was the reason why we came to Switzerland.
But we love it. So we plan to stay.
When did you realize you wanted to retire early? And why?
Ever since I was young, I told my parents I would stop working at 40. Even then, it seemed to me that this would be "Wealth."
Maybe because I have always had many passions and I thought that having time is the most important thing.
My parents were very open and encouraged me from a young age in any direction I took. They always told me, "you can do anything you want."
How did you learn about FIRE?
Rather late. I think the first time I came in contact with the term was through a blog (Mr. Money Mustache). I started reading about the topic, and it immediately resonated with me. In fact, I was practicing FIRE before I knew about it.
I didn't know about the 4% rule and ETFs. But apart from that, my journey was no different from the FIRE philosophy. Earn as much as possible, don't adjust my lifestyle to my earnings, and invest the difference.
How is it to be early retired?
That's great. I enjoy this time. I believe that time is the greatest asset.
Actually, I don't consider myself retired. I just decided to leave my corporate career to have more time for myself and my family.
I now define myself as an investor, a content creator, a coach, and an entrepreneur.
We are all creative people, and time allows us to discover what we like. I have always loved to read and share. In my spare time, I started to write about three subjects:
Personal development. (I believe in continuous improvement)
Professional growth (from salesperson to COO, everything I learned along the way)
Financial freedom (I achieved financial independence using the power of compound interest).
This quickly created a community of like-minded people. My blog was born, and I enjoy developing it.
This new life allows me to follow my intellectual curiosity while leaving me a lot of time.
I don't know if I should be considered semi-retired. I don't consider what I do as "work." I really enjoy writing and coaching people along the way. I hope to keep writing for the rest of my life :)
How did you retire early?
How long did it take?
I would say a good twenty years.
I started working at the age of 23. And I have considered myself financially independent (I hope) since the age of 43.
I say hope because we always have some fears :).
I think FIRE is not an exact science. The data can change with inflation, rate of return of the markets, and life span. So you always have doubts. But my temperament allows me to manage those risks.
I don't feel like I've sacrificed anything on my journey.
My wife and I have developed a pretty simple philosophy of living. We don't need much even if we can afford it.
I aim for unlimited growth in everything non-material (my thinking, for example) and deliberately limited growth in everything material.
Material things rarely bring me long-term joys.
Savings rate? Income?
I haven't followed that precisely. First of all, because I didn't have a method, I just had a feeling that the more I saved and the more I invested, the faster I could reach financial independence.
I understood much later, thanks to FIRE, that I was getting closer to my goal.
Over time, my income increased a lot. I have a career where I was lucky enough to be promoted eight times. Over the course of my 23 years of career, my income was multiplied by 10.
As my income increased, we felt no deprivation, and we certainly saved around 50% (or more) of it. Our secret has been not to adjust our standard of living to our earnings.
Tell us about the money situation.
Net worth
Here is the current composition of our net worth:
We have around 30% in real estate (rentals in France and a residence in Switzerland)
The rest is using the 60/40 rule

60% in stocks ETF (including the third pillar)
40% in safe assets (cash, second pillar…)
SWR
I expect to be able to withdraw 4%, but I don't actually think I will use it. I trust I'll be able to create more than enough income to support my family while doing things I love and keep plenty of free time. I just created my solopreneur business around my blog, and I'm starting to get my first consulting and coaching clients.
Still some income?
We rent two flats in France. As I said above, I plan to develop revenue through my solopreneur business (Blog, consulting, coaching).
My aim, work from home (If I can call it like this😀) for 4 to 6 hours a day, including my content creation activity.
Spouse still working?
My wife is a dance teacher. For years she stopped working to take care of our children.
Our children are starting to grow up, so she has just begun a new work passion activity. She cooks once a week at a Vegan restaurant and plans to start teaching private and group dance classes again.
For now, she has almost no income. But it will grow in the coming months.
What would you do differently if you started again today?
I have made many mistakes in my investments.
I first invested in stock picking during the internet bubble time. Guess what? I lost money.
I then switched to active funds until I discovered I was covering all the risks on my side. When the stocks were up in the good years, the fund was earning money. When the shares were down in the bad years, they were still making money. I was losing. I concluded that (quite) no one was able to beat the market sustainably. So, there were no reasons for me to pay high fees.
Investment fees hidden in many investment products are killing any financial independence target.
I kept too much un-invested cash. As I hadn't found the right methodology, I was afraid and played it securely.
If I were to start again today with my knowledge, I would invest from the beginning in one ETF action indexing the world, such as Vanguard FTSE All-World.
I chose this ETF to simplify my system as much as possible.
Have you had some helpful circumstances?
I didn't inherit. But yes, I was lucky.
Lucky to have had a career where my income has steadily increased.
The chance to have discovered and regularly invest in ETFs.
To have invested heavily during the Covid crash.
To have bought the assets (flats) we lived in and to have kept them. It allows me to rent them today and to have nice capital gains if one day I decide to sell.
Did you get any resistance about retiring early?
Not really. I am lucky (again) to have an understanding family.
Even if I think it scares them a little bit.
Do you tell people you are retired?
Yes and no.
I say I retired from the corporate world to take more time for my family and myself.
I explained that I live from my investment. And that I am developing projects that I am passionate about. And I mean my blog, and my coaching activities, of course…
Tell us more about your investment portfolio
It's very simple. I make all my new investments almost exclusively on Vanguard FTSE.
65% in The Vanguard FTSE All-World UCITS ETF Distributing.
17% in another world ETF (for historical reasons)
11% in a Technology ETF (I believe in it)
7% in various French stocks ETFs. (for historical reasons)
I don't buy bonds. My cash reserve and my old investments are used as security products.
My portfolio is not changing now that I am retired. As I always think of creating revenue, I'm not touching it at the moment.
I did not pay much attention to foreign currencies. I buy Vanguard in CHF. For the rest, I have no influence on the subject, so I don't spend time and energy on it. It's part of the risks related to my investments.
I've not invested in anything special like cryptocurrencies or NFTs. I haven't studied the subject (and I don't think I will).
That's one of the advantages of the few investment principles I've developed. They allow me to be clear on what I want to do and make my decisions easier. I save time.
I believe that markets over time always go up. I look for simplicity. The less time I spend on my investments, the better.
Your best advice to someone that starts on the same journey?
Create your strategy.
Simplify your strategy. The simpler it is, the more you will do it, and the more you will progress. Start as early as possible.
Invest regularly. If you can, increase your investment when the market corrects or crash.
Don't try to master everything. Investing has unknowns. You have to live with them.
Don't try to master the markets. Master yourself. Emotions play a big role in this adventure. Preparing yourself will make a big difference.
Enjoy the adventure. Happiness is not in the destination but in the journey.
Anything else you would like to add?
Achieving financial independence is a unique project. It gives you access to something so precious these days: Time.
I am very happy to have embarked on it. And at the same time, for future aspirants, I recommend preparing yourself mentally.
Even if I was rationally very comfortable with my decision to leave the corporate world, emotionally, it was hard.
I recommend having projects that you are passionate about and that spark your intellectual curiosity.
And the second axis is financial. It's easier to feel comfortable with the method on paper than live it in reality. When the markets plunge and your project depends on it, it's harder to distance yourself.
Developing other sources of income related to subjects you are passionate about and with clear time constraints that you impose on yourself can also help.
Good luck with your projects!
---
Financial Independence Coaching

1:1 Coaching
You are looking for financial independence or just achieved it, or living it?
Make the most of each phase with support from Dror, a certified professional coach (having been through all the phases).
Get your first session for free!
Tell Dror you come from The Poor Swiss to get the first 45 minutes session for free!
Baptiste: Thanks a lot to Dror Allouche for answering all my questions and sharing this valuable information with my readers!
I think it is extremely interesting to hear from someone that retired early in Switzerland. While we can find thousands of stories about early retirees in the US, it is difficult to find stories about Switzerland. This is why it is extremely valuable.
I think there are two essential insights into this story:
One year later, I interviewed Dror again to see how he was doing.
If you are interested in Dror's story, you can read more on his blog, Options To Grow: How I retired at 46. Dror Allouche has many interesting articles, and I recommend you follow his blog!
Do you have a question for Dror?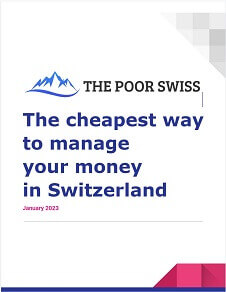 The best financial services for your money!
Download this e-book and optimize your finances and save money by using the best financial services available in Switzerland!
Download The FREE e-book