10 Simple Tips to Find Cheap Kindle Ebooks in 2023
|
Updated:
|
(Disclosure: Some of the links below may be affiliate links)
I bought my Amazon Kindle more than eight years ago. First, I purchased the original Kindle. A few years later, I bought the Kindle Paperwhite. I have been delighted with both. It is fantastic to travel with all my ebooks in my pocket and not have five or more heavy books in my luggage.
Over the years, I bought and read over 150 books on my Kindle. At the time, I thought it was very cheap. And indeed, I was saving money compared to print books. I realize now that this may not have been cheap.
For frugal people, there is one big issue with Kindle Books: You cannot buy used Kindle books. In the last two years, I have almost not purchased any Kindle ebooks. Instead, I bought many used books. There is a second-hand shop near my current job. I probably bought over 40 books during this time. I bought them for less than 2 CHF each on average. And I only bought books in a great state.
The problem is the room second-hand books take! My bookshelf is full, and books are piling up! I am going to build a new bookshelf to hold them all. But after some time, the new one will be full too. I do not mind having many books at home. The main problem is when traveling. If I need several books, it is a pain to carry them.
So I mostly bought Kindle ebooks for traveling. But there are still so many advantages to my Kindle. Therefore, I have been looking for ways to find cheap Kindle books. Here are ten simple tricks to find cheap ebooks for Kindle.
1. Rent ebooks with Kindle Unlimited
One thing you can do with paper books is to rent them. Getting books from your local public library is much less expensive than if you were to buy them all. The more you read, the more interesting it is to rent books instead of buying them.
Did you know you can do the same thing with Kindle ebooks? Not many people know that, but you can rent Kindle ebooks to make it much cheaper.
Several services offer this. But the one I prefer is the Kindle Unlimited service. It is the official service of Amazon. It allows you to rent up to 10 ebooks at a time. Once you want new ebooks, you have to return another one.
It is a great service if you read a lot. You can try it for free for 30 days. After that, it will cost you 9.99 USD per month. The monthly price is about a little more than the average price of one ebook. So if you purchase more than one ebook monthly, this is the way to go!
Unfortunately, this service is not available in all countries. But it is available in the United States and Europe!
2. Track Kindle book deals with eReaderIQ
Recently, I found a few personal finance ebooks at discounts of up to 80%. I immediately bought a few. I was lucky to find these discounts. Then, I wondered if we could track these discounts. It turns out we can!
Recently, I found out about eReaderIQ. This service is pretty incredible. This website offers many things. On the home page, you can search for discounted books. For instance, you can search for books that are at least 50% cheaper than usual: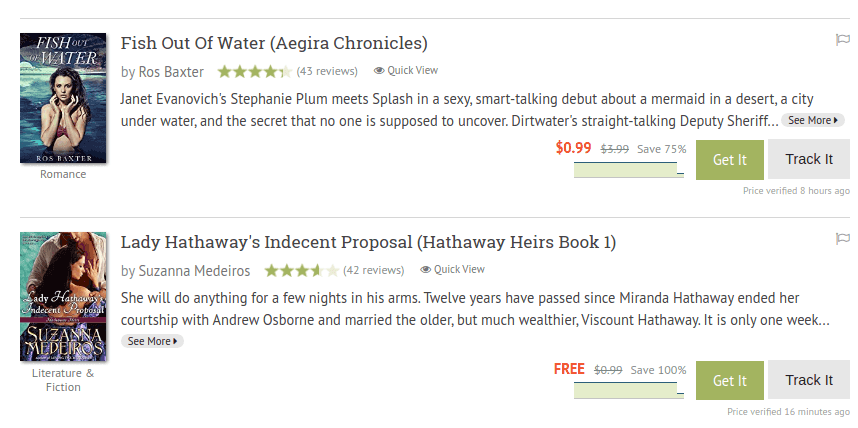 As you can see, you can even find free ebooks! There are many search options to refine your search.
And that is not all. You can also track the price of a book. For instance, you can receive an email when a book you want drops below some price or has a discount. For example, here are a few personal finance books I am waiting for a 50% discount on:


You can also track authors to watch for all their books at once.
I cannot believe I did not find eReaderIQ before. eReaderIQ is a free service. You do not have to pay for anything. But eReaderIQ relies on donations. So try it and if you get good discounts, consider giving a bit back to them. I got a few good deals on investment books with that.
3. Kindle Daily Deals
An excellent way to save money on Kindle books is to follow the Kindle Daily Deals. Every day, there are new deals on some books. And you can register for the newsletter to never miss one!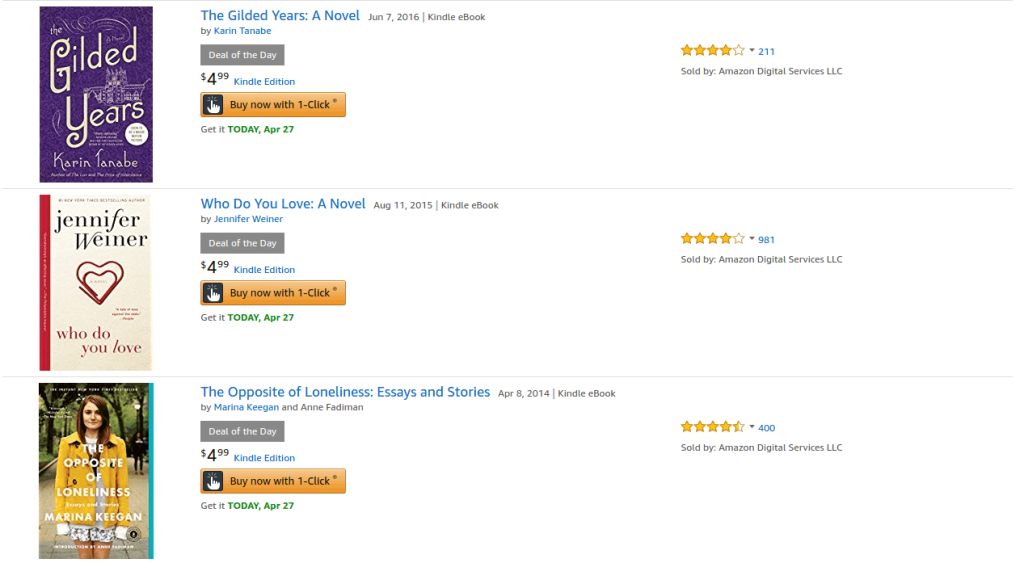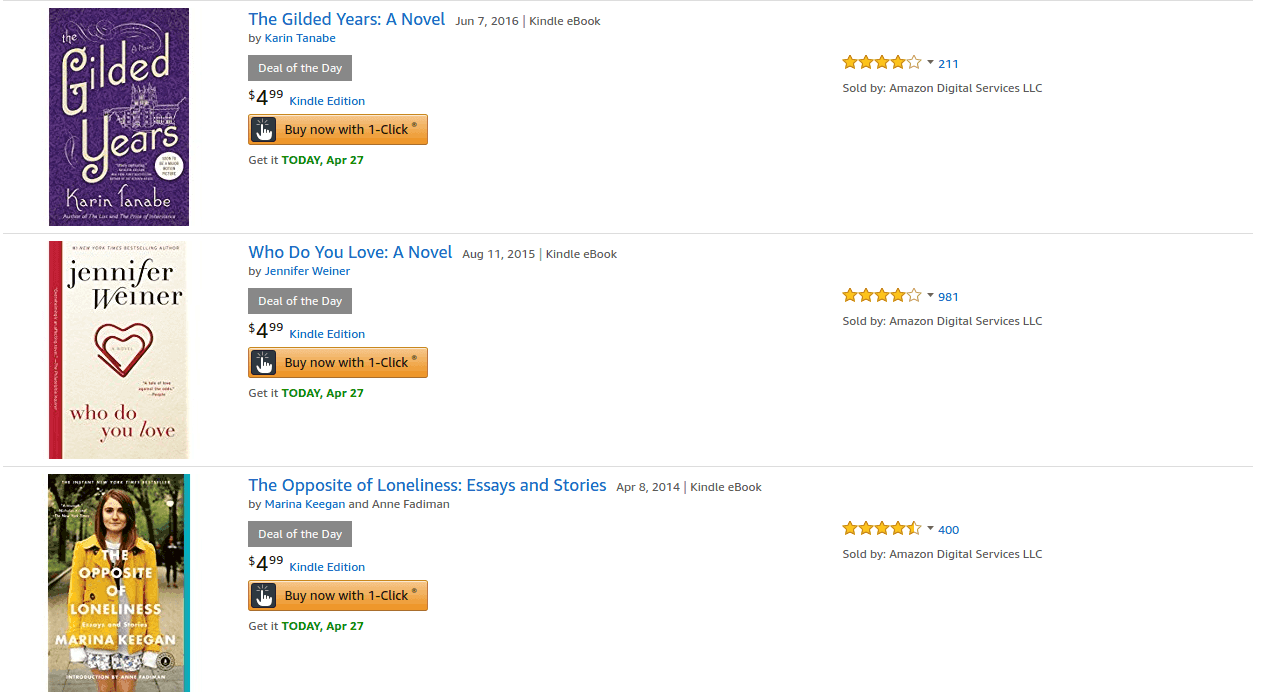 You can find some nice savings here. But since it is a daily deal, you cannot wait one day to think about it. It is not the place where I found the best deals. But it is worth checking it.
Now, there is a problem with this technique if you are not an American Amazon customer. The deals are for each Amazon site. If you are with amazon.fr, like me, you will find another page with deals. But that does not prevent you from buying ones from another country. Often, the English books discounted on amazon.com are also discounted for me if I buy from amazon.fr. You have to change the website and search again. Sometimes, they may not be available in your country. It is not a big deal, but not convenient, either. I wish Amazon would unify all its websites somehow.
4. Kindle monthly deals
Amazon also offers monthly deals on Kindle ebooks. These deals last for one month. And there are a lot of them. As I write this post, there are almost 600 ebooks on discount. It is a great place to find a good deal. You can filter by category of books. For instance, here are some business books on sale: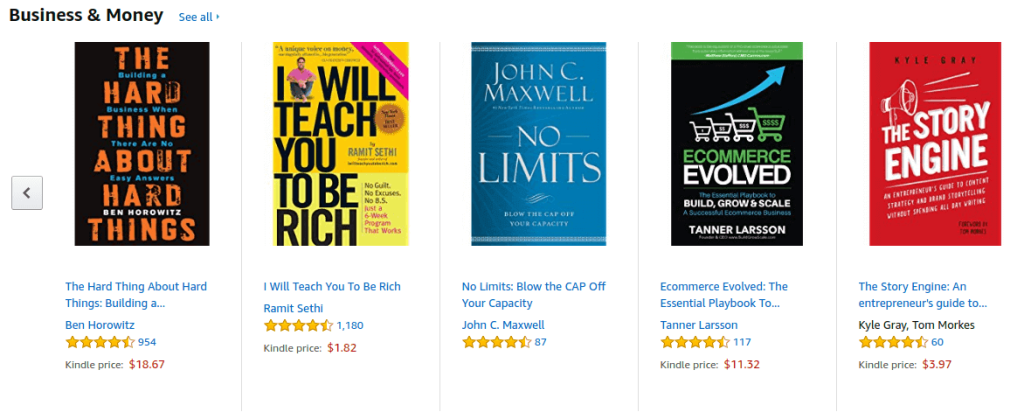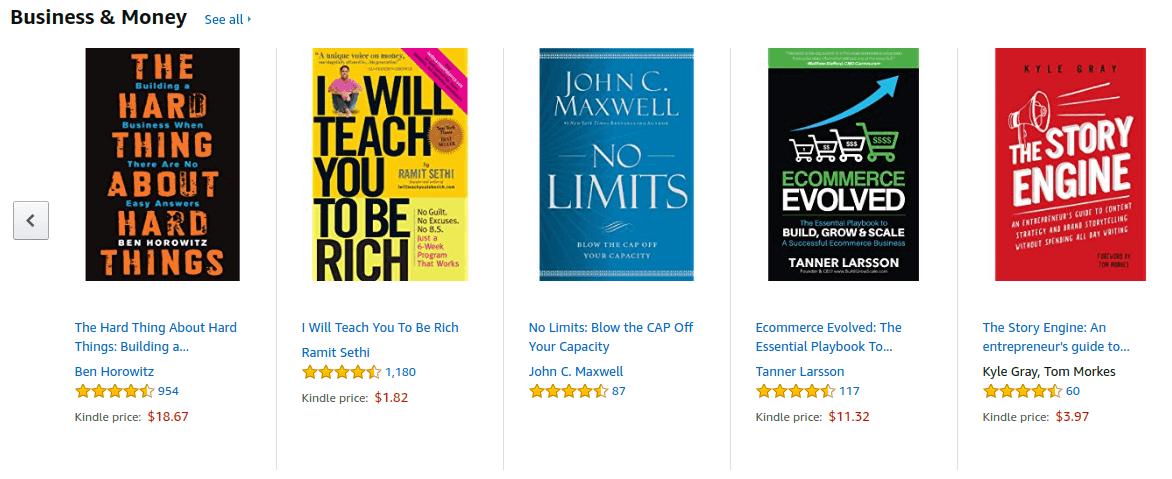 You will see that discounts vary a lot from one book to another. It is a good idea to check this page once a month to find the right deals. You can also subscribe to the newsletter. So you will directly receive it in your inbox every month. No more excuses!
Again, if you are from another Amazon website, you must find the link in your country. I do not understand why they make it so complicated and different for each country.
5. Kindle countdown deals
Amazon offers yet another page for deals: Kindle Countdown Deals. This time, each deal has some duration. The duration can be one day or a few days; it depends. Here are a few examples: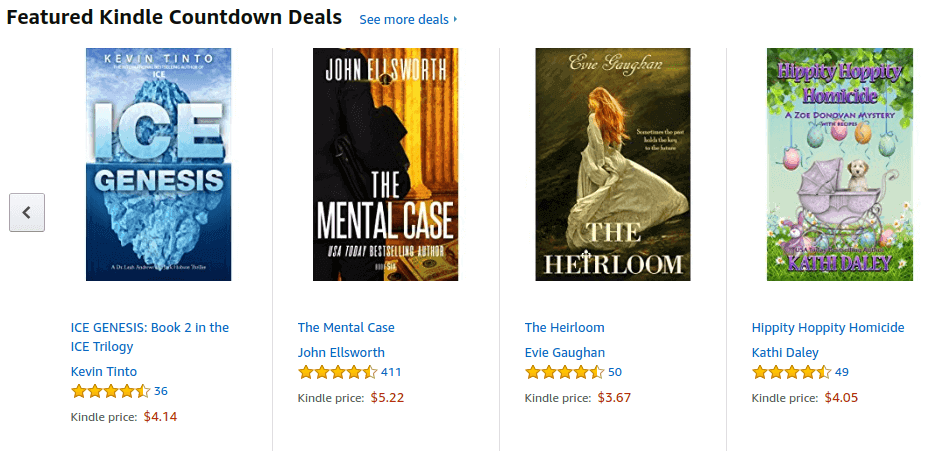 I did not find a lot of good deals here for me. But you may be luckier than me. It is generally new writers that want to increase their audience. There are tons of deals here (more than 2000 when I checked). The problem is that you cannot subscribe. So you will have to check from time to time.
6. Kindle first reads
The last Amazon page where you can find deals is the Kindle first reads. This page has a few bargains (6 now). They are all for 1.99$. But you can only pick one each month. And they were all hand-picked by Amazon editors. They are generally great books.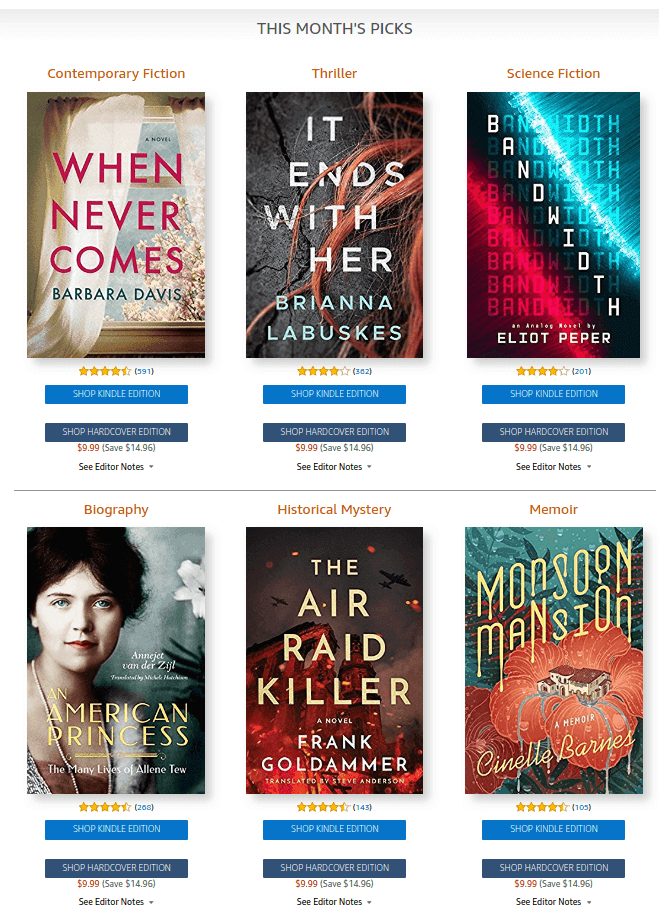 You only have to check it once per month. If you want, you can also subscribe to their newsletter to make sure you never miss a good deal.
7. Free public domain ebooks
This tip is one of my favorite frugal tips ever. If you like some classic (and old) authors, you may be lucky. Some works are now in the public domain. It means that the intellectual property of these books is now free!
The exact time after which a work falls into the public depends on the country. For instance, in the United States, all works before 1923 are now in the public domain.  You can find some of them on the Cheap reads for Kindle page.

For instance, I have read many Jules Verne and Alexandre Dumas books for free. These are French writers. But, you could also enjoy some Edgar Allan Poe. I am sure you can find some great books for free as well!
You will not find paperback books for free, of course, since people still must pay for the paper and printing. But for Kindle ebooks, there are many free or cheap ebooks in the public domain.
Another great place to get public domain books for free is Project Gutenberg. This website has more than 60'000 free ebooks. You can find great books from authors such as Arthur Conan Doyle, Bram Stoker, and Charles Dickens. Project Gutenberg is probably the best place to get classic books.
8. Read books From around the world
Most readers focus on bestsellers from the United States. But there are tons of great writers around the globe. And some of these books are often cheaper than bestsellers!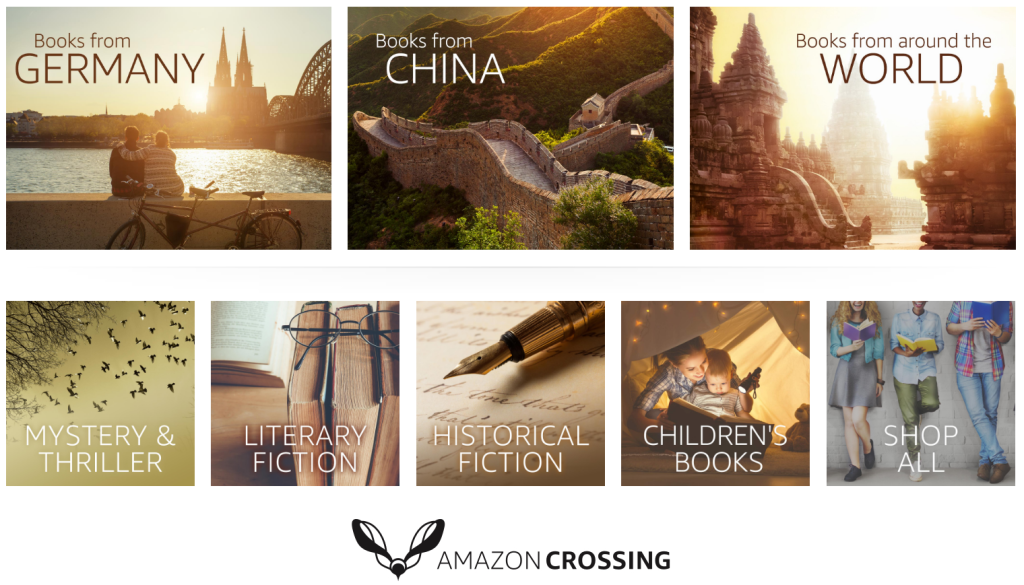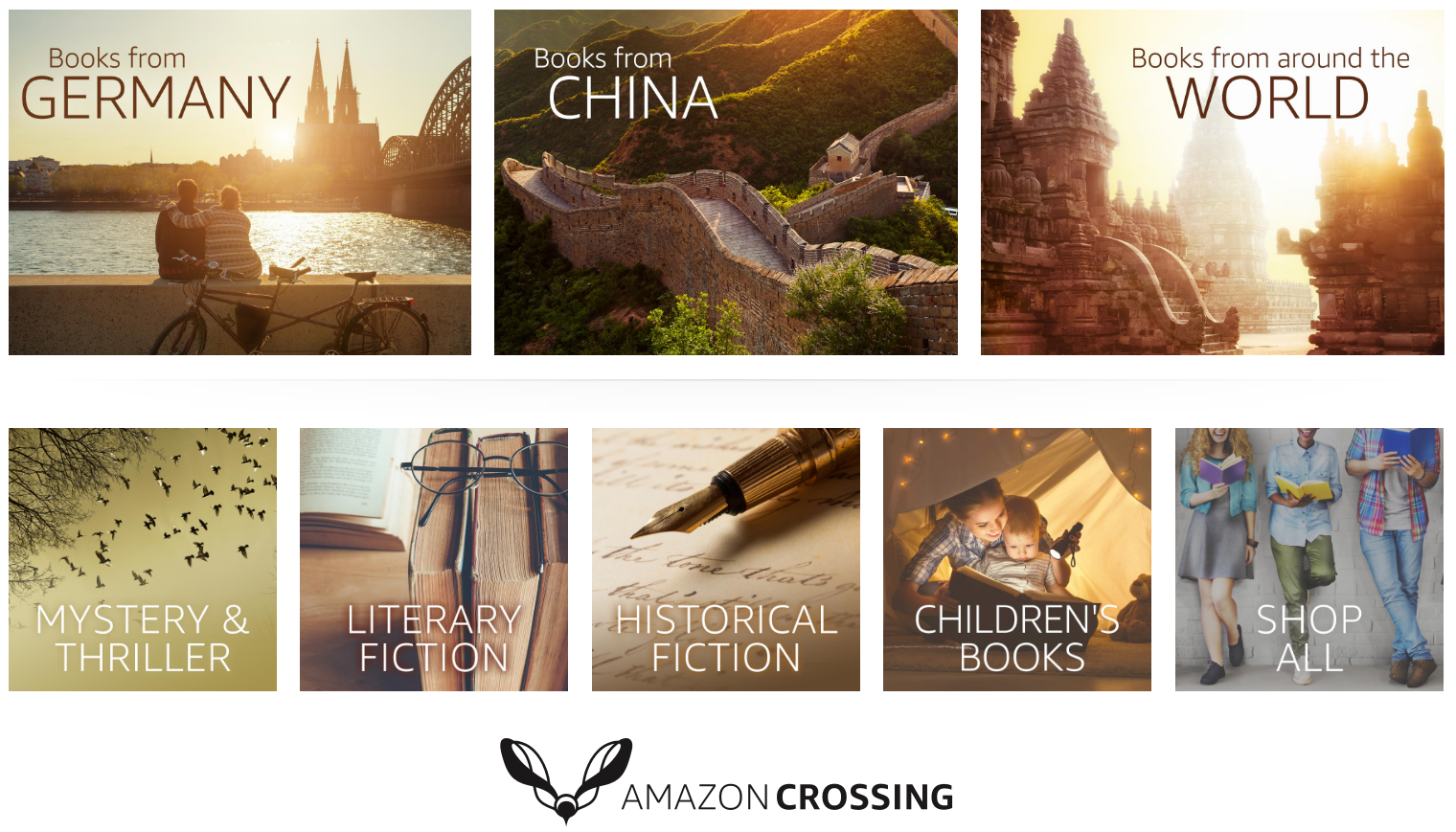 One great way to find cheap Kindle ebooks from international authors is to go on Amazon Crossing.
Amazon Crossing is a great way to find authors you are not used to reading. And a lot of these Kindle ebooks are very cheap. If you are an avid reader, I recommend this service to broaden your horizons.
9. Use your local library
Many libraries are starting to offer access to ebooks. If you are lucky, your local library will provide such a service. In that case, this is a great way to get your books. You can pay a subscription, and you can get many books each month.
And with this, you can also get paperback books when you like it. If you have a good local library, you will also access video games, DVDs, and audiobooks.
Getting ebooks are the local library is an option that many people (including me) often overlook. But local libraries are not always limited to paper books. Try to ask your local library for their offers before you dismiss this idea!
10. Switch to another country
This last tip is a bit less convenient. Ebooks have different prices based on each Amazon country website. Sometimes, they can be much cheaper in one country than in another.
For instance, a lot of ebooks are cheaper in India. But you can only buy ebooks in the country you have registered your Kindle to. What you can do is switch your Kindle device to another country. Then, you can buy from this other country's Amazon website. For instance, in India, you can purchase ebooks on amazon.in. Once you want to buy again in your country, you must switch back.
I have never used this technique, but many people are using it. You can read more about it on backpack.me, for instance.
You need to be aware that if you change to another country, you may lose the connections to other accounts. For instance, if you share books with your family, you may lose the sharing when you move to a new country.
Cheap Kindle ebooks Conclusion
As you can see, there are many ways to save money on Kindle ebooks. If you are patient and look around, you can find cheap Kindle Ebooks online.
The easiest way is to subscribe to all Amazon offers. There are some very nice offers, and you may get cheap books. The other way is to use eReaderIQ to get alerts. If you are patient and track the deals, you can buy Kindle ebooks at incredible prices. With these tips, I have found ebooks that are just as cheap as used books.
And if you like some classic authors such as Twain or Dickens, you can find many books for free! Books in the public domain are cheaper in digital than paperback forms!
I own the Kindle Paperwhite. But these tips will work with any Kindle you own.
Only because they are cheap does not mean that you should buy them all! Only buy good deals if you know you are going to read them. We need to stay frugal! Unless they are free, in which case you have more freedom.
What about you? How do you get cheap ebooks?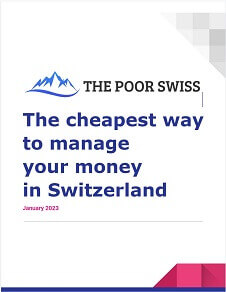 The best financial services for your money!
Download this e-book and optimize your finances and save money by using the best financial services available in Switzerland!
Download The FREE e-book