Third Year of Blogging – The Poor Swiss is 3 years old!
|
Updated:
|
(Disclosure: Some of the links below may be affiliate links)
The Poor Swiss blog just turned three years old. It is difficult to believe it has already been three years since I started this blog.
I have done a lot of things on this blog in the last year. Some of these things paid off. Some did not. But I think the blog is in a much better place right now than one year ago, which is always a good sign. I hope you agree with me!
This article is a retrospective of this third year of blogging. I will share the numbers about this blog but also what went well and what did not go well.
Keep in mind that I am no blogging expert! I am just doing this on the side as a hobby.
Overall, the third year of blogging was excellent! I am happy with how it played out.
The Poor Swiss in numbers
Let's start our retrospective of my third year of blogging with some numbers about the blog.
So, here are the page views of each month of this third year:

I started the year at about 40'000 page views per month, and I finished the year at about 90'000 page views per month. I think it is good growth. It is not exceptional. But it is still a good result, I think.
In total, there were 830K page views and 360K users on the blog during this third year. Some months have had remarkable growth, while others were declining.
Given the fact that I do not do any keyword research and that I write about whatever I want, I should be happy with this result. If I manage to double my traffic again in my fourth year, it would be great. But I will aim for a 50% increase, which would be great already.
So, how did I get this traffic? Here are the primary sources of traffic for my blog for this third year: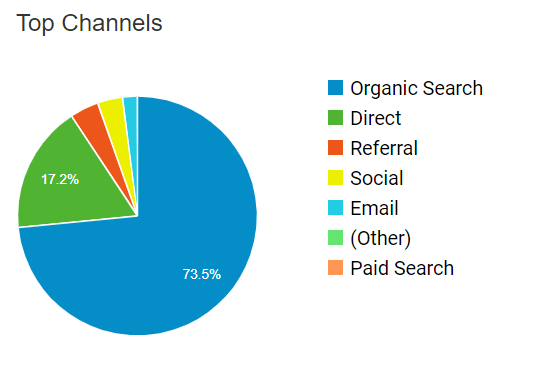 As for last year, I get most of my traffic from Google. And this traffic source is growing rapidly. Since I do not do any very active social marketing, I believe this is fine. But this means that I am totally at the mercy of Google.
There is one thing that is different from last year. There are now tons of new personal finance blogs about Switzerland. In a sense, this is great for Switzerland. But this also means that it gets more challenging to get visibility on Google. And some of these blogs are doing much better than me despite being brand new. I will need to improve even further if I want to keep up in the fourth year.
The only channel that is slightly disappointing is the email channel. Even though my mailing list is growing, I do not get as much traffic as expected. But maybe I am doing something wrong with it.
Social traffic did not bulge during the entire year. It is okay for me since I do not enjoy social media. Strangely, Facebook traffic grew while Twitter went down. Since I am more active on Twitter, it is weird. But I do not worry about that.
The blog now counts more than 300 articles and more than 3600 comments. These are starting to be impressive numbers!
My social media numbers are not impressive. I now have 272 followers on Facebook and 1246 on Twitter. And Facebook is still bringing in much more traffic than Twitter.
Like last year, I do not plan to do anything special with social media this year. Social media is not something I enjoy doing.
How much money did I make?
In my second year, I made 552 CHF. Now, in my third year of blogging, I made 14118 CHF on the blog! I am impressed by this number. This income was almost all made by affiliate marketing. I am only recommending services I trust and use like Siteground and Neon. I also did a some coaching sessions with video calls for a few people.
The cost of the blog (including first pillar contributions) also went way up since last year. In my third year, I paid 1703 CHF in fees. This total includes hosting, mailing list, Cloudflare, and a few paid plugins for WordPress. These expenses are not very frugal, but most of them are necessary, while others increase my comfort.
Overall, the blog has an operating margin of 88%. So I should not complain about the expenses.
Even though I never pushed for monetization on this blog, I am happy to see all my efforts are bringing some income in. Compared to my primary job, it is still small. And compared to the number of hours invested in the blog, it is still not the best use of my time from an investment perspective.
Money is not my goal for this blog. I want to help people with their personal finances in Switzerland. So, my main goal is to increase the audience of the blog during my fourth year. But, some side income is quite nice!
What went well?
The thing that went well during this third year is writing. I am still enjoying writing articles for my blog. At the beginning of the year, I thought that I would not keep two articles per week posting schedule, but finally, it was not an issue. And I am still learning a ton of things while researching my articles.
Interactions with the readers were great this year. I had many contacts over email with many of my readers. And I started to do some coaching over video calls as well. I think they were well-received. Without the pandemic, I would have met a few people, but this will probably have to wait until next year.
I also had some nice interactions with other bloggers. These interactions are something I should do more during my fourth year. It would be beneficial for this blog and me to do so.
Honestly, the income on the blog went well. I never imagined I would make so much money this third year with the blog.  It feels great to get some profit from this hobby.
What did not go well?
There are a few things that did not go as well as I wanted or as I planned.
At the beginning of the year, I made many changes to make the website much faster. I was expecting this to improve my rankings. I read everywhere that page speed was now a ranking factor at Google. But even when I sped up my website from about 3s to 1s, it did nothing for my rankings or traffic.
Now, it is still a great thing to have a fast website. And I will continue to keep it as fast as possible. But it would have been great if all my efforts resulted in higher traffic.
Another thing I expected to bring me more traffic was updating my previous articles. I have updated almost a hundred articles during my third year. And very few of them saw an increase in traffic. Now, I do not doubt that this increases the quality of the blog as a whole. And I plan to do the same in a smaller measure next year. But I will not focus that much on updating articles. For the amount of effort required, it may not have been worth it.
But, overall, things have been mostly doing well.
What changed in the third year?
A few important things changed on the blog during its third year.
In 2020, I have made many changes to the blog. I have entirely revamped the home page and introduced a separate blog page. I have also removed the sidebar and simplified the menu. And since I stopped using Pinterest, I switched to horizontal featured images for my articles. I think this new design helps get the focus on the content.
I also continued to make many changes to the performance of the blog. My effort is now complete, and I think that the blog is now very fast. For this, I have been using WP Rocket and Cloudflare. On top of that, I have made some improvements to the theme itself to ensure smooth loading. For hosting, I am still using the same Siteground plan as before. But I am getting close to the limits of this plan. I will probably have to switch to the third tier next year.
I went through a lot of my older articles to improve their quality. I almost updated 100 articles this year. And I will continue to make this effort. I think this dramatically improves the overall quality of the blog. I even deleted some articles that had not enough value.
Most Popular Posts
We can look at the articles on the blog that had the most traffic during this third year. Some articles have done well, while others brought almost no traffic at all.
Let's see the three most-viewed articles during the third year:
Interestingly, only the last one of these articles is actually from the third year. The other two are from my second year of blogging. This article is the only one in the top ten that is from the third year. I do not know if it is a bad sign or merely a sign that they need to mature. We will see in the fourth year what happens!
The next year of blogging
My goal for the fourth year of blogging remains the same: growing my audience and serving people with helpful content.
I will again do a Content Audit in 2021 to continue improving the quality of my archives. I do not want people to come to my blog to find outdated content. It is a significant effort, but I believe it is worth the trouble. I have updated about 100 articles in my third year of blogging. And I will probably do the same in my fourth year.
Of course, I will continue to write content. At least at first, I will continue with my current schedule of two new articles a week. But I plan to republish more articles in my fourth year than I did in my third year. I will see if I can keep my schedule of two articles per week for a full year. I think it is possible, but this may change with the time I have.
I have recently started translating some of my articles into French. It is too early to know if this experiment is working or not. But if it is working, I will continue to translate articles during my fourth year. Translating articles could be a great way to grow my audience.
Finally, I am currently close to reaching the capacity of my hosting plan. So I may have to upgrade to a higher plan to continue to keep up with the traffic. For now, it is doing well since a lot of the traffic is handled by Cloudflare. But enough requests are reaching SiteGround that I will soon need to update to the third tier of hosting.
Your point of view?
This blog is for you! I would like to get your point of view on this blog!
What do you think I should focus on next year?
What do you think went well or did not go well during the third year?
And do you have anything you would like to have on this blog? Any suggestions for articles?
Conclusion
Overall, I am satisfied with my third year of blogging on The Poor Swiss. The traffic reached a good level, and the blog is bringing some small side income.
More importantly, I have had some very pleasant interactions with people. I believe I have been able to help many people with my articles and some interactions over email or comments. Since helping people with their money and keeping me motivated for my budget is the main reason for this blog, it is a good sign!
For the next year of blogging, I will still be focusing on growing my audience and continue to help people as much as possible.
What would you like to see happen during the fourth year of the blog?
What do you think of my blog? Do you think it is going in a good direction?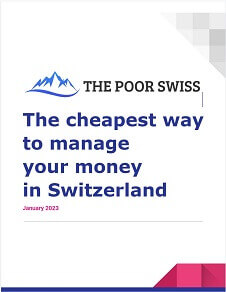 The best financial services for your money!
Download this e-book and optimize your finances and save money by using the best financial services available in Switzerland!
Download The FREE e-book