Retire Early: The Simple Guide – I wrote a book
|
Updated:
|
(Disclosure: Some of the links below may be affiliate links)
Retire Early The Simple Guide is now available as an ebook and hardcover! I wrote this book with Thomas Walke, another blogger in Switzerland.
Our book is about guiding the reader to their financial independence and possibly to their early retirement. Retire Early The Simple Guide is a general book applicable to most countries, but we primarily think about European countries.
This article discusses Retire Early: The Simple Guide in detail and how we wrote that book.
Retire Early: The Simple Guide
My first book
Retire Early: The Simple Guide
A simple guide you through all the basics to your own Financial Independence and if you want it, your own early retirement.
Start your journey to financial freedom now!
Buy Now
The book is currently available in ebook and hardcover formats. We are planning to release the paperback version in mid-January.
This book aims to provide the reader with all the necessary knowledge to start his journey to Financial Independence (FI) and possibly early retirement (both are not necessarily necessary!).
We want to provide the steps and blueprint so that the reader can start planning his finances. But we do not provide all the details like what investing portfolios to use or what broker to use. There are excellent resources (blogs and books) to answer these questions. And the best services to use change all the time and are better found online.
As a preview, here are the main chapters of the book:
Is it possible to retire early?
How much money do I need?
How can you overcome the 4% rule limits?
How long will it take me to retire?
How can I reach my goal faster?
What do I need to do to make it happen?
How do I set up my FI plan?
And if you want to know more, a reading sample is available on Amazon, or you could read the testimonials of our reviewers.
And if you have any questions, drop a comment below, and I will answer you as soon as possible.
If you happen to read the book, I would love to hear your feedback. Feel free to contact me to tell me what you thought about the book or directly comment on Amazon.
Why did we write Retire Early: The Simple Guide?
Thomas contacted me around the beginning of the year to propose working together on a personal finance book. I was always interested in writing a book, so I thought it would be an excellent opportunity to get started. And since Thomas had written another book, it was interesting to learn from him and not learn everything from scratch. So, that's how we started the project.
After some brainstorming, we settled on a book on early retirement since we felt that this would be somewhere we could contribute good content based on our experience.
Indeed, there are already many books about early retirement, and some are great, while others are terrible. However, we felt that there was still room for one more. Indeed, most of these books heavily target the United States, and we wanted to give a European perspective to early retirement.
And if you are wondering: we did not write this book for money. Indeed, we do not expect to get much money out of the book. We will be happy if the book sells well, but this is not a great money maker compared to the number of hours invested.
How did we write the book?
For those interested, I also want to share a little about how we wrote that book. That is not a guide to writing a book since I am far from an expert on the subject.
We wrote the book in Microsoft Word and shared the files over Google Drive.
Writing the book in Word means that we could not write at the same time on the book. Overall, it worked out okay since we have different schedules, but it is not optimal. We decided to use Word since we had a template for hardcover books in Word.
Retrospectively, we should have used Google Docs to write the book simultaneously (both in parallel) without issues. And then, we could always copy the content into Word if necessary or do a proper template in Docs. Doing so would have avoided some problems and made it simpler for synchronization, especially in the review stage.
During the entire process, we had a weekly meeting to synchronize and plan the next steps. And on top of that, we had a few exchanges by email to synchronize and share the file.
We started with defining the entire table of contents, with chapters and sections. And then, we split the work by assigning sections to each writer. From that point, we started writing each on our own. After we finished one section, it was up for review by the other writer. This process worked well, I believe.
Once we wrote everything, it was time for reviews. We reviewed everything ourselves a few times. This process was tricky because we could not work simultaneously on the file, but it went okay. Then, we had a few reviewers (thanks a lot to them) read the book and send us their comments. Once we got them, we applied them all.
Finally, once we had a good document, we started preparing all the information we needed for the publication on Amazon. And finally, we went on to plan the marketing steps for the book.
How is the book going?
Overall, I believe the book is doing well. We do not have huge expectations for the book, and we will not get rich or famous or anything with Retire Early: The Simple Guide!
However, we still want to get people to read the book.
So, we tried to advertise the book while in pre-order, and we got nine orders before the release date. It is interesting to note that these orders were from all over Europe. This diversity of readers is an excellent sign since we wanted this book to be useful for Europeans. I am not sure it was worth playing with the pre-order, but it was interesting doing it.
Until now, we got about 50 books sold, in total. It is a good result for my first book, and I was not expecting more than that.
We decided not to publish all the versions together but space them each by one month. We believed it would be better that way. But I now think this was a mistake. With the ebook launch, so many people asked me when was the print version coming. And even with the hardcover, many people wanted the paperback. If I ever do that again, I will release the three versions at the same time.
We should have done it simpler: release the three versions together and without pre-order. Doing so would have saved us time and questions. And I am not sure we would be much worse off. But that was an interesting experience!
Will I write other books?
It was a great experience writing a book. And I think it was a great learning opportunity to write a book with somebody else.
However, I do not think I will write another personal finance book. For me, this blog is enough for this. Writing a book and publishing it on Amazon is a ton of work for little rewards. I am happy to have a book on Amazon, but I am also happy writing on this blog.
On the other hand, I may write some ebooks for the blog. I have been thinking about that for a very long time. But in that case, I will very likely sell them directly on the blog.
I will also probably not write another book with somebody. As I said, it was a great learning opportunity, but having meetings for a hobby feels like work. I have enough meetings at work, and my side hustles should not have any meetings. For this blog, I want to be able to do whatever I want, whenever I want.
Finally, I may write a book about programming one time. In that case, it won't be on the blog, likely on Amazon. But that is something I would like to do once.
Conclusion
My first book
Retire Early: The Simple Guide
A simple guide you through all the basics to your own Financial Independence and if you want it, your own early retirement.
Start your journey to financial freedom now!
Buy Now
We hope that Retire Early: The Simple Guide will be useful to as many people as possible! If you happen to read it, please let us know your feedback or add a review on Amazon.
Overall, it was a great experience to write this book. However, I will probably not do it again, especially for a personal finance book. It is a lot of work that I could have invested in this blog or my hobbies instead. And I do not want to have meetings; they feel too much like work. But I am pretty happy to have this book done!
What do you think of Retire Early: The Simple Guide? Do you have any questions for Thomas or me?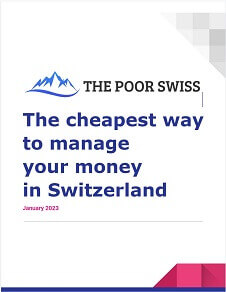 The best financial services for your money!
Download this e-book and optimize your finances and save money by using the best financial services available in Switzerland!
Download The FREE e-book