Life in isolation: 9 Lessons we are learning during the Coronavirus crisis
By

|

Updated:

|

Save
(Disclosure: Some of the links below may be affiliate links)
The current crisis is not a good thing. However, it is not the end of the world. And it can teach us some things about being socially isolated. Let's stay positive and try to learn from this unprecedented isolation.
During this crisis, we have been learning many things. Some of these things we were already doing, and we only realize their importance now. But for other things, we understand that we can improve some things in our life. That way, the next time we will have to deal with such a crisis, we will be more prepared.
Hopefully, this will be resolved soon. I hope we will not have to stay in isolation much longer. But there is no way to tell. So far, I have been working from home for about four weeks. And we have been in full social isolation for about 25 days. We are only going out for groceries.
We cannot be prepared for everything. And nothing tells us there will not be another crisis like this. However, it is essential to be prepared as much as possible.
I also really hope that the world will be more prepared next time. Some things that governments did were very dumb. Let's hope they will learn as we are learning.
So, let's see the nine main lessons we are learning during our social isolation in Switzerland.
What are we doing in isolation
During the crisis, I have not stopped working. Since I am a software engineer, I can efficiently work from home. I have a proper desk and monitors where I can work for my company. I am probably not at 100% efficiency, but close to it.
One advantage is that I can eat at home with my wife for lunch. Also, I save time by avoiding the commute. It is much better to spend some time at home reading in the morning instead of commuting to work.
I did not experience 100% free time at home. Some other people could not work anymore and had to fill up the entire week at home.
I am glad that I am still working and can keep occupied. However, in a sense, I wish that I would have not. It could have been an early experience at early retirement, even though it would have been a retirement at home.
So, during the weeks, we do not do much differently than usual. We limited our groceries to once every eight to ten days. And we went on for walks in our village. Aside from this, we did not leave the house.
We took the opportunity to clean out some parts of the apartment. We ordered and cleaned our cellar, which we had not done in a long time. And we managed to throw away quite some things. But we quickly ran out of things to order or clean. We also did some extra cooking to pass the time.
1. Working at home is not always easy
Before this prolonged isolation, I was thinking that working at home was very simple. But it is not always the case.
When you are not at the office, it is sometimes difficult to get into work-mode. And this is especially true when the work is not attractive. I was not lucky that at the time of the isolation, our work was pretty uninteresting.
It is much easier to get motivated at the office regardless of the work. Once you are at home, it is much more challenging to get motivated at doing tedious work.
On the other hand, there are some advantages to working at home. For instance, you can get really into work without distraction some times. But of course, this depends on who is at home with you. Some of my colleagues are young children at home because schools were closed. For them, their efficiency was less than 50%. For me, I think I was at around 85% of my capabilities, even for tedious work.
For this, I do not see what I can do differently. I am quite efficient at my work, even when I am at home. But there is not much I can do about improving my efficiency when the work is not very interesting.
2. I need to work out at home
One thing I did not do while at home is to work out. I do not enjoy doing sport, so I do not go out of my way to do it.
We had a few walks in our village, but not much. We did not want to go to places with too many people. Walking around is good for health, but this is not enough for the long-term.
I should have started to work at home. A few exercises each day would have been really good for my body.
If this ever happens, I will start working out at home from the beginning.
3. My hygiene can be improved
With all these recommendations on personal hygiene, I realized that my own was not that great.
I am not saying I am dirty or anything. I take a shower every day. And our apartment is always quite clean.
However, I rarely wash my hands unless they are dirty. I now realize the value of washing my hands much more regularly. Now, I am trying to wash my hands before any meal. It is still challenging to make it a habit for me. But I am slowly getting there.
Health is vital, and we should cultivate it. I want to be more
4. Our apartment is too small
One thing we quickly realized while spending so much time at home is that our apartment is too small!
When we have to spend the entire week in a small apartment, we quickly realize that it is too small. Of course, we appreciate being together. But, both Mrs. The Poor Swiss and I could enjoy having some time alone. We are always on top of each other when we are both at home.
When I have to do a long meeting, it is getting difficult for us both, for instance.
Since we are planning to buy a house, this should help in the future. However, this crisis did not help us since we could not visit houses, and people do not seem to put new houses for sale these days. Staying at home for so long just made us want a house for us even more.
5. Some provisions and reserves can be helpful
We are not stockpiling food and other products at home. However, I do not like going to the shop. So I always have one more of everything. Once I start the last bottle of something, I put it on the list. That way, I never need to go to the supermarket urgently.
This technique worked quite well during isolation. We never needed to go grocery shopping more frequently than every 8 or 9 days. And given the reserves of food, we could have survived about a month without issues if the crisis got worse.
In the future, I will keep some provisions as we are already doing now. Of course, it is not good to go overboard. If you keep some provisions at home and you end up having to throw them away because they are too old, it is a massive waste of money and food.
6. We could use a second freezer
Me and Mrs. The Poor Swiss use our freezer a lot. We use our freezer to save money by storing some meat when it is on sale. And we also cook a lot. We always have Chinese dumplings and buns and spring rolls in our freezer.
However, during the isolation, our freezer was almost full. We wanted to cook some extra quantities of dumplings to pass the time. But we did not have enough room to store. It did not prevent us from cooking, of course. But we could have cooked a ton more.
If we had an extra freezer or a larger one, we could have cooked more Chinese food and stored some extra. After the isolation, we would have had a ton of food ready to go. We could also have stored some extra food to avoid having to go out too often for groceries.
Once we move into a house or a large apartment, we will get a second freezer or get a larger one.
7. Some hobbies are not practical
Once you have to stay in isolation, you need hobbies that you can practice at home. I have many hobbies that I can practice at home: reading, gaming, programming, and cooking.
However, one thing I would have appreciated a lot during the isolation is to have been able to do some woodworking. I would have a lot of time for this. And since the weather was beautiful, I would have been able to do that outside.
However, there is something highly unpractical about this hobby: I need wood! And I cannot get wood when shops are not open.
Since wood in Switzerland is quite expensive, I never stocked any wood at home. There are other things that I need, such as paint and lacquer, but this can wait. Indeed, 90% of the woodworking work can be done with wood, screws, and nails.
Now, I will always keep some wood at home. It can be stored for a long time and be ready once I need it.
8. Financial Independence is important
We are far from Financial Independence. At the time of this writing, we are only 18% on our way to Financial Independence. But it is still a strong goal of us to become FI.
Some people are saying that COVID-19 could end the FIRE movement. I do not think that it will be the case. However, I am sure that many blogs will stop (to be replaced by others), and many people will have to work longer than they expected. And I am sure too that discussions over FIRE will become more serious and less overly-optimistic. Which are good things!
I did not fear for my job because of this crisis. My company is mostly resistant to this kind of crisis. Almost every employee can work at home. Of course, the yearly performance will be impacted. But aside from probably reducing our bonuses next year and lowering our stock price, I do not expect significant impacts in the long-term.
However, many other people were not that lucky. It is never funny to end up unemployed. Even though the government will help these people and we have a reliable unemployment system here in Switzerland, some people will have worse finances at the end of the crisis.
For this, being financially independent would help a lot. If you are financially independent with a sound plan and situation, you should not worry in times like this.
Since it is already something we are working towards, I do not think we are going to change much. But it made me realize even more the importance of being able to not depend on a single income.
9. A side hustle could go a long way
The coronavirus crisis has not financially impacted us so far. For this, we are fortunate! As said in the previous section, there will be little long-term impacts for the company I am working for.
But even with that, I would have felt safer with some side hustle income. If your entire income is not coming from your primary income, it can help tremendously in these days.
Until now, I have been focusing on increasing my main career income. I still want to do that in the future. But I need to think about diversifying my income streams as well. The next time we have to be in isolation, I may need to extra income.
That being said, I do not know what I would change to generate a significant hustle income. But I am still going to think about it.
Conclusion
Compared to other people, this isolation is not so bad for us. Some families had many more people at home, and it was difficult for them with young children. We are only two in the apartment for this isolation. And sometimes, the apartment already felt small given the time that we were spending at home.
However, there are still some things we can do to improve the situation for the next time. Hopefully, the next time this happens, we will be in our own house. Having a larger house for us will already make a massive difference if we have to stay in isolation again in the future.
And we are going to continue working towards Financial Independence. If this ever happens again, I want to be sure that we are safe from any financial trouble.
Until the current situation is resolved, I hope you will all stay safe and healthy!
If you are interested in FI, you can learn the main reasons to pursue Financial Independence.
What about you? What are you learning from this isolation? Would you like me to discuss COVID-19 more?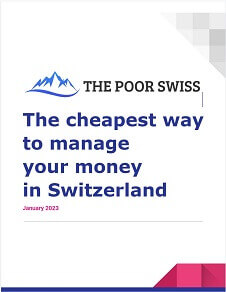 The best financial services for your money!
Download this e-book and optimize your finances and save money by using the best financial services available in Switzerland!
Download The FREE e-book