Should you get legal protection insurance in 2023?
|
Updated:
|
(Disclosure: Some of the links below may be affiliate links)
I have talked about many types of insurance so far. But I have not yet talked about legal protection insurance. This insurance is less known than the others because it is not mandatory. So not many people are using it, and many people are wondering whether they should take one or not.
So, this article will cover in detail the legal protection insurance in Switzerland and whether we should or not take one.
Legal Protection Insurance
Legal protection insurance will be helpful if you have legal issues. For instance, if you have to go to court to settle a problem. It can act whether you are making a claim or being attacked.
In these cases, legal protection insurance will help advise you and pay your legal fees.
People think they are unconcerned, but many cases end before the law. A small problem can quickly escalate and has to be settled legally:
Your employer fires you unjustly
You buy a car with a hidden defect, and the seller refuses to fix it
The owner of your apartment refuses to give you back the caution without a good reason
A dog bites you, and the owner refuses to pay for your medical fees
The hotel you booked is nothing like what you paid for
And there are some situations where some people are more liable than others to end up in court:
A house owner with tenants
A member of a healthy family with a large inheritance
A complicated marriage
All in all, it could happen to everybody.
Two types
There are two types of legal protection:
Private protection. This type will protect against private legal issues. These could be inheritance issues or ownership claims.
Traffic protection. This type will protect against legal issues related to vehicles.
And insurance providers also generally offer combined offers that would combine the coverage of these two types.
What does it cover?
It is important to know what does the legal protection cover.
First, most legal protection insurance will give you advice and access to professionals to help you. Such advice can be very useful if you are not an expert (99% of the population is not an expert).
On top of that, they will cover different fees:
The lawyer fees
The justice fees for the legal procedure
The justice fees for the experts
Each legal protection insurance has a maximum until which they will cover you or not. Above the maximum, you will have to cover the fees yourself. Generally, the maximum is around a million CF. Some have a deductible, although most policies will have zero deductible.
It is essential to know that legal protection insurance will not protect you against the judgment itself. For instance, if you are condemned to pay 10'000 CHF in damage, your legal protection insurance will not cover that. They will cover all the fees covered before, whether you win or lose, but nothing of the settlement.
It is also essential to remember that the default options will only cover you in Switzerland. If you have a legal issue in another country, you will not get protected. However, most insurance providers have options to cover fees for legal matters happening in other countries.
Who does it cover?
By default, it will only cover one person. This is personal legal protection insurance. However, most insurance providers have special family policies that will cover all the members of your family.
Generally, it is much cheaper to get a family policy than get multiple personal policies.
Termination in case of a claim
These legal protection insurance have a weird clause. Both you and the provider have the right to cancel the insurance in case of a claim.
So, after a legal claim has been settled, you both have the right to terminate the contract. There are, of course, some delays to respect, depending on the insurance.
How much does it cost?
The price of these insurance policies will vary highly from one company to the other. And it is also different based on whether you want personal or family coverage. But we see a few examples to get an idea.
I check for combined private and traffic insurance.
For my case, I have been able to find these three cheapest legal protection insurance:
Protekta Minima: 189 CHF per year
CSS Economy: 195 CHF per year
Generali Fortuna Basic: 205 CHF per year
For my family, I have been able to find these three cheapest legal protection insurance:
Protekta Minima: 249 CHF per year
AXA ARAG: 262.50 CHF per year
General Fortuna Basic: 265 CHF per year
So, overall, legal protection insurance is pretty reasonably priced.
Should you get legal protection insurance?
This question is not easy to answer. The answer is often: it depends.
It is true that, on average, it is not worth it. Indeed, most people will never need it. However, when such a case happens, it can quickly reach several thousands of CHF. A bad case could even cost more than ten thousand CHF.
I think that legal protection insurance is worth the cost. It can bring peace of mind that if something were to happen, at least all the legal fees would be covered.
If you choose properly the coverage you need, you will not have to spend that much on it. And if you ever have an issue, you will be very happy you have this coverage.
How to choose legal protection insurance?
If you decide to opt for legal protection insurance, you will need to decide a few things:
Whether you want a personal policy or a family policy
Whether you want private coverage, traffic coverage, or combined coverage
The amount of coverage you want
Based on this, you can select the policy you need. And you can then compare insurance providers for these policies.
I would also recommend not only looking at the price but also looking at reputation and at the level of advice they can provide. This will be important the day you need them.
I have found two comparators to find this insurance. The comparator from comparis seems to provide the most number of options. The comparator from moneyland also provides some good options and more details on each. However, I have not found the cheapest insurance policies on moneyland, so you may want to use both to have more options.
I have the Generali Fortuna Top insurance for my family. I took the Top over the Basic to have coverage in other countries. I cannot recommend it since I have never had any legal issues. But on paper, it looks good and seems to provide everything I would need.
Conclusion
Overall, legal protection insurance is simple insurance against legal issues. This insurance will cover your legal fees whether you are claiming something or somebody is claiming something from you.
It is not mandatory insurance, and most people will never need it. However, it is not expensive insurance. And legal fees can quickly become very expensive.
So, if this kind of insurance gives you peace of mind or if you are in a vulnerable legal situation, I think it is good insurance to have. I have family coverage myself, and I am happy about it.
If you want to read more about insurance, I have an entire guide about health insurance.
What about you? Do you have legal protection insurance?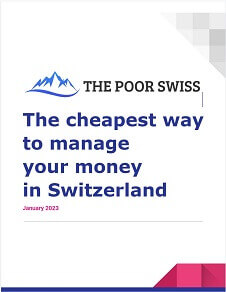 The best financial services for your money!
Download this e-book and optimize your finances and save money by using the best financial services available in Switzerland!
Download The FREE e-book