Freya 3a Review (Discontinued) 2023 – Pros & Cons
|
Updated:
|
(Disclosure: Some of the links below may be affiliate links)
Update: Freya is discontinued as of the end of 2021!
Using the third pillar in Switzerland is a great way to save money on taxes. However, it is not always easy to choose a third pillar provider since there are many of them, and new ones are regularly coming.
Freya 3a is a new third pillar available in Switzerland. They aim to provide sustainable investments for the third pillar, claiming they are doing differently than the existing third pillars and at a reasonable price.
This Freya 3a Review will show what Freya 3a is, its fees and strategies, and how it compares with other third pillars. At the end of the article, you will know whether you should use Freya 3a for your retirement money.
It is important to note that Freya 3a is only available in German. The app is also available in French, but the website is not yet translated into French.
Freya 3a
Freya 3a is a new service that started in 2021. They aim to be the most sustainable third pillar in Switzerland and try to make Freya 3a very easy to use for everybody.
Unfortunately, I have not found much information on Freya 3a history. They have not yet shared how many customers they have. But we will probably see this information later.
Any Swiss resident with access to an iPhone or Android phone can create a third pillar with Freya 3a. The minimum is 50 CHF to get your money invested.
Freya 3a uses the Graubündner Kantonalbank (GKB) as their partner bank.
Currently, we can only open a single Freya 3a account. But the team has told me they are working on allowing up to 5 five accounts in the future.
Investing Strategy
We look in detail at how Freya 3a will invest your money.
Freya 3a invests your savings in a mix of index mutual funds and index ETFs. First, it is good that they invest passively using only index funds. They are not doing any active investing.
The reason Freya 3a is using mutual funds and ETFs together is simple. There are some very cheap mutual funds for the third pillar. These pension funds are only available as retirement funds. And most third pillar providers are using them because they are significantly cheaper than ETFs, sometimes without fees. And they are also using ETFs to complete the portfolio because there are much more ETFs than pension funds.
In total, Freya 3a has 40 different portfolios. Freya 3a chooses your portfolio based on the following:
Your investment horizon
Your risk capacity
Your values
The first two items are obvious and are the same for most Robo-advisors. But the last one is unique to Freya 3a. Indeed, you can choose two values out of 5:
New Growth
Climate and natural resources
Energy and sustainability
Health and medicine
Fairness in companies
These two values will decide what your portfolio will focus on. This part will mostly be in ETFs to have more specific investments.
Most funds and ETFs are Environmental Social and Governance (ESG) ETFs or Socially Responsible Investing (SRI) ETFs. These funds are the easiest way for sustainable investing. But this is still limited since you must rely on what the fund provider decides for you. And these criteria are not very strict.
The portfolio is split into several parts:
Cash: 3% is always kept in cash
Bonds
Stocks: 25%, 45%, 65%, or 85% based on your profile
Alternatives: Real estate and gold
There are already a few issues with these. First, you always have to keep 3% in cash, whereas several other third pillars let you go as low as 1%. Then, the maximum in stocks is only 85% which is low compared to 99% in the best third pillar. Finally, each portfolio has bonds and alternatives, which do not always make sense.
Overall, the investing strategy is okay but could be better. It is not very aggressive, and the customization is very limited.
We can take a portfolio as an example. I have selected the highest risk capacity and investment horizon and fairness and climate as the two values. And I got the following portfolio: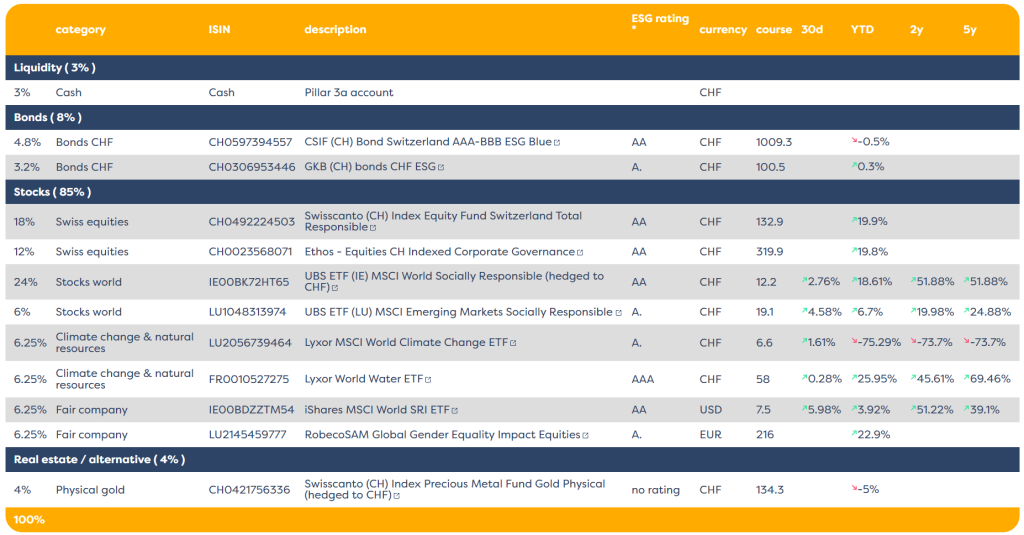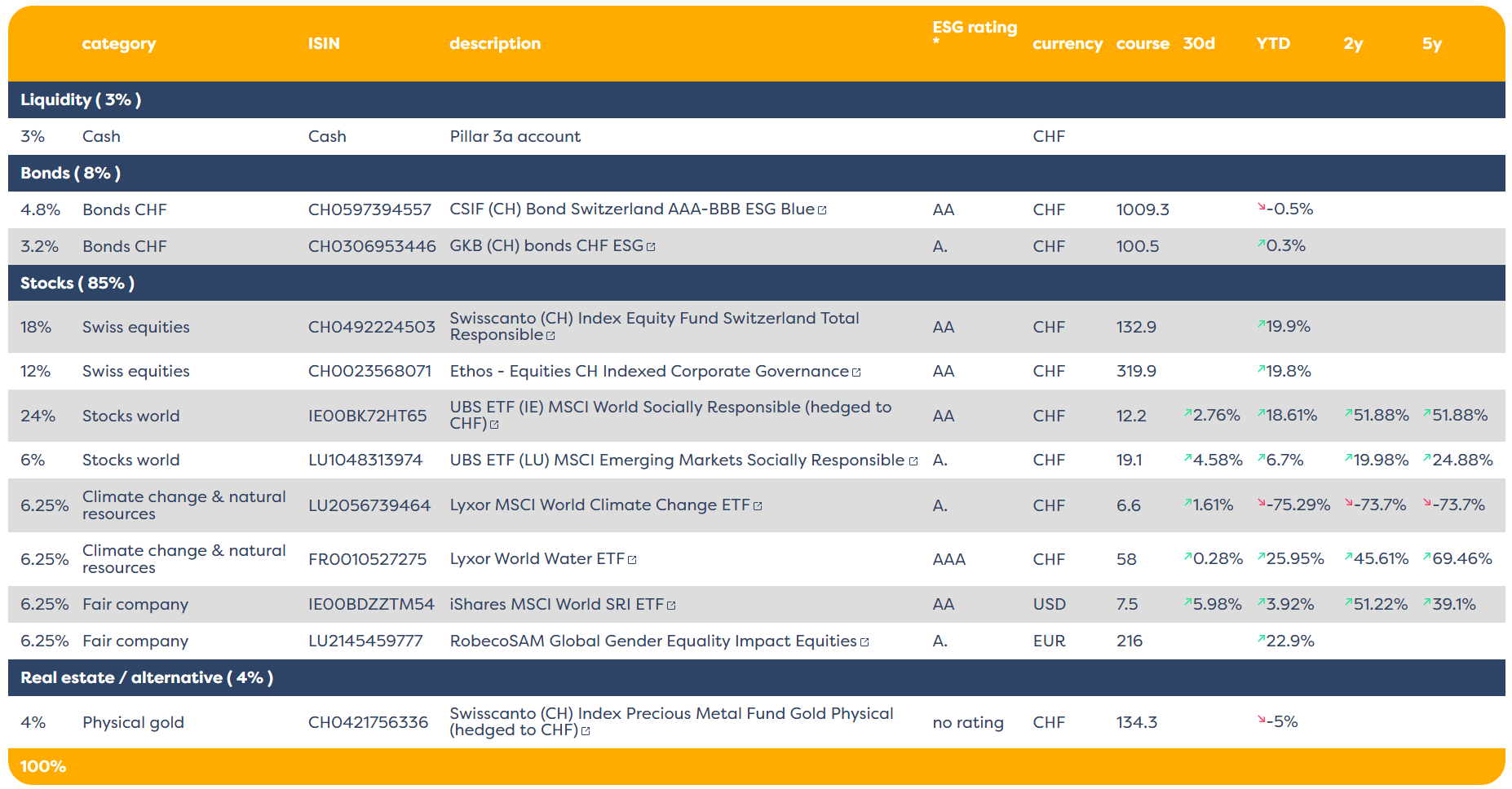 We can see that the two values I have selected ended up in four ETFs, each with a 6.25% allocation so the two values form 25% of the entire portfolio.
We can also see that the ETFs are partly ESG ETFs and partly Socially Responsible (SRI) ETFs. If you want to know more about that, I have an article about sustainable investing.
As we said before, the maximum allocation to stocks is 85%, as in this portfolio. The rest is 3% cash, 8% bonds (ESG Bonds), and 4% gold hedged to CHF. I would have much preferred more stocks and no gold and bonds. I believe 4% in gold will make no significant advantage on the portfolio and should be removed.
If we look at the stocks, we can see 30% in Swiss equities, 30% in world stocks, and the rest in the two values stocks.
Adding the 30% in Swiss stocks plus the 8% in Swiss bonds gives us 38% in Swiss shares. For me, this is already too much for many people, but this is consistent with most third pillars.
However, 24% of the world stocks are hedged to CHF. So, a substantial portion of the entire portfolio is tied to the Swiss francs. For me, such currency hedging reduces currency diversification too much and will not generate better returns in the long term.
So, this portfolio is not bad, but it is not great either:
The maximum allocation to stocks is too low;
We should be able to opt-out of gold;
Too much currency hedging;
Too much allocated to Swiss stocks;
Fees
In the long term, investing fees are quite important. When investing passively, it is one of the only levers we have to optimize returns. Therefore, we need to look at the fees of Freya 3a in detail.
The basic management fee is 0.55% at Freya 3a. This fee will be billed quarterly based on your assets. This fee covers everything that goes to Freya.
On top of that, you will pay an average of 0.30% for the product costs. This 0.30% is the average of the fees of the funds and ETFs used in all the portfolios. So, your actual fees may be higher or lower based on your investing profile.
Finally, there are still two fees that you will pay when investing in Freya (or withdrawing from your account):
The stamp duty of 0.15% on foreign funds and 0.075% on Swiss funds
The transaction costs of 0.015% for the SIX Stock Exchange
On average, we can then estimate that they will charge about 0.115% on all your deposits and withdrawals and your rebalancing.
In total, you will then have about 0.85% charged on your assets and 0.115% on all your transactions.
Finally, for transactions in foreign currencies, a spread of 0.30% will apply. 0.30% is about average for third pillar providers, but some providers are significantly better.
While not terrible, Freya 3a fees are not good. There are several significantly cheaper alternatives available. My favorite third pillar, Finpension 3a, has a 0.39% average fee, twice cheaper than Freya 3a! And Finpension 3a has several other advantages.
So, I think these fees are too high. The base fee and the product costs are too high for a third pillar. I would stay clear of these fees.
Interestingly, Freya 3a will redirect 2% of the fees towards so-called Freya Community Projects to give back to the community. However, they do not say what these projects will be, and the entity that will receive these payments has not been created yet. For me, this is not an advantage; I would rather Freya 3a be cheaper and let me invest this money in my sustainable portfolio. And this is also very unclear what they will do with this money.
Is it safe?
We will also look at whether investing with Freya 3a is safe or not.
From a technical standpoint, very little information is available on the website. Your account will be linked to your phone number, so there is at least one level of security. However, phone numbers are not a great way to secure applications. Nevertheless, this is the same level of protection provided by most online digital services in Switzerland, so at least they are on par with other platforms. I wish they would share more about that on their website.
As for your money, it is as safe as in other third pillars. In Switzerland, all third pillars are well regulated. On top of that, your money is held at the GKB bank. Your cash will then be insured for up to 100'000 CHF (the standard deposit protection). And your shares will be deposited in your name. So, you should be safe in case of bankruptcy of either Freya 3a or the custody bank, GKB.
Overall, investing in Freya 3a seems as safe as investing in other third pillars. I just wish they had a web app instead of only a mobile app.
Since it s a brand new service, we could still worry about the continuity of the services. In case of discontinuation, you would have to transfer your money to other third pillars, which may mean a short period of interrupted investments.
Freya 3a vs Finpension 3a
Best Third Pillar!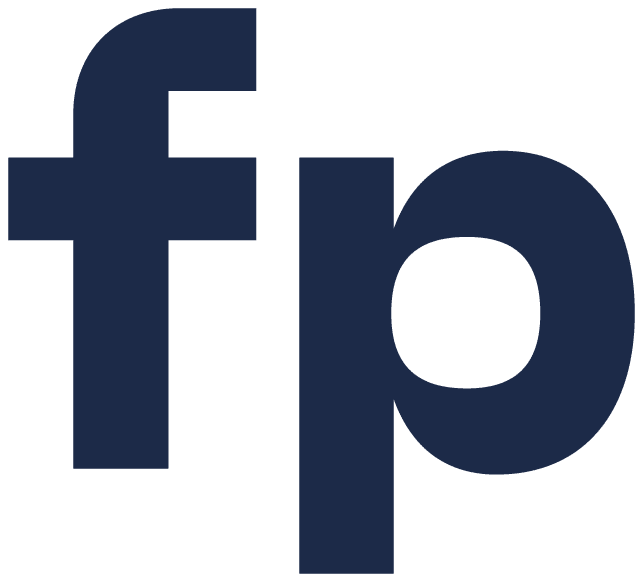 For me, the best third pillar in Switzerland is Finpension 3a. So, we can compare these two services to see where Freya 3a stands.
First, one may argue that Freya 3a is more sustainable than Finpension 3a. I would disagree. They are both using ESG and SRI funds and ETFs, and these funds have about the same level of sustainability. The advantage of Freya 3a is that you can invest according to your values, which you cannot with Finpension 3a.
Looking at the fees, Finpension 3a is the clear winner with about 0.39% total fee against 0.85% with Freya 3a. Such a difference will make a significant difference in the long term.
And talking about the long term, Finpension has another advantage: you can invest up to 99% in stocks, against only 85% with Freya 3a. If you have a long-term horizon, this will be significant.
Finally, Finpension 3a lets you choose between sustainable and normal investment and even lets you choose in detail your portfolio.
So, overall, for me, Finpension 3a is greatly superior to Freya 3a in most aspects. For more information, you can read my review of Finpension 3a.
Freya 3a Pros
Here, we summarize the advantages of Freya 3a:
Can customize your portfolio based on your values;
Relies on passive investing;
Relatively well-diversified portfolios;
The app is available in German and French;
Freya 3a Cons
Then, we summarize the disadvantages of Freya 3a:
Significantly more expensive than the best third pillars in Switzerland;
Cannot invest more than 85% in stocks;
Need to keep 3% in cash;
Can only have a single account (will be increased later);
High portion hedged to CHF;
High allocation to Swiss stocks;
Portfolios are too complicated;
Does not bring anything new in terms of sustainability;
Several things are not clear on the website;
Only have a mobile app;
The website is only available in German;
Conclusion
Overall, I am not impressed by Freya 3a. It is not a bad third pillar, but it does not bring anything new to the market. And on top of that, its fees are significantly higher than those of Finpension 3a or VIAC.
Since Freya 3a invests in SRI and ESG ETFs, they use the same indexes as Finpension 3a and VIAC when you invest sustainably. And since they use ETFs and not pension funds, they are significantly more expensive.
Sure, you can customize your investments a little based on your values. But this does not result in significant allocations in your portfolio, so it is unlikely to make a substantial difference in the future. Finally, the fact that you cannot invest more than 85% in stocks will seriously limit the returns for those who invest in the long term.
If you want a sustainable third pillar, I would not recommend investing with Freya 3a. Instead, I would recommend either:
Use Inyova 3a to have better options for sustainable investing. More details on my review of Inyova.
Use Finpension 3a with the sustainable option. This will be significantly cheaper and will allow you to invest more aggressively.
What about you? What do you think about Freya 3a?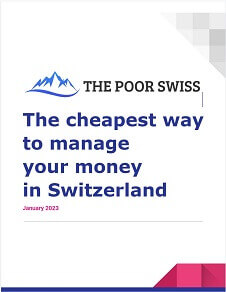 The best financial services for your money!
Download this e-book and optimize your finances and save money by using the best financial services available in Switzerland!
Download The FREE e-book