Best places to buy second-hand in Switzerland
|
Updated:
|
(Disclosure: Some of the links below may be affiliate links)
When you want to save money on something, buying it second-hand may be a great way to pay less! Over the years, I have bought many things second-hand, and I could save a lot of money by doing so.
But the question remains as to where to find second-hand items to buy. In this article, I will discuss the best places to buy second-hand items in Switzerland. Some places are online, while other places are brick-and-mortar shops.
Emmaüs Shops
My favorite place to buy second-hand items is Emmaüs shops. There are plenty of them in Switzerland. For instance, there is one in Geneva, one in Fribourg, and one in Bern.
Emmaüs is a solidarity community created in France. They are collecting items based on donations. Then, they refurbish them (if necessary) and sell them fairly. They are employing people with difficulty.
In Emmaüs shops, you can find many things:
Furniture
Books
Kitchen appliances
Electronics
Clothes
And more
Over the years, I have bought tons of books at Emmaüs. You will find many items in these shops at excellent prices, a great way to contribute a little to a community.
I think this is the best place for second-hand books in Switzerland. It is also an excellent place for furniture, but there are many good alternatives.
The advantage of traditional second-hand shops is that you can browse around. And sometimes, you will discover some great things at an unbeatable price. But the downside is that you must drive there and pick up the items yourself.
There are also some good other second-hand shops in Switzerland. But to my knowledge, Emmaüs shops are the only ones all over Switzerland. For instance, we have Coup de Pouce in the French-speaking part. And I am sure you can find other great second-hand shops in big cities like Zurich.
Ricardo – Online Second-Hand
Ricardo is an online shop where you can sell and buy things. And many people are selling second-hand items on this webshop.
You can find pretty much everything on Ricardo:
Computers
Clothes
Books
Collection items
Furniture
And much more
What I like about Ricardo is that most sellers will send you the item. It means you can do everything from home and get the item delivered. Of course, this means it is more expensive than some other alternatives. But it also means you do not have to drive far to get what you want.
And the system is straightforward to use. It is a webshop, not a simple ad website. It means you have some (limited) protection in case items are not delivered to you, for instance. And you generally do not have to contact the seller back and forth to get your item.
Everything is done by the system, which is great. In most cases, It is just like buying something on any other webshop; you press a button and are done.
I have especially used Ricardo to buy second-hand appliances and tools. I have also bought some computer pieces for my installation. Many companies are using Ricardo to liquidate things they do not need.
Now, with the delivery fees, some things are a bit too expensive on Ricardo. For instance, I do not buy second-hand books there. And since it is online, you will not see the object for real before you buy it.
Ricardo is great when you know more or less what you want to buy. But I still prefer traditional shops when I want to browse around.
Ricardo is also my favorite place to sell things online in Switzerland.
Anibis – Online Second-Hand
Another interesting place to find second-hand items is Anibis. There are tons of ads for second-hand items on this website.
Just like Ricardo, you can pretty much find everything on Anibis:
Furniture
Appliances
Books
Cars
Tools
Tickets
Anibis is not a webshop. It is a classified ad website. It means you have to contact the ad's author to buy it. And then, you will have to organize the payment by email or phone. This also means that many of the ads are outdated. I often contacted a seller, and either I did not get any response, or they told me the item was long gone.
Finally, most sellers will not send you stuff on Anibis. You will have to get it yourself. And you will have no buyer protection if the other side does not respect its part of the bargain. So, overall, buying on Anibis is not very convenient.
Nevertheless, you can find great deals on Anibis. And since it is not a webshop, you have more freedom to haggle. This is why many people still use Anibis to buy and sell second-hand items.
I do not use Anibis anymore, but I have used it. For instance, I have bought some collections of second-hand books there. And I have also used it a little to sell some things. But generally, I have a better experience with Ricardo for both buying and selling.
Tutti – Online
If you want one more option, tutti is another good website for second-hand items. It is very similar to Anibis. But tutti is more popular in the German part of Switzerland than Anibis.
Tutti is also a classified ads website. You will find tons of ads on this. You must contact the seller directly and organize the payment and delivery. In most cases, you must go to the seller to pick up the item.
You can find great deals on tutti, but I had no great experience. I find Ricardo and Anibis significantly better for my needs. But I know that many people appreciate tutti. So, try it if you do not find what you want with the other options!
Facebook Marketplace
One place that is used more and more in Switzerland is Facebook Marketplace. I do not like Facebook, but I have to say that Facebook Marketplace is a great place to find good deals.
Everybody with a Facebook account can access Facebook Marketplace. And you can find a ton of second-hand things (within the limits of Facebook rules):
Furniture
Clothes
Toys
Appliances
Electronic
and more
Now, just like Anibis, you have the disadvantages of classified ads. Some ads are outdated, and almost nobody will send you anything. So, you will have to go and grab it.
But I still find it easier to use than Anibis. People are much more responsive on Facebook than on Anibis. It is a better version of Anibis. The only disadvantage compared to Anibis is that browsing it is less practical. It is sometimes difficult to find what you want. But the choice is huge, and the prices are often great!
We have bought several appliances, toys, and decorations on Facebook Marketplace. You can save a lot of money by using this service. But you may also spend a lot of time on it.
Facebook Groups
Another good place to find second-hand items is on Facebook Groups. Over the last few years, many Facebook groups have been created to sell second-hand items.
Since I am not a Facebook user, I only discovered these groups a few years ago. But many people are using them to sell and sometimes give away second-hand items. Yes, you can even find many items for free.
These Facebook groups are probably the best place to find second-hand items for free. You could find a few on Anibis and Facebook Marketplace, but there are many more on Facebook Groups.
I cannot give you a list of all these groups because there are too many. But there are several groups for each big city in Switzerland. Even in Fribourg, there are at least five big groups for selling and giving second-hand items. There are relatively easy to find. Search for groups with your city name and for sale or free in the title. I am sure you will find enough groups.
While you can find great things in these groups, it is also the least convenient place to find something. Good items are generally reserved in less than an hour (sometimes in a few minutes). And you have to make all the conversations with the seller (or giver). So, you need to check these groups often to find what you want.
So, it is a great place to buy things you know you will need in the future. For instance, before you move to a new place, you could buy some decorations there. Or, if you are expecting a child, you could buy second-hand clothes and toys for your child months in advance. With that, you could save a lot of money. But if you need something quickly, this is not a great way to find it unless you are fortunate.
And you may very well spend a lot of time in these groups waiting for a good item to arrive.
Mrs. The Poor Swiss has found some nice decorations and pieces of clothing in these groups. You must stay alert to the groups to find these deals because many people are looking at them.
Conclusion
There are plenty of places where you can buy second-hand items in Switzerland. And there are even some places where you can get some items for free.
I still like second-hand shops like Emmaüs, especially for books. And for several other things, I prefer using Ricardo because the seller will send the item directly to me. But my wife has found great deals on Facebook Marketplace and Facebook Groups.
With these places, you should be able to save money on purchases. Buying second-hand items for things that you know you will not need forever is a great thing!
If you are using second-hand shopping to save money, you may like my other tips to save money in Switzerland.
What about you? Where do you buy your second-hand items?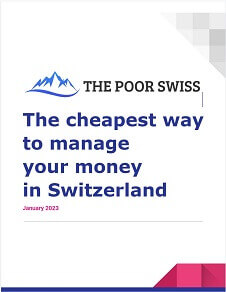 The best financial services for your money!
Download this e-book and optimize your finances and save money by using the best financial services available in Switzerland!
Download The FREE e-book