25 Money-Saving Life Hacks for 2023
|
Updated:
|
(Disclosure: Some of the links below may be affiliate links)
Today's post is a money-saving post by Aiden White, a San Francisco Writer. She enjoys writing about debts and many other financial subjects. I am happy to have her contribute a guest post to my blog!
People may have started this New Year with lots of hope and life goals to improve their financial life. They are making new plans to reduce their monthly expenses, consolidate multiple debts, create savings accounts and an emergency fund to handle their money well.
Controlling your money and life may require some new hacks for saving money more easily and achieve financial freedom in 2019. These money-saving hacks are related to your day-to-day life with the goal of helping you cut costs.
In order to improve your savings this year, you will definitely require a few money-saving hacks so that you may easily wipe out all of your financial problems!
So, try to implement these money-saving hacks and save more in 2019!
1. Create a budget
The budget will be an important part of your financial plan. If you do not already have a budget, try to create one asap.
For instance, here are a few reasons for creating a budget:
It will help you to manage money matters.
This will help you to stop overspending money.
It will give you a plan to spend less and save more.
It will help you to live a high quality of life because you can identify the most important expenses of your life.
If you are married, a budget can also help to avoid tension caused by finances.
2. Set clear financial goals
This is one of the most important things you need to do. The financial goals should be measurable and specific and should contain a deadline.
Your financial goals could involve things like:
Building an emergency fund
Short and long term saving
Maximizing your income
Debt pay off
Reducing expenses
Growing the Net worth, etc.
3. Negotiate with employer
A proper salary is required to manage all of your expenses. So, At your new job or at your current job, you must negotiate with your employer to increase your salary. It will be helpful to cope up with your finances and save more.
4. Track your expenses and investments
Budget Template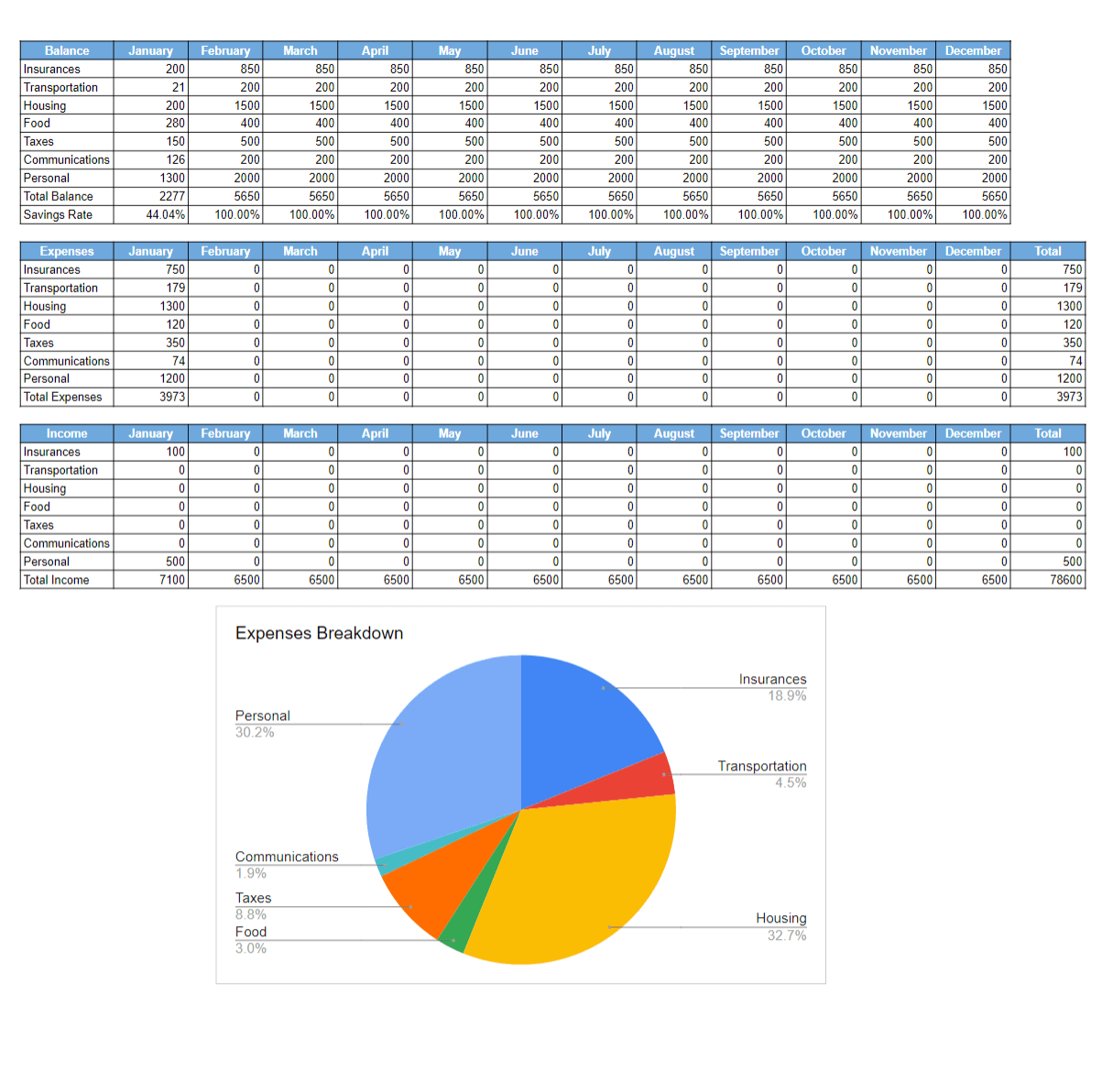 Simple Budget Spreadsheet
A simple Google Sheets template to start tracking your expenses and earnings and have an overview of your budget! Know your savings rate without effort!
Download Now!
Similar to budgeting, you should track your expenses as early as possible. You need to set up a system for tracking and recording your expenses. You might use a spreadsheet or use an online to record your expenses.
5. Make on-time payment
We often spend too much money on late fees or additional charges because we do not focus on making payments on time. These little charges add up very fast and increase your total debts. As a result, it will slow down your progress if you are working to build savings.
If you are really struggling to pay your bills, you may call your bank and automate payments. You may ask your creditor also and see what they are willing to waive.
6. Get out off debt
If you huge debts like high-interest payday loans, credit card debts, or personal loans, try to pay off these debts asap. The most popular DIY debt consolidation method to manage your debts is the debt snowball and debt avalanche method. Credit card balance transfer is another good debt consolidation option to manage credit card debts.
7. Consider a side hustle
A part-time job might help you to maintain your budget this year. There are several part-time jobs available such as – online content jobs, script writing, content editing, babysitting, or work as a Virtual Assistant. You may also earn by renting out your extra room.
8. Build your credit
Whether you have good credit, fair credit, or bad credit, you should constantly work hard to grow it further. Loans, insurances, and mortgage payments can be offered at a lower interest rate if you have a decent credit score.
9. Use rewards credit cards
Use reward cards or cashback credit cards for your purchases. You should use the right credit card that can give you good "every day" cashback or rewards for using in both online and big stores.
10. Prioritize your savings
The best option to grow your savings each month is to prioritize your savings. Initiating a money transfer as soon as you are getting your paycheck or from your checking account into your savings fund can make you stress-free.
11. Start a carpool with a friend or neighbor
Instead of using your own car, you may use a carpool service. It is better if you can talk to your friend or neighbor to help you in this matter. If they are willing to give you a lift on the way to the office, you may easily save a lot from your monthly gas cost.
12. Make a grocery list prior to hitting the store
Think about what you actually need at the store and make a list. This way, you are going to save a good amount of time and money. Why? You will have a list to focus on in the store rather than roaming around and tossing things in your cart.
13. Build an emergency fund
It should be enough to cover your urgent money needs at any point in time. If you can invest in a decent emergency fund Instead of having a high-interest credit card, you can easily manage a critical financial situation without making more credit card debt.
14. Start investing in a proper asset category
Investment is the ultimate way to get financial freedom. Investments can be divided into three main asset classes. a) safety, b) income, and c) growth.
Make sure you invest in any asset class after doing the proper homework. The sooner you invest, the better your chances will be of getting a decent return.
15. Buy things in bulk if possible
Buying things in bulk is a great money-saving tip. Normally stores offer a good discount if you get commodities in a bulk. From soap to toothbrushes, dog food to veggies, everything can be purchased at a good discount if you can get them in bulk.
16. Secure your financial information
If you want to keep your personal financial data secure, then you must take initiatives to protect your financial information. Use uncommon passwords for your online accounts, Emails, and other login details. Keep your devices up-to-date with authentic software and drivers. Do not share personal financial data with anyone else.
17. Buy enough insurance
If you have a good credit score, the cost of insurance will be lower for you. But if you want to buy insurance for your parents, the premium will be much higher.
If you do not have enough insurance to cover your life and assets, you should consult a professional for an assessment.
18. Declutter your house
Organizing your home may help you to clear more space and it can also give you extra income. You may sell unused or old items by listing them in local online marketplaces. Take a break to reduce the temptation of buying. Make sure you get rid of one item from your room for every other item you buy, whatever it may be.
19. Try DIY options
You can watch online videos for free tutorials. Some easy money-saving DIY tips may include:
Maintain and clean your car on your own
Prepare your own meals every time
Adjust your thermostat and air conditioner on power-saving mode
Clean up your lawn once in a month
Perform small home repairs like – leaky pipes, broken fence, rusty door hinges, etc.
20. Cut off your expensive hobbies
Do you overspend on your expensive hobbies rather than making debt payment?
If so, stop it right now. You should choose a cost-effective way to fulfill your hobbies. It is not cool to spend $399.99 on a brand new cellphone if you also have a huge credit card debt to pay off.
21. Negotiate your rent
Depending on the location, the demand for homes, and rental markets in your neighborhood, you may negotiate a more favorable rate.
Landlords and rental companies will be looking for dependable and consistent renters. So you can always negotiate your rent and see what might happen.
22. Enjoy meals at home
Spending on junk food seems bad. But if you can cook spicy food at home and enjoy the meal with your family, it will be satisfying and money-saving too. You cannot avoid junk food, cutting back several times might do the work. If you make too much food at home, freeze them and use them as a next-day meal.
23. Quit smoking
The cost of smoking is much higher than the price of a pack of cigarettes. Smoking may cost you more on health insurance, life insurance, long-term care insurance, and disability insurance compared to the nonsmokers. So, stop slow-poisoning yourself and save money by doing so.
24. Buy generic items
Did you know that many top brand products carry the same ingredients and quality just like generic brands? So, you may save thousands of dollars by simply buying the generic brands instead of the most popular top brand products.
25. Drink water before eating
Drinking water before a meal will reduce your appetite and allow you to consume a certain portion of food that you actually need. This will also save you money on meals.
Conclusion
Trust me, there are lots and lots of money-saving financial hacks that might come in handy. But whatever you do, make sure you are doing it with proper dedication.
If you want to learn even money-saving hacks, read my 7 money-saving hacks for your food budget.
What do you think of these money-saving hacks? Do you have others you would like to share?
Thanks a lot to Aiden for this post! I am really glad to have worked with her. If you are interested in credit card debt consolidation, you can consult her own website and blog at consolidatecreditcard.org (which does not exist anymore).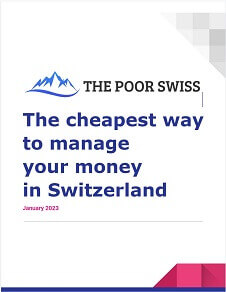 The best financial services for your money!
Download this e-book and optimize your finances and save money by using the best financial services available in Switzerland!
Download The FREE e-book