(Disclosure: Some of the links below may be affiliate links)
Update: I have now made some changes to make my investment ETF portfolio much simpler. I would recommend you check it first.
In 2018, I wanted to add a few bonds to my portfolio. I am in long-term investing. I only in my 30s, and I do not plan to retire for at least ten years. And I already have some very safe investments in my second and third pillars. Therefore, I do not need a lot of bonds. But I wanted to add 5% of bonds into my portfolio to be safe and to allow for more re-balancing opportunities. Also, I do have bonds in my third pillar account.
Moreover, I wanted to improve my ETF portfolio. More specifically, I also wanted to get rid of my crypto-currencies. So, I updated a bit my previous portfolio to reflect this. Moreover, I also wanted to depend less on the dollar. In this post, we are going to see exactly what I have changed in my portfolio.
Remember that it is only one example of an ETF portfolio. I am no financial advisor. I am just sharing what I am doing for investment. What may work for me may not work for you.
My new ETF portfolio
After the changes, this is the new portfolio I have settled on:
50% World Stocks – Vanguard Total World (USD)
10% Switzerland Medium-Cap Stocks – UBS SMIM (CHF)
10% Europe Stocks – iShares Europe (EUR)
10% High Dividend World – Vanguard High Dividend Int. (USD)
5% High Dividend Switzerland – iShares Swiss Dividend (CHF)
5% Tech – Vanguard Information Technology (USD)
5% Pacific – Vanguard FTSE Pacific (USD)
2.5% Europe Corporate Bonds – iShares Core Euro Corporate Bond (EUR)
2.5% Europe Government Bonds – iShares Core Euro Government Bond (EUR)
I would not recommend a portfolio precisely like this. Indeed, for now, it is still too complicated, I think. You probably should get rid of Tech and Pacific. I have shown this portfolio to a few people, and they all think it is too complicated. In the coming months, I am going to think about improving this portfolio. I am starting to realize that for investing, simpler is better. So do not do it like me!
Update: I have now made some changes to make my investment portfolio much simpler. Moreover, I am not so sure anymore about the dividends in my portfolio. In Switzerland, we pay more taxes on dividends than on capital gains. I may change my Swiss dividends fund in the future.
As for the bonds, I decided to split in half between corporate bonds and government bonds. I chose to go with Europe bonds because it is a bit wider than Switzerland. And also because Switzerland bonds are in negative yield right now.
In the beginning, I wanted to select the bond duration myself. But then I decided to keep it simple and use the iShares Core ETFs. I also added 5% of Switzerland's Dividend stocks, again using an iShares ETF. I removed 5% from Vanguard Total World for this. The reason for this is that I wanted a bit more passive income from my investments.
My actual portfolio does not entirely reflect this model. I still have a Bitcoin ETN that I will sell if it gets back to earning. I also still have a small PostFinance Emerging Debt fund (less than 200 CHF) that I am also waiting to get rid of.
Finally, it is not balanced yet. But it is getting there, and a small imbalance is not a big problem. I will only do re-balancing at the end of the year if it gets out of control. Since I try to invest a bit every month, I use this investment as a balance mechanism as well. Unless one of my positions in my portfolio gets too high or too low, I should not have to rebalance at all.
Here is the current state of my portfolio:
And here is what it should look like according to the new portfolio I have designed: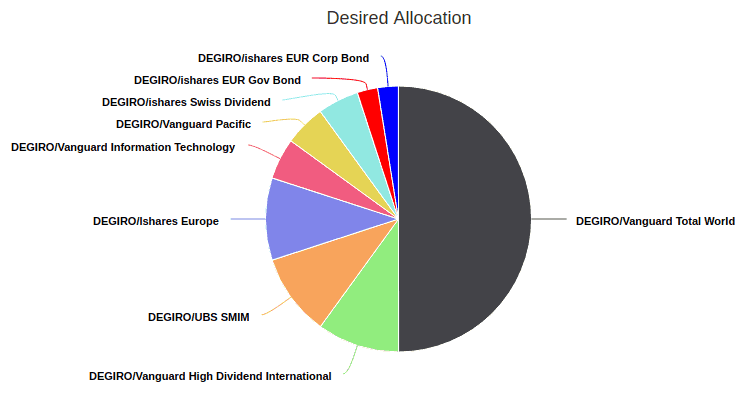 As you can see, I still have some work to rebalance the portfolio. Since the portfolio is currently tiny, it is not easy to reach the right numbers. Indeed, I can only buy complete shares and thus cannot choose exactly the value. It should get easier as the portfolio gets larger. I also realize that small percentages are not very convenient. I will fix this by simplifying my portfolio.
At the end of this month, II will invest more in Vanguard High Dividend International, which is my most imbalanced ETF now.
What do you think of my new ETF portfolio? Do you have any advice for me?
If you want to start investing, you will need a broker. I recommend Interactive Brokers as the best broker.
Update: I have now made some changes to make my investment ETF portfolio much simpler.