I am going to try to keep this page updated along the way with the state of my portfolio. If you are interested, you can see exactly which funds I hold in my investment portfolio. I am only holding Exchange Traded Funds (ETFs) and only those that use indexing and not active investing.
If you have a comment regarding my portfolio, I would be very glad to hear it!
Simplicity is key – 04.05.2018 – Current
I made a complete overhaul of my portfolio to make my portfolio simpler. The previous portfolio was really too complicated.
80% World Stocks (Vanguard Total World, VT)
20% Home Switzerland Stocks

10% Switzerland Dividend Stocks (iShares Swiss Dividend, CHDVD)
10% Switzerland Mid Cap (UBS SMIM)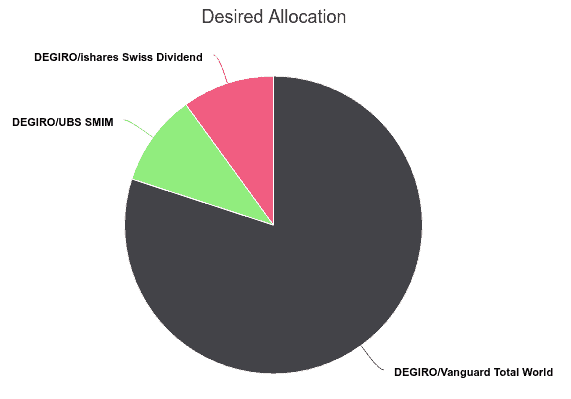 For more information, you can read the details on how I made my portfolio much simpler.
Add bonds – Remove Crypto – 06.03.2018
I got rid of my crypto-currencies and added a few bonds and some Switzerland dividend paying companies.
50% World Stocks – Vanguard Total World (USD)
10% Switzerland Medium-Cap Stocks – UBS SMIM (CHF)
10% Europe Stocks – iShares Europe (EUR)
10% High Dividend World – Vanguard High Dividend Int. (USD)
5% High Dividend Switzerland – iShares Swiss Dividend (CHF)
5% Tech – Vanguard Information Technology (USD)
5% Pacific – Vanguard FTSE Pacific (USD)
2.5% Europe Corporate Bonds – iShares Core Euro Corporate Bond (EUR)
2.5% Europe Government Bonds – iShares Core Euro Government Bond (EUR)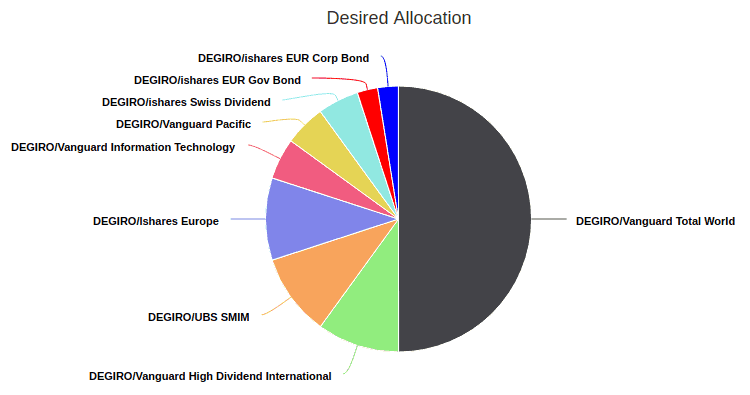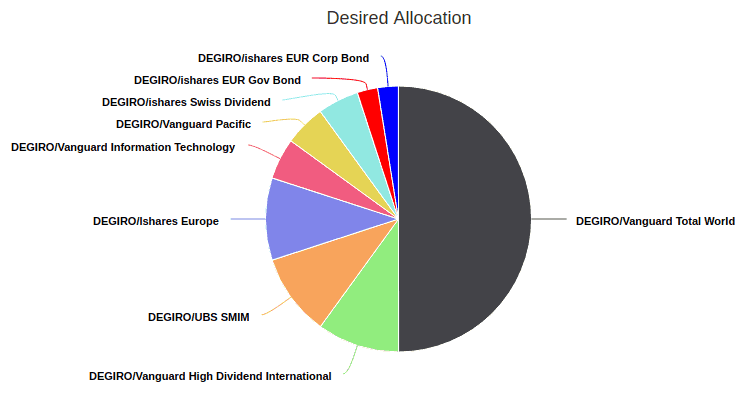 For the discussion on this, you can read how I added some bonds to my portfolio.
Original Portfolio – 01.01.2018
This is the first portfolio I settled on. We'll see how this goes.
55% World Stocks – Vanguard Total World
10% Swiss Medium Stocks – UBS SMIM
10%  Europe Stocks – Ishares Europe
10% High Dividend – Vanguard High Dividend Int.
5% Tech – Vanguard Information Technology
5% Pacific – Vanguard FTSE Pacific
2.5% Bitcoin – XBT ETN
2.5% Ethereum – XBT ETN