Recently, I did some ordering in my technology closet (yes, I have a technology closet…). And I realized that I had way too many things stored at home. I also realized that I had way too many servers. So I decided to sell online a few things and to dismount two of my servers to sell the pieces. I'm mostly using online websites to sell things. I'm far from a minimalist. But I'm trying to reduce a bit the amount of burden I own. And if I can get some money in the process, it is bonus ;)
In this post, I'm going to talk about what am I selling online in Switzerland. And how am I selling them!
What am I selling ?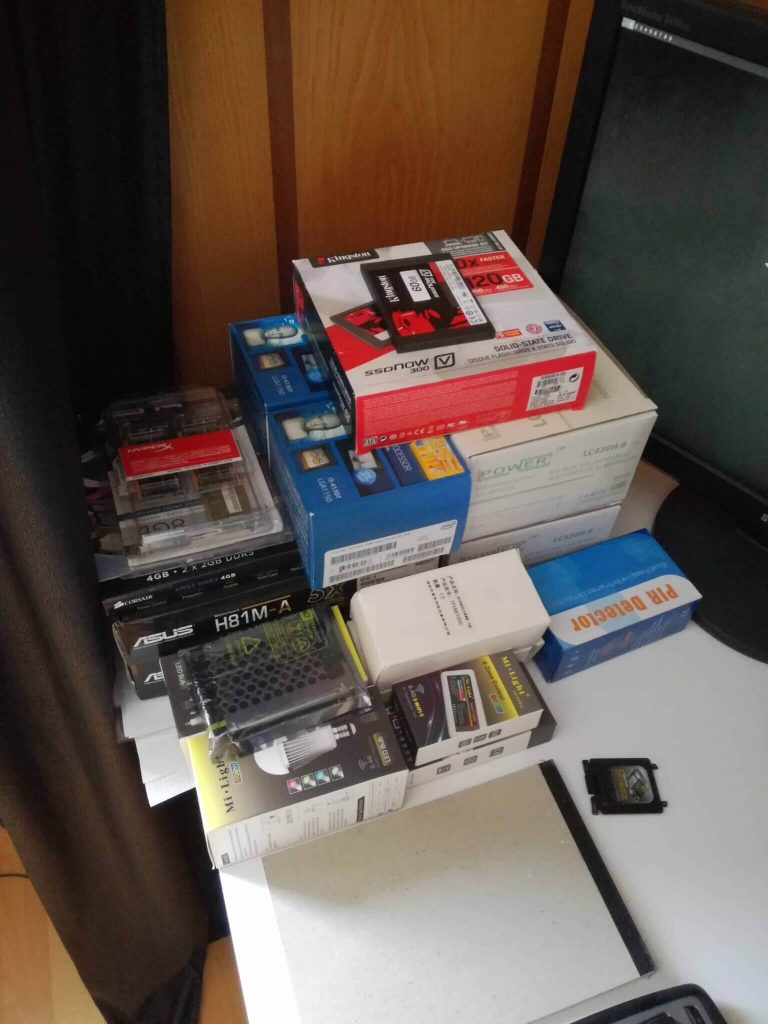 Over the last few years, I've sold many things. There are some things that are easy to sell. But there are some things that are quite difficult to sell.
The things I sold the most is technology stuff. I mostly stuff computer pieces. I've sold hard disks, graphics card, processors, RAM and even network appliances. I've also sold a few other things than technology. For instance, I've also sold a fridge, a coffee machine and a game console.
Almost all I've tried to sell was sold in the end. For some things, I didn't get as much as I would have wanted. But overall, I was quite happy with my selling. I'm not a huge seller. I may have sold maybe 70 or 80 items in the last 10 years. Nothing fancy. If you have any advice on how to improve my strategy, please enlighten me in the comments section ;)
What am I not selling ?
There are a few things I'm not selling when I need to get rid of them. Sometimes they are too hard to sell for the money you can get. And sometimes, it's just not worth it to sell them.
First of them, I don't sell books. I have a hard time getting rid of books. I'm buying mostly second-hand books (and cheap Kindle books). So I give them away. Either I give them away to charity (Emmaüs). Or I use an exchange service to give them. At the university where I worked, they were organizing a book exchange each year. I took a lot of books and gave away a few of them. If you really want to sell, you can of course. But it's difficult and I think it's not worth the time. If you have a really nice collection of a series of book, you have much more change to sell it.
I'm also not selling clothes. Over the years, I found out several times that I had many clothes that I didn't wear anymore. And they were still in good shape. It's not easy to sell used clothes by yourself and you often don't get a lot of money back. Since I know a lot of people may need them, I always give away my extra clothes to charity (Red Cross).
Finally, DVDs and Blurays. They used to get a fair price out of a second-hand shop in Fribourg. But now, they give you 10 cents for each of them. This is ridiculous. At this price, I'd rather give them away either to people I know or to Charity again.
How to sell online in Switzerland ?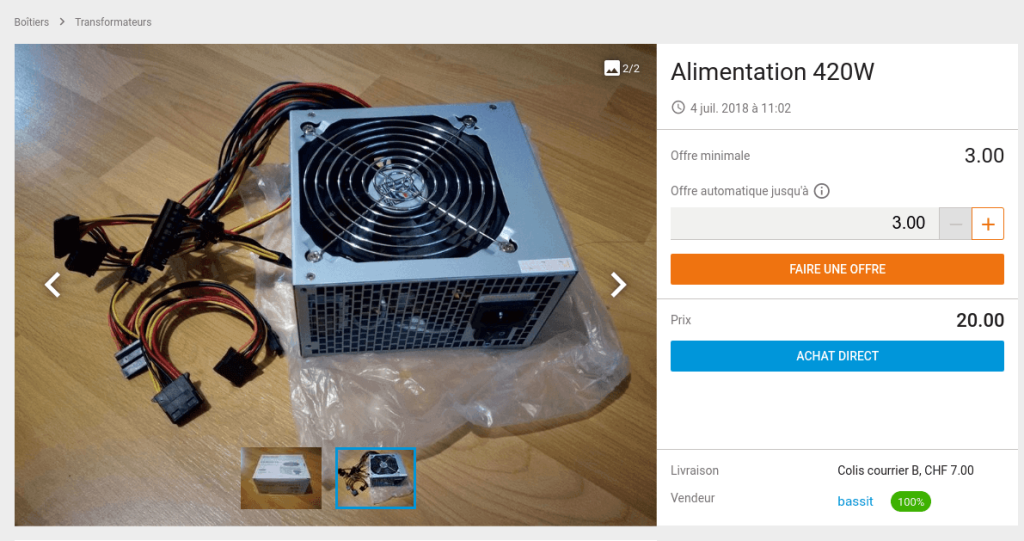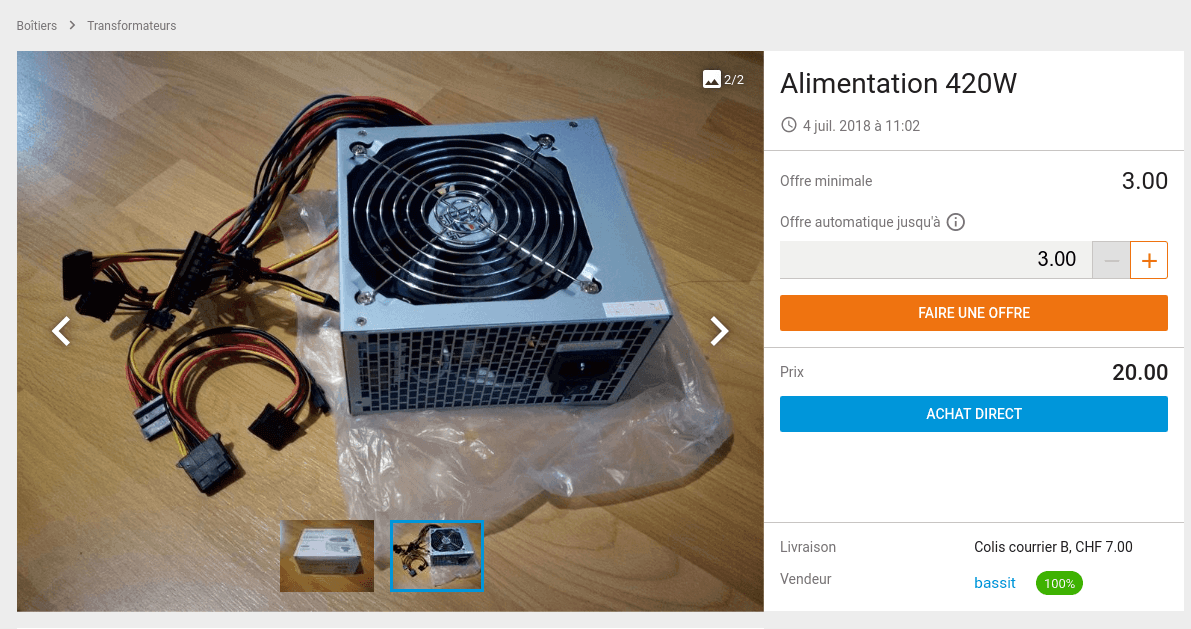 Let's go the main part of the article, how to sell these things! My preferred way to sell things is to sell online. There are other ways of course, but I prefer using online selling. Some people prefer things like garage sale, but there are much less popular in Switzerland than in America. And a lot of people are not going to flea markets anymore. So online selling is pretty great :)
I'm using two websites for selling stuff online. The first is Ricardo. You have two choices for sell. Either you use auctions where you set a base price and people can bid higher on it. Or you set a definite price and people don't have any choice. You can also set an auction with an instant buyout price if you want. This a commercial offer, so you'll have to pay some fees when you sell. The minimum price you'll pay for an auction is 0.15 CHF. And remember that you'll have to pay it even if your item does not sell! And you'll also pay a commission if you sell. If you are not ready to pay some fees, you should avoid Ricardo at all cost. You can set several options for paying and several options for sending the item or letting the buyer pick the item.
The second website I'm using is Anibis. It's a simple classified advertisement website. It's like craigslist, but smaller ;) You simply publish your ad and wait for people to contact you. You can set a price or simply wait for offers. In most of the cases, people will pick the items up.
Overall, I've had much more success with Ricardo than with Anibis. That is the reason I'm willing to pay Ricardo fees. One of the reason is that the Swiss market is quite fragmented. While Ricardo is dominating the auctions, 2 main websites are sharing the advertisement market. There is Anibis, but there is also Tutti. Before there also was OLX, but they merged with Tutti. I've started with Anibis and I haven't really tried the other one. But if you use them, you'll be limited in the market you can reach. I don't think any of the two is really better than the other now. You should choose the one that you like the most after a short inspection. I should probably try Tutti again since I never tried it since they merged with OLX.
My online selling strategy
My online selling strategy is very simple. If I think it's possible to sell it for at least 10 CHF, I'm starting with Ricardo. I put the offer up. I found out that there are several important things when selling:
Try to sell with original packing. I always keep original packing so this is not an issue for me. It sells better with original packing and accessories.
Write in two languages. I always write in German and French. You can even use Google Translate. In Ricardo, there are more Swiss German users than Swiss French.
Always offer to send the packet by mail
Use good and large images
Always explain the state of the item
Give as most information as you can about the item.
The most difficult thing to set is the price. I generally always look for similar auctions to see how much they usually go for. I generally set a low price for the auction. And a bit more than what I would think for the instance price. You don't have to use instant price of course. But some buyers much prefer an instant buyout.
The risk with instant price is that you put it lower than what is worth. It will get sold in less than 30 minutes in those cases. I got this case when I sold an accessory for a Swisscom TV. In this case, I put an instant price of 100 CHF and it got sold after 5 minutes. I didn't check that the price for this item brand new on Swisscom was 150 CHF. I could have put my instant price at 125 CHF at least. But I was still very happy to get 100 CHF and get it fast.
You don't have to use auctions of course. You can simply set a definite price and see if it will sell. I like auctions, a bit for the thrill of it ;) I got several cases where auctions got several times higher than I would have thought.
Something very important to not forget. When you set an auction with a low base price. You should be ready to sell for this low base price. I had a few items that sold for 1 CHF. Probably, I should have set the base price lower.
I always set the maximum duration for auctions, 10 days. Sometimes the item did not sell in 10 days. If this is the case, I put it back for sell for 10 more days. This means I'll pay 0.15 CHF again. For this second auction, sometimes I set the price lower. It could simply be that you are competing with too many people. And it will sell one week later. If it still didn't sell in 20 days, I put it for sale on Anibis. I don't want to use more money for the sale, so I use a free advertisement. Even if you set the price to 10 CHF, some people will still try to lowball. It's up to you to decide what to do ;)
Summary
Once again, this article ended up longer than I would have thought ;)
This is it for my strategy for online selling things. This month I sold for about 300 CHF of computer stuff online. And I still have a lot of items waiting to be sold. It takes some time to prepare a good offer online if you want to do it right. But I think it's worth it. It saves you a lot of room and gives you some side hustle money ;)
Enough about me! What do you sell online ? How do you sell it ?