Revolut in Switzerland – Free Top Up with Swiss IBAN
|
Updated:
|
(Disclosure: Some of the links below may be affiliate links)
In the early days of Revolut, the biggest problem with this service was that they did not have a Swiss IBAN. Some good news just arrived for us!
Revolut now includes a Swiss IBAN when you want to top it up! It means you can now top up your Revolut account for free directly from your bank account. It is great since that was missing from the start on the Revolut account.
And probably even bigger news for Revolut: they got a European Specialised Bank License! It is a big deal for the company. Revolut is now officially a bank and will soon start offering new services. But for us, it will not change much in the short term.
I have been using Revolut for about two years now. During that time, I saved a lot of money by using their free currency exchange services. I am curious to see how they will implement this banking license in the future.
In this article, we will see what these changes mean for other Revolut customers and me! If you do not know about Revolut, stay tuned!
Revolut
Revolut is a kind of digital bank alternative. It is not yet a bank. But you can store money in any currency on your account. In theory, you could even use it to deposit your salary into it. But since they are not a bank, you have fewer guarantees on it.
The most significant advantage of the Revolut account is that you can convert currencies for free! This is only free for the first 1250 CHF converted per month. But this should be enough for most people.
Most payment cards will charge a hefty fee to convert currencies. For instance, my previous credit card charges me 1.5% to do a foreign currency transaction. It is the main reason why I started using Revolut.
I have already saved quite some money with Revolut, and all of it is for free! Now I only use Revolut for my expenses in foreign currencies. I have been using it for almost six months, and I am pleased about it!
To learn more about Revolut, read my full article about Revolut.
Revolut Swiss IBAN
If you want to transfer money to your Revolut account, there are several ways:
Use a Debit Card (expensive)
Use a Swiss Credit Card (expensive)
Use another Credit Card (expensive)
Transfer to a bank account (free)
The most convenient method is to transfer money from your bank account to Revolut IBAN for most people. The main issue with Revolut before was that they did not have any Swiss IBAN. They had an IBAN from the UK on which you could pay with CHF. However, every time you transferred money, you needed to pay a small fee because Swiss banks do not provide free transfers to IBAN outside of Switzerland, even if it is in CHF.
In the beginning, I was using a Wise account to make the transfer for free. I was transferring money to my Wise account from my bank. And from there, I transferred money to my Revolut account. It was working quite well and was free. However, that means I had an account I did not use and a card I only used for some transfers. Having fewer accounts would help me simplify my routines!
Now, Revolut just got a CHF IBAN from Credit Suisse! With this, we can transfer money directly into our Revolut account with a single bank transfer. And the transfers are entirely free! You can transfer as much money as you want without any fees! It is great news.
That means I do not need to use Wise anymore for now. It will significantly simplify my money management!
Be careful that if you use credit or debit cards to top up your Revolut account, you will pay fees. It used to be free, but Revolut introduced new fees in October 2022.
Transfer Money for free to Revolut
To find the new Swiss IBAN, you can go into your Revolut application and click on the Add Money button. Then, choose Bank Transfer, and Revolut will give you all the information you need to make the bank transfer: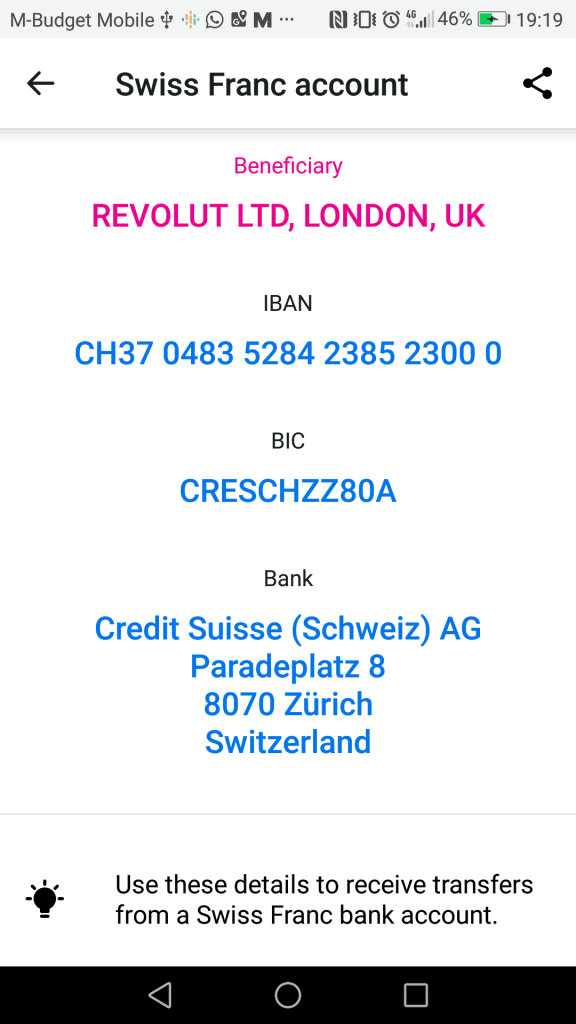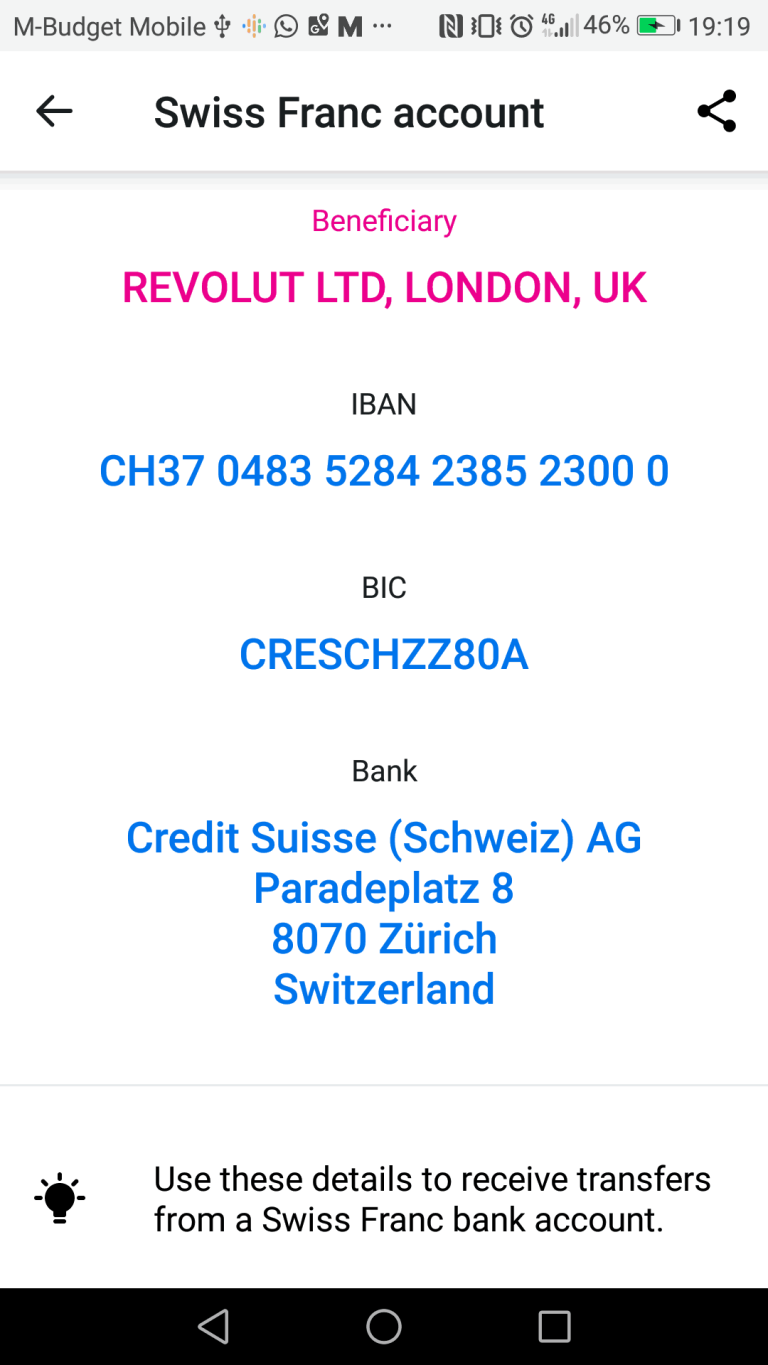 With all this information, you can initiate a bank transfer from your bank account to Revolut Swiss IBAN. Do not forget to include your reference number. Otherwise, Revolut will have no way of identifying you, and the money will be returned to you later on.
Once you have done your transfer, it will generally take one working day for the money to be available in your account. Most Swiss banks are pretty slow for that. If you have another bank, this may go faster.
Depending on your account, you may need to enter more information than just your reference number. For instance, you may need to enter your name and your country into the reference information.
Banking License
Until now, Revolut was not a bank but merely a digital banking alternative. These two have quite a few differences. For instance, Revolut could not offer you credit options, and your money at Revolut was not insured.
However, this will soon change! Indeed, in December 2018, Revolut got a Specialized Bank License from the European Central Bank. They used the Bank of Lithuania as a facilitator in the proceedings. They are not yet a full-range bank since they only got a Specialized Bank License. For instance, they cannot provide any investment services.
Revolut plans to start offering bank account to smaller countries such as Lithuania and then move on to broader European markets such as France and Germany. It is going to be a while before they move to Switzerland.  They are also trying to get a banking license in Russia.
Nevertheless, this is excellent news and will soon benefit the users of Revolut. The most significant advantage will be that soon, money deposited on a Revolut account will be insured up to 100'000 EUR. The European Deposit Insurance Scheme (EDIS) guarantees this amount for each European bank account.
Another advantage, but less appealing, in my opinion, is that they can offer you personal loans. You can also go negative in your bank account. It was not possible before. I do not think it is an excellent thing since you should not go negative anyway. But it remains to be seen how much interest they will bill on these loans.
For now, nothing changed. Just because Revolut got a banking license does not alter their Revolut accounts. It means that for now, the money in your Revolut is not insured yet! It is important for the safety of your money. I personally never keep more than 1000 CHF on my Revolut account.
They are going to start with this new license in Lithuania for now. But then, they plan to extend in the other European countries. We probably will not see any change in Switzerland for a few years. But eventually, it will come!
Overall, I believe this is excellent news for Revolut and its customers.
Conclusion
All this is great for both Revolut and its customers in Switzerland. With this new Swiss IBAN, Swiss people can transfer money to Revolut for free.
For Swiss investors, that means that it will not be necessary to use Wise as an intermediary to transfer money for free to our Revolut account. It will simplify my money management routines. And it will also simplify my net worth routine since this means one less account. I am always interested in simplifications!
This news makes Revolut more interesting for users in Switzerland.
If you need more than 1250 CHF per month, you may want to consider alternatives. Wise is an excellent alternative to Revolut for large amounts.
Now, if you want something simpler and local, you can also look at Neon Bank.  They also offer purchases in foreign currencies for free. And they are a local Swiss bank. So you should not have to go to any trouble with them.
What do you think about this news? Do you already use Revolut? Did you try the new Swiss IBAN?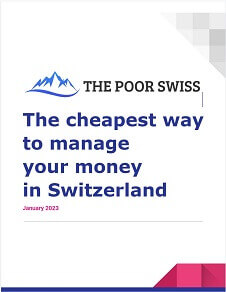 The best financial services for your money!
Download this e-book and optimize your finances and save money by using the best financial services available in Switzerland!
Download The FREE e-book